Specifications
Neodymium Magnet/NdFeB Magnet
1.Precise dimension
2.Various shape
3.Stable performance
4.Good corrosion resistance
Permanent NdFeB Magnets Ring
We are professional manufacturer for NdFeB ( Neodymium ) Magnet and magnetic products.
1. Neodymium magnet (also known as NdFeB, NIB or Neo magnet), the most widely used type of rare-earth magnet, is a permanent magnet made from neodymium,iron,boron and same other trasitive metallic elements to make it strong.
2. Grades: From N35 to N52;N35H to N48H;N35SH to N45SH;N30UH to N40UH;N30EH to N38EH.If you donot know,we can suggest the Grade No. according to your application
3.Working Temperature: From 60°C to 200°C
4. Coating: Ni,Ni-Cu-Ni,Zn,L-zn,Expoy,Gold, Etc.
5. Shape: Block,Ring,Disc,Square,Round,Trapezoid and other shapes
6. Application: Computer, automobile, electric machinary, electro-sound devices, automatic control, magnetic force mechanism, microwave communication, petrochemical industry, medical apparatus and equipment
7. Shipment terms: Via DHL,safe and fast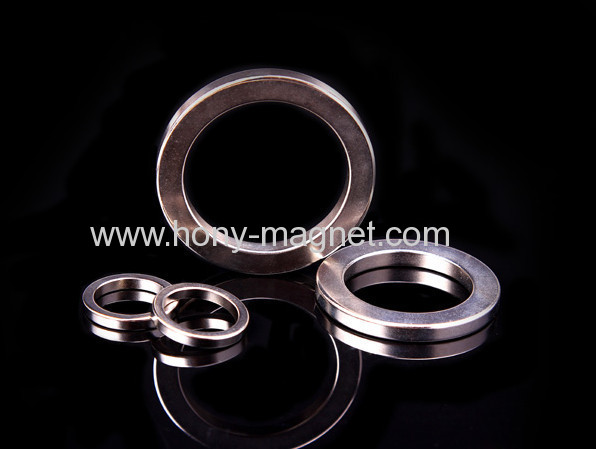 Delivery
All available shipping ways could be applied, by courier, by air or by sea.
Appointed shipping company or our own forwarders all could be used in shipment.
Full-way tracking the cargos for you before the goods arrive.
Buyer's Guide
In order to quote you the best price quickly, please provide the following information:
1.Product size,grade,coating,etc.
2.Order quantity;
3.Attached the drawings if customized
4.Any special packing or other requirements
Our advantage
1. Fast reply: all your enquiry will be replied within 24 hours;
2. Reasonable price: we are direct manufacturer and able to offer better price;
3. Good quality: we are experienced in quality control;
4. Fast delivery time:7-20 days