Specifications
Cast AlNiCo Magnet
Size: Customized
Magnetization: Axial, Diametrical
Economical Cost
Working Temperature up to 550 C
Cast AlNiCo Magnet Ring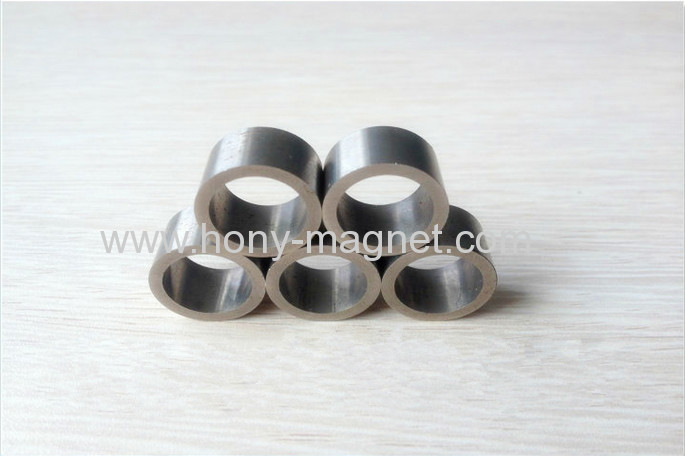 Cast AlNiCo Magnet Ring
1. Features:
Vast range of complex shapes and sizes;

Economical cost;

Ideal for high temperature application up to 550 °C.
2. Applications: Automobile parts, sensors, magnetic chucks, guitar pickup, audio apparatus, electronic motors, educational equipment and aerospace equipments, etc.
3. Shape: Disc, Ring Magnet, Block, Segment, Cylinder, U shape, Customized Design.
4. Size: Customized size per your requirements.
5. Certification:ISO9001:2008, ISO/TS16949:2009 and RoHS.
Cast AlNiCo Magnet Ring
Grade
(BH)max
Br
Hcj
Hcb
D
α Br
Tc
Remark
KJ/cm3
MGOe
mT
Gs
KA/m
Oe
KA/m
Oe
g/cm3
%/k
℃




FLN8
8-10
1.0-1.25
520
5200
43
540
40
500
6.7
-0.020
760
Isoropic
FLNG12
12-14
1.5-1.75
700
7000
43
540
40
500
7.0
-0.014
810
FLNGT14
14-16
1.75-2.0
570
5700
78
980
76
950
7.1
-0.020
850
FLNG28
18-22
2.25-2.75
600
6000
107
1350
95
1200
7.2
-0.020
850
Anisotropic
FLNG34
28-33
3.5-4.15
1050
10500
47
590
46
580
7.2
-0.016
850
FLNGT28
34-38
4.3-4.8
1100
11000
51
640
50
630
7.2
-0.016
890
FLNG38J
38-40
4.75-5.0
730
7300
163
2050
151
1900
7.2
-0.200
850
FLNGT38
38-42
4.75-5.3
800
8000
126
1580
123
1550
7.2
-0.020
850
FLNGT42
42-48
5.3-6.0
880
8800
122
1530
120
1500
7.25
-0.020
850