Sintered Neodymium Iron Boron Magnets
The sintered Neodymium Iron Boron magnet is produced by the OPS (orient-press-sinter) method. A crystalline alloy of Neodymium, Iron, and Boron is ground to a sub-micron powder using a ball mill, then aligned in a strong magnetic field, and pressed into a basic shape. The resultant "block" is then sintered, thereby fusing the material into a solid metal.
Generally, Neodymium Iron Boron magnets are sensitive to changes in temperature (reversible temperature coefficients being around -0.13%/°C). Additionally, they are more prone to oxidation than any other magnet alloy. Coating or plating is generally recommended unless using advanced alloys, such as HSMAG's N3080, N3275, and N4467. HSMAG's advanced grades are developed specifically for applications where the application of coating or plating is not desired. These advanced grades have oxidation rates that are far below the average Neodymium Iron Boron alloys, making them ideal for applications that require post assembly processing, due to tight tolerances in the final assembly state.
Neodymium Iron Boron magnets have some advantages over Samarium Cobalt magnets. Neodymium Iron Boron magnets are less expensive, since the main elements Nd and Fe are abundant, and are mechanically stronger. High energy products can be achieved (HSMAG offers materials as high as 55 MGOe, see N5563). Small production runs have successfully yielded 58 MGOe nominal energy products; however, these are only achievable in the R&D state. Neodymium Iron Boron magnets are about 13% lighter than SmCo magnets. However, before deciding which material is better for you, review the comparisons between Neodymium Iron Boron and Samarium Cobalt.
Over the last 10 years, Neodymium Iron Boron magnets have become extremely popular in almost all high technology applications that require high performance magnets. Motors, sensors, computers, and microwave components are a few areas where Neodymium Iron Boron magnets are successfully used . The recent "miniaturization" of electronic and mechanical components is due to the high-energy products that are achieved using Neodymium Iron Boron magnets. Large capacity hard drives, miniature hand held tape recorders, feather weight head sets, and anti-lock braking systems have made tremendous leaps due to the Neodymium magnets.
The selection of Neodymium Iron Boron magnets in your applications will depend on your working environment. If you use the magnets at elevated temperatures, select the alloys that have a high intrinsic coercivity (Hci). If you use the alloy at lower temperatures (such as room temperature), you may select higher Br materials. Remember that if the magnet is being used in adverse conditions, such as repelling positions in motors where repelling magnetic fields are being used to drive the rotor and similar applications, selecting materials with moderate or high coercivity is recommended. Applications where fields are being used to trigger sensors, switches, and similar applications may use lower coercivity magnets.
PCT:130c ,humidity 100%,vapor pressure 2.7 bar.20 days,average low weight loss less than 2 mg/cm2
Common Applications :
Sensors Linear actuators Microphone assemblies Magnetic separators DC and servo motors Speakers Printers Magnetic hooksComputer rigid disc drives Beam controls Intelligent toys MRI/NMR
We are specialized in producing NdFeB Magnet over many years,We guarantee the best price based on the same quality and service. Our finance conditiearon and industrial reputation are excellent.
Testing Center
We are ISO/TS16949:2002 certified and well implement all procedures strictly under control. Problem preventive actions and quality assurance are preoperly combined with special inspection for all procedures from raw material purchasing ,outside cooperating part manufacturing,inside manufacturing to shipping . We also install a complete set of physical and chemical test equipment to make sure that all our products are manufactured and shipped under strictly quality control .
Salt Spray Test :
Mainly test the surface treatment against the corrosion. Usually the tested samples will be continuous sprayed 24 hours in the 35℃ temperature to see if there is any rust appearance on the surface.
Projection Instrument:
Mainly test the magnets with irregular shapes such as arc segments and any other irregular-shaped parts to see if their dimensions meet the customers' requirements or not.
PCT Instrument:
Mainly test the magnets to prevent against corrosion on the high temperature and high atmospheric pressure . Usually the test condition is 120℃ temperature and 2 atmospheric pressure .
Heat& Humidity Instrument:
Mainly test the magnet to against corrosion on certain temperature and humidity . Usually the test condition is 80℃ temperature and 90%+/-3% humidity
Hysteresgraph:
Mainly test the magnetic characteristics of the magnet, including Residual (Br ), Coercive(Hcb) . Intrinsic Coercive(Hcj), Max. Energy product(BH max) and any other related magnetic parameters.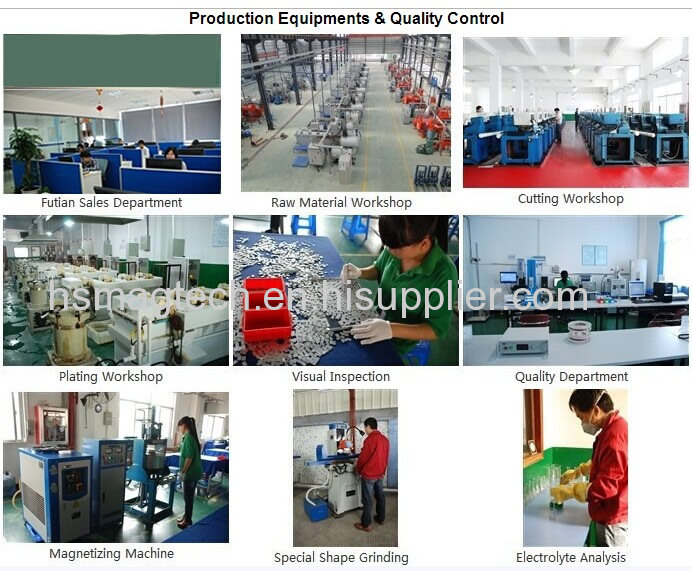 HSMAG Magnets has been supplying high quality Neodymium Magnets to customers for about 20 years.
Super Magnet
Made of neodymium, the most powerful magnet material in the world
Great for projects that require extreme strength in a small size
Permanent magnetism guaranteed
Not for children