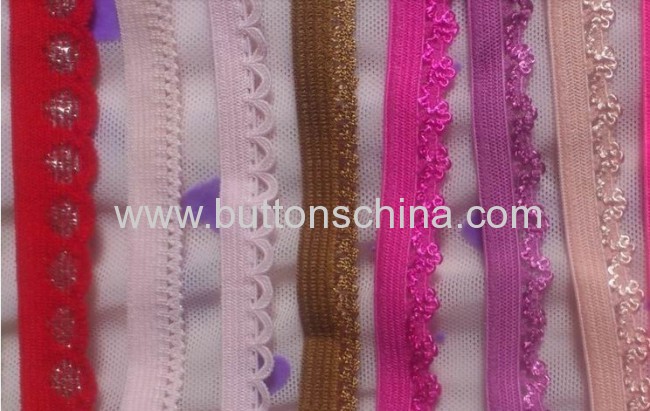 Lace trimming
Material: nylon, rayon,polyester,organza with elastic.
Various sizes,colors,designs are available.
Welcome customers'samples and requiremens.


Min. Order:15000 mtrs;Packing:100mtrs/roll, 50 roll/carton;Transportation:sea or air ;DeliveryDate:15 days;PaymentType:TT or L/C at sight;Trademark:
China lace company produced cotton lace is made of high quality cotton yarn made of, made out of cotton lace work fine, flowers diverse and novel! And lace nature we produced more soft, will use the underwear, clothing, to allow consumers to wear more comfortable, at the same time, also can get more customers love.
Crochet machine cotton lace mainly by 32 to 2 shares, 1 shares to 10. 2 shares of 3 shares... More shares or 21 1 shares of 2 shares... Multiple such crocheted. Because of the difference in the weaving process of disc machine has also given a crochet machine lace of additional features: a strong sense of three-dimensional and high volume production. Mainly used in fashion, home textiles, processes are. At present the main machine specification is 80CM machine 1.2 meters machines and other models.
Manual cotton lace mainly manual. Because of the artificially expensive also makes its price is relatively expensive.
Thread lace is also called the bobbin lace (bobbin lace; Cluny lace; torchon lace), which is the same with the bobbin lace principle by hand, the basic unit is the intersection of two lines intersecting and become, each kind of lace is formed by the intersection of permutation and combination and become, in the machine (disk), is shown as the spindle rotation. The rotation of the rotor spindle is adjacent, exchange the position of a point of intersection, turn the combination of different, different shapes.
Lace design artwork is based on the structure design of machine and a vertical line represents the spindle, lattice, lattice represents the rotor. Each of the two line lattice representing the machine to rotate one circle, lattice point representations in odd spindle, lower lattice points represent even spindle, such as the need to rotate the rotor, is packed in the corresponding lattice Each lace with cycle number, namely the machine to rotate a certain speed, a unit complete lace.