Rod Alnico Magnets, Alumimum-Nickel-Cobalt Magnets, Cast Alnico Magnets, Sintered Alnico Magnets.
Features:
An ideal material in high temperature applications, which has high operating temperature up to 550°C and above, with excellent corrosion resistance. They can be partially demagnetized if they come in contact with other ferrous materials, special care is required during handling and storing.
Usually cast and grinded during production, they are available in various grades depending on its application. Others such as sintered Alnico have lower magnetic properties but offer higher mechanical characteristics
Applications:
• Micro Motors
• Sensors
• Hysteresis Brakes
• Electronic devices
• Instrument Making
• Meters: odometer, electrical meter, water-meter,etc.
• Audio and Speakers
• Precise Instruments for Aerospace and defense Technologies
PCT:130c ,humidity 100%,vapor pressure 2.7 bar.20 days,average low weight loss less than 2 mg/cm2
Common Applications :
Sensors Linear actuators Microphone assemblies Magnetic separators DC and servo motors Speakers Printers Magnetic hooksComputer rigid disc drives Beam controls Intelligent toys MRI/NMR
We are specialized in producing NdFeB Magnet over many years,We guarantee the best price based on the same quality and service. Our finance conditiearon and industrial reputation are excellent.
Testing Center
We are ISO/TS16949:2002 certified and well implement all procedures strictly under control. Problem preventive actions and quality assurance are preoperly combined with special inspection for all procedures from raw material purchasing ,outside cooperating part manufacturing,inside manufacturing to shipping . We also install a complete set of physical and chemical test equipment to make sure that all our products are manufactured and shipped under strictly quality control .
Salt Spray Test :
Mainly test the surface treatment against the corrosion. Usually the tested samples will be continuous sprayed 24 hours in the 35℃ temperature to see if there is any rust appearance on the surface.
Projection Instrument:
Mainly test the magnets with irregular shapes such as arc segments and any other irregular-shaped parts to see if their dimensions meet the customers' requirements or not.
PCT Instrument:
Mainly test the magnets to prevent against corrosion on the high temperature and high atmospheric pressure . Usually the test condition is 120℃ temperature and 2 atmospheric pressure .
Heat& Humidity Instrument:
Mainly test the magnet to against corrosion on certain temperature and humidity . Usually the test condition is 80℃ temperature and 90%+/-3% humidity
Hysteresgraph:
Mainly test the magnetic characteristics of the magnet, including Residual (Br ), Coercive(Hcb) . Intrinsic Coercive(Hcj), Max. Energy product(BH max) and any other related magnetic parameters.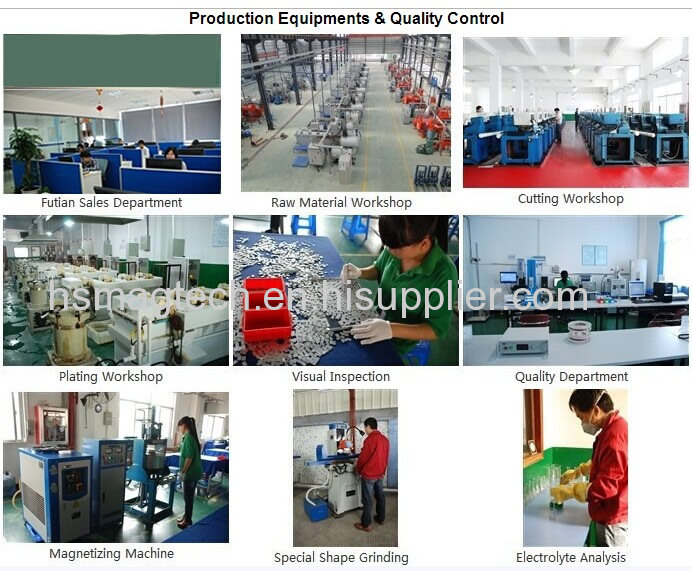 HSMAG Magnets has been supplying high quality Neodymium Magnets to customers for about 20 years.
Super Magnet
Made of neodymium, the most powerful magnet material in the world
Great for projects that require extreme strength in a small size
Permanent magnetism guaranteed
Not for children