1,high performance
2,varies terms of payment
3,short delivery time
4,competitive price
Ndfeb Magnet is one of rare earth magnets ,that made from ND, Fe, B and other metal elements,it is by far the best performance in contemporary .performance and specification can be arbitrary chosen.it is widely used in aviation,electroacoustic,machinery,instruments,medical equipment and maglev,etc.
Model Number: N35~N55(N,M,H,SH,UH,EH,AH)
Type: Permanent
Composite: Neodymium Magnet
Shape: customerized
Application: Industrial Magnet
Strong magnets, e. g., neodymium magnets, should be handled with care. They can erase data on all kinds of magnetic storage media (floppy disks, hard drives, credit cards, magnetic tapes, etc.) and disturb pace makers when getting too close. Moreover, they attract ferromagnetic objects, and particularly each other, so violently that there is always the risk of hurting oneself (pinched fingers or skin, etc.). Neodymium magnets are no toys for children!
Name Neodymium countersunk magnets
Material Neodymium Iron Boron
Grade & working Temperature Grade Max. Operating Temperatures
N35-N45 80°C (176°F)
N48-N52 60°C (160°F)
35M- 50M 100°C (212°F)
33H-48H 120°C (248°F)
33SH-45SH 150°C (302°F)
30UH-40UH 180°C (356°F)
28EH-38EH 200°C (392°F)
28AH-33AH 220°C (428°F)
Shape Countersunk
Coating Ni, Ni-Cu-Ni, Zn, Ag, epoxy, passivated,etc.
Certificate ISO9001, RoHS, REACH, Halogen testing pass.
Packing Standard sea or air packing, such as carton, iron, wooden box, etc.
Delivery date 7 days for samples;15-20 days for mass goods.
Application Servo motor, brushless motor, texture motor, vibration motor, enerator, pump, special motor, wind energy, lifter, speaker, magnetics switch, flow mere, CD,DVD-ROM, watt-hour meter, NMR, medical devices , separator, sensor, neodymium hard disk drive magnets applies in computers etc.
PCT:130c ,humidity 100%,vapor pressure 2.7 bar.20 days,average low weight loss less than 2 mg/cm2
Common Applications :
Sensors Linear actuators Microphone assemblies Magnetic separators DC and servo motors Speakers Printers Magnetic hooksComputer rigid disc drives Beam controls Intelligent toys MRI/NMR
We are specialized in producing NdFeB Magnet over many years,We guarantee the best price based on the same quality and service. Our finance conditiearon and industrial reputation are excellent.
Testing Center
We are ISO/TS16949:2002 certified and well implement all procedures strictly under control. Problem preventive actions and quality assurance are preoperly combined with special inspection for all procedures from raw material purchasing ,outside cooperating part manufacturing,inside manufacturing to shipping . We also install a complete set of physical and chemical test equipment to make sure that all our products are manufactured and shipped under strictly quality control .
Salt Spray Test :
Mainly test the surface treatment against the corrosion. Usually the tested samples will be continuous sprayed 24 hours in the 35℃ temperature to see if there is any rust appearance on the surface.
Projection Instrument:
Mainly test the magnets with irregular shapes such as arc segments and any other irregular-shaped parts to see if their dimensions meet the customers' requirements or not.
PCT Instrument:
Mainly test the magnets to prevent against corrosion on the high temperature and high atmospheric pressure . Usually the test condition is 120℃ temperature and 2 atmospheric pressure .
Heat& Humidity Instrument:
Mainly test the magnet to against corrosion on certain temperature and humidity . Usually the test condition is 80℃ temperature and 90%+/-3% humidity
Hysteresgraph:
Mainly test the magnetic characteristics of the magnet, including Residual (Br ), Coercive(Hcb) . Intrinsic Coercive(Hcj), Max. Energy product(BH max) and any other related magnetic parameters.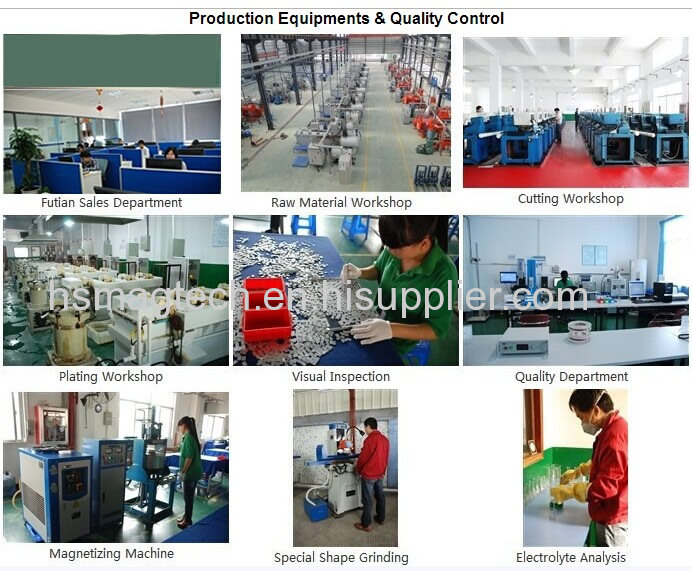 HSMAG Magnets has been supplying high quality Neodymium Magnets to customers for about 20 years.
Super Magnet
Made of neodymium, the most powerful magnet material in the world
Great for projects that require extreme strength in a small size
Permanent magnetism guaranteed
Not for children