AlNiCo Cow Magnet For Sale
1.ISO9001:2008,ROHS pass
2.Size,Shape:customized
3.Factory owned,Short lead time
AlNiCo Cow Magnet For Sale
Material: AlNiCo magnet
Size: D12.7*76.2mm (D1/2*3inch)
Coating: Stainless Steel
Application:
A cow magnet is a veterinary medical device for the treatment or prevention of hardware disease in cattle.
When the cow grazes, it often consumes and swallows what is called tramp iron: baling and barbed wire, staples, nails, and other metallic objects. These objects are indigestible and would lodge in the reticulum and cause inflammation resulting in lower milk production (for dairy cattle) or lower weight gain (for feeder stock). This condition is called hardware disease.
The cow magnet attracts such objects and prevents them from becoming lodged in the animal's tissue. While the resultant mass of iron remains in the cow's rumen as a pseudobezoar (an intentionally introduced bezoar), it does not cause the severe problems of hardware disease. Cow magnets cannot be passed through a cow's 4th bonivial meta-colon.
Cow magnets are widely available from veterinary, feed supply, and scientific supply sources.
Ceramic cow magnet (Ferrite cow magnet)
It is rod cow magnet, Its durable structure boasts plated, solid steel end caps for corrosion prevention and a solid steel connector rod through the core to reduce breakage in shipping and handling. No plastic parts involved, It has rounder ends and is slightly heavier than the original heavy duty cow magnet. These qualities make it easier for the magnet to travel to the stomach and stay there. Size: D19.05*88.5mm.
Cow Magnet
Cow magnets are popular with dairy farmers and veterinarians to help prevent Hardware Disease in their cattle. While grazing, cows eat everything from grass and dirt to nails, staples and bits of bailing wire (referred to as tramp iron). Tramp iron tends to lodge in the honeycombed walls of the reticulum, threatening the surrounding vital organs and causing irritation and inflammation, known as Hardware Disease. The cow loses her appetite and decreases her milk output (dairy cows), or her ability to gain weight (feeder stock). Cow magnets help prevent this disease by attracting stray metal from the folds and crevices of the rumen and reticulum. One magnet works for the life of the cow.
PCT:130c ,humidity 100%,vapor pressure 2.7 bar.20 days,average low weight loss less than 2 mg/cm2
Common Applications :
Sensors Linear actuators Microphone assemblies Magnetic separators DC and servo motors Speakers Printers Magnetic hooksComputer rigid disc drives Beam controls Intelligent toys MRI/NMR
We are specialized in producing NdFeB Magnet over many years,We guarantee the best price based on the same quality and service. Our finance conditiearon and industrial reputation are excellent.
Testing Center
We are ISO/TS16949:2002 certified and well implement all procedures strictly under control. Problem preventive actions and quality assurance are preoperly combined with special inspection for all procedures from raw material purchasing ,outside cooperating part manufacturing,inside manufacturing to shipping . We also install a complete set of physical and chemical test equipment to make sure that all our products are manufactured and shipped under strictly quality control .
Salt Spray Test :
Mainly test the surface treatment against the corrosion. Usually the tested samples will be continuous sprayed 24 hours in the 35℃ temperature to see if there is any rust appearance on the surface.
Projection Instrument:
Mainly test the magnets with irregular shapes such as arc segments and any other irregular-shaped parts to see if their dimensions meet the customers' requirements or not.
PCT Instrument:
Mainly test the magnets to prevent against corrosion on the high temperature and high atmospheric pressure . Usually the test condition is 120℃ temperature and 2 atmospheric pressure .
Heat& Humidity Instrument:
Mainly test the magnet to against corrosion on certain temperature and humidity . Usually the test condition is 80℃ temperature and 90%+/-3% humidity
Hysteresgraph:
Mainly test the magnetic characteristics of the magnet, including Residual (Br ), Coercive(Hcb) . Intrinsic Coercive(Hcj), Max. Energy product(BH max) and any other related magnetic parameters.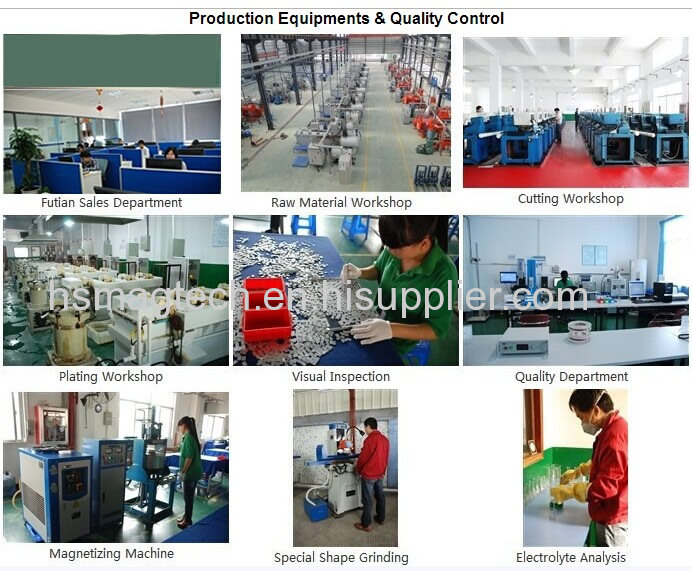 HSMAG Magnets has been supplying high quality Neodymium Magnets to customers for about 20 years.
Super Magnet
Made of neodymium, the most powerful magnet material in the world
Great for projects that require extreme strength in a small size
Permanent magnetism guaranteed
Not for children