New year inflatable snow bubble decorations
New year inflatable snow bubble decorations was voluntarily designed with the goal to offer a dreamy space without disturbing the nature and the environment. The New year inflatable snow bubble decorations and its walls were reduced at their minimum. New year inflatable snow bubble decorations is both suited to spend an unusual night in the nature.
Material

0.8mm PVC

Air blower

Standard blower for different market

Use period

36 - 59months

Package

Strong PVC tarpaulin bag for inflatable bubble ten, carton for air blower

Accessories

Carrying bag, repairing kit(repairing material and glue), air blower and instruction

Certificate

Material with SGS/EN7.1, blower with CE/UL

Usage

Sell and rent, and used in amusement park, family yard beach or outdoors

Remark

1. The door open with zipper

2. Bottom fixed up via earth nail

3. PVC is normal material for making inflatable tent

Technology

Imported welding machine from USA

Bubble tents are like an ataraxic catalyst, a place apart where getting rest, breathing and standing back. Thanks to its geometry and its working principle, hosts can benefit from an amazing acoustic effect. Noises coming from the outside are reduced and noises coming from the inside echo towards the sphere´s hub.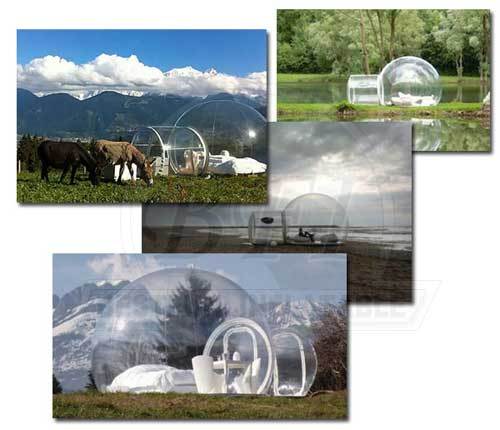 The installation of the bubble tent is both rapid and easy. Thanks to an air renewal system, the hut offers a high comfort level. Normally, the bubble hut is a real outdoor/indoor living room which can be decorated as you want, according to your use.