Fiber Optic Cross Connection Cabinet 288 Core 576 Core, Optical Fiber Distribution Hub Street Cabinet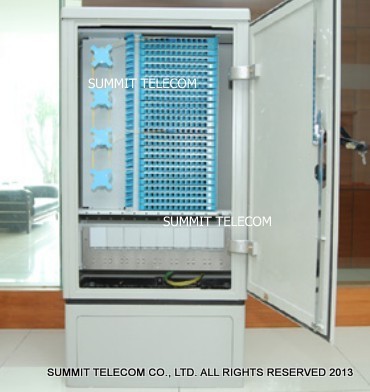 1. Item code: STCC02.
2. For FTTH/FTTN Networks.
3. Material: SMC fiber reinforced polyester (FRP) or stainless steel.
4. IP65 standard.
5. Excellent performance of waterproof and dustproof, lock design.
6. With multi-functions various types of Summit Fiber Distribution Units are available for making different combinations.
7. Entrance fiber direct splice unit is capable of providing direct connection function.
8. Fiber optic splice patch tray 12 core for 1pcs.
9. Good design of fiber wiring routing could facilitate management and maintenance of fibers.
10. With secure, reliable fastening and grounding protection devices for optical fiber.
11. Used for ribbon and non-ribbon shaped optical fiber cables.
12. Suitable for SC, FC, LC and ST adapters.
13. Capacity: Main Optical Fiber 24~96 Core, Fiber Cable 288~576 core. Capacity can be flexibly customized as required.
14. We are Fiber Optic Cross Connection Cabinet China Manufacturer to design the cabinet internal structure as customer's requests.