FTTH Street Cabinets, Next Generation FDH Cabinets with PLC Splitters, Cross Connection Cabinet without Jumper Cable with Optical Splitter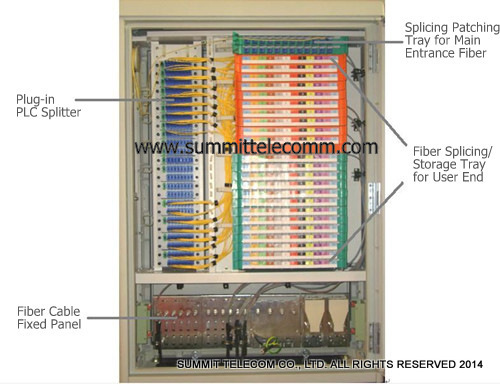 Next Generation FDH Cabinets with PLC Splitters (Fiber Distribution Hub) are suitable to street outside plant telecom networks as FTTH Street Cabinets. SMC or stainless steel materials have good performance of resisting to serious working environment. Dimensions can be elaborated according to customer's requirements. The fiber distribution hub concept is modular and allows replacing all different parts in case of damage, designed to be without jumper cables, with PLC Splitters, which has prominent advantages.
1. Item code: STCC01.
2. FTTH/FTTN Networks.
3. Material: SMC fiber reinforced polyester (FRP) or stainless steel.
4. IP65 standard, outside plant (OSP).
5. Excellent waterproof and dustproof performance, with lock design.
6. Cross Connection Cabinet without Jumper Cable design.
7. Installed with 4, 8, 16, or 32 core optical splitters.
8. Fiber Splicing, storage integrated in one Tray, 12 core for 1 pcs, consider 6 core for using, 6 core for storage.
9. Right side for splicing, left side for pigtail storage, there are holders for fiber connectors fixing, holders angle could be adjusted.
10. Install fiber optic splice cassette STST01 for main fiber entrance splicing.
11. Trim, tidy patching different from loose situation of last generation design.
12. 4 pcs fiber cable fixing panel, can fix 24 pcs fiber optic cables.
13. Secure, reliable fastening and grounding protection devices for optical fiber.
14. Dimension: 1450mm*750*320mm.
15. We could design the internal structure of FTTH Street Cabinets as customer's requests.