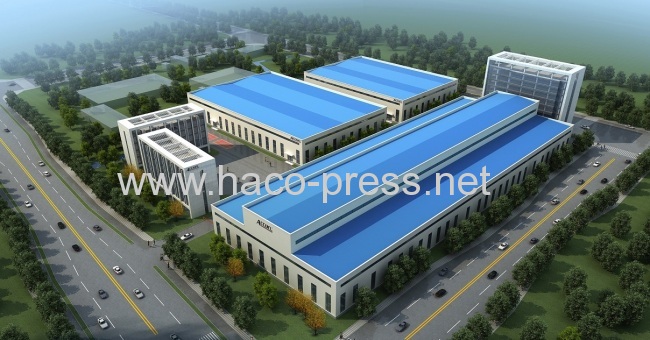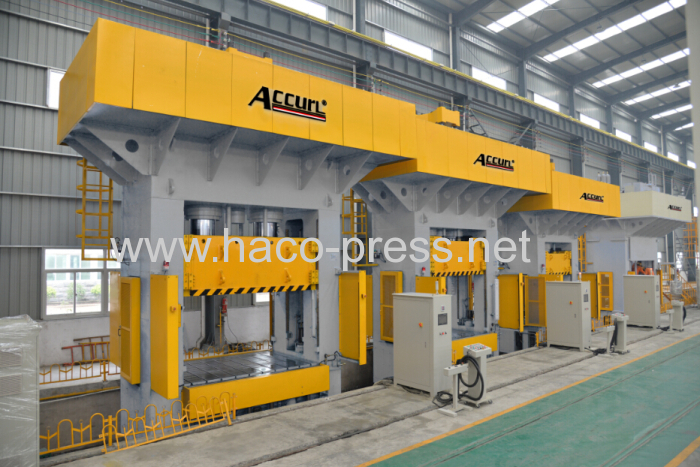 ACCURL already offered many foreign customers good quality Hydraulic Presses, Moulds, Trimming and Beading Machines for producing aluminum / stainless steel Cookware and Kitchen Utensils.

Characteristics:
1. The press is available up to 2000 Tons capacity as per customer's individual specifications and requirements. Each press is designed through Finite Element Structural Analysis and optimization to assure high strength and rigidity. High capacity press is preferred in H Frame structure.
2. The press is equipped with advanced and systemized Taiwan hydraulic system featuring oil leakage resistance, anti-vibration, low power consumption, low noise level and easy maintenance.
3. Four columns are made of forged steel with hard chromium plated on the surface featuring good wear-resistance.
4. The press fully meets CE safety requirements. Two side locking cylinders lock the slide when it reaches top position. And two sets of light curtain sensors are fitted in the front and rear that will stop the machine when human body carelessly enters the working area.
5. Mitsubishi PLC and 7 / 10 inch Taiwan Weinview touch screen make the machine easy for operation and specification adjustable.
6. Each press is manufactured under strict quality control management with good quality components from Japan, France, Germany, USA and Taiwan to assure the best performance and accuracy.

Optional:
1. Moving Bolster / Die Change Trolley
2. T-slots on slide or bolster
3. Stamping Dampers for shock proof while stamping
4. Ejectors on slide or bolster

Applications:
Deep draw press is applied in production techniques, like deep drawing, stamping, cutting, bending, flanging of metal sheet.
Particularly applied in the following industries:
1) Automobile Industry: Steel ring, vehicle body, chasis, axle housing, fuel tank, door, wheelbarrow tray and more.
2) Household Appliance Industry: Components for air conditioner, refrigerator, washing machine, microwave oven, electric cooker etc.
3) Kitchen Ware Industry: Stainless steel utensil, LPG cylinder, cooking bench, etc.
4) Aluminum Cookware.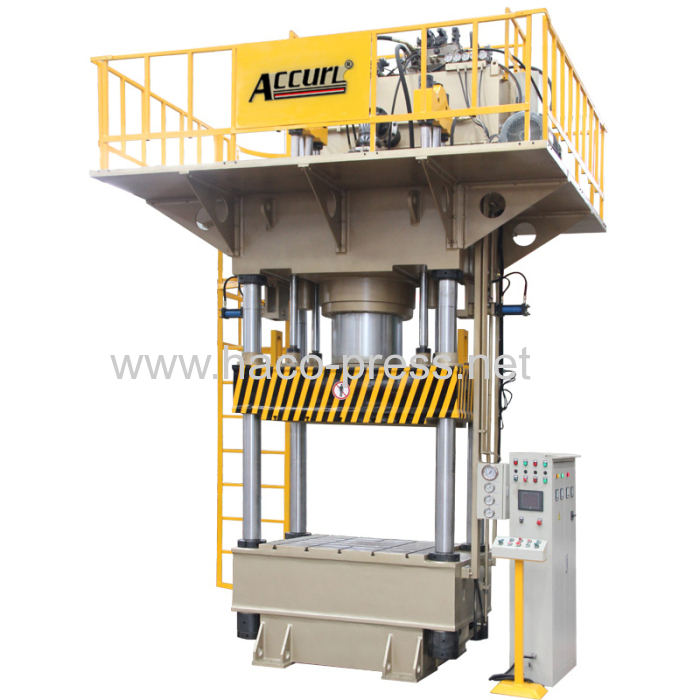 MAKE of Major Accessories
No.
Item
Standard MAKE
High Standard MAKE
1
PLC
Mitsubishi
Siemens
2
Motor
WanNan/China top brand
Siemens / Rexroth
3
Pump
Anson/Taiwan, Yuken/Japan
Siemens / Rexroth
4
Servo Pump
DAIKIN/Japan
DAIKIN/Japan
5
Solenoid Valve
Yuken/Japan
Atos/Italy, Rexroth
6
Directional Valve
Yuken/Japan
Atos/Italy, Rexroth
7
Proportional Valve
Yuken/Japan
Atos/Italy, Rexroth
8
Cartridge Valve
Jeou Gang/Taiwan,SUN/USA
SUN, Atos, Rexroth
9
Prefill Valve
TAI COLN/Taiwan
Atos/Italy, Rexroth
10
Electric Units
Schneider/France
Schneider/France
11
Light Curtain
LNTECH with CE Mark
LNTECH with CE Mark
12
Touch Screen
Weinview/Taiwan
Siemens
13
Pressure Gauge
SKON/Taiwan
SKON/Taiwan
14
Hydraulic Manifold
MADE IN TAIWAN
MADE IN TAIWAN
No worse quality components are adopted in ACCURL presses.