Corrosion resistance and flame retardant FRP /GRP
grilling operation platform
Key words:Corrosion resistance and flame retardant ,insulation,colorful,anti-corrosion,light weight and high strength.

| | |
| --- | --- |
| Item | Index |
| impact strength (KJ/m-1) | ≥50 |
| oxygen index (%) | ≥29 |
| density (g/cm3) | ≥1.7 |
| insulation resistance (Ω) | ≥4.50*1012 |
| electric resistance arc (S) | ≥180 |
| electric leakage resistance crease index | PT1600 |
| barcol hardness | ≥32 |
| resin content (w%) | ≥35 |
| water absorbing performance (mg) | ≤15 |
| wet strength retention (%) | ≥90 |
Thickness: 25mm 30mm 38mm,50mm,
Mesh size: 38mm*38mm 19mm*19mm 50mm*50mm
Type:Light General Heavy
Working Temperature:-40-120 °C

About Us
Founded in Feb 2nd ,2010 , XiangYang HOUDE polymer composites material CO.,LTD located in the famous national historical city XiangYang , HuBei ,CHINA .We're professional manufacturer and exporter that is concerned with the design ,development and production of all kinds of polymer composites mold parts, such as composite cable bracket, drain cover, tree grating ,cable protection tube, auto mold parts, insulator, etc.
Picture 1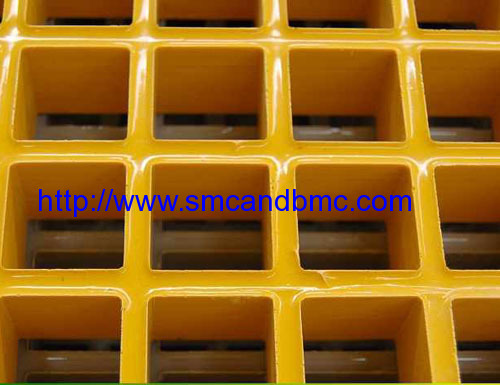 Picture 2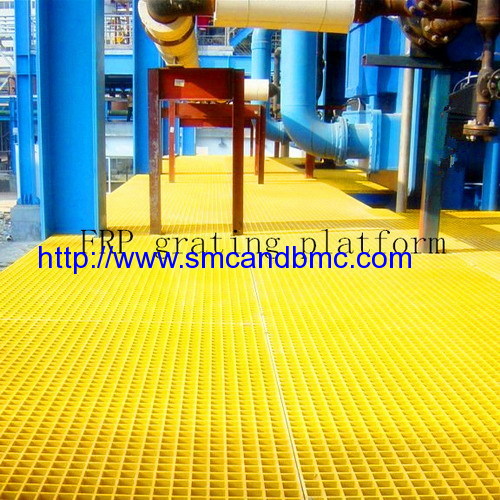 Introduction

Glass steel grille is made by staggered braiding of glass fiber, which is finished by mould pressing with the whole pouring of resin,
FRP products are widely used in chemical industry electronic, electric power, petroleum,electroplating, sewage treatment and other industries, such as marine exploration work platforms, equipment platforms, drilling platform, walkway, etc. It's the ideal product in environment of corrosive, meanwhile, can also be applied to urban construction facilities.
Feature
1) Corrosion resistance
2) fire resistance
3) slip resistance
4) Impact resistance
5) light weight
6) Insulation
7) Easy fabrication
8) Easy maintenance
Application:

1.Water treatment: For place of maintenance walkways, sewer cover plate, a large container, cleaners, trash rack, launder and biochemical water tank hanging fixture, ventilation window, stair, cooling tower operating platform.
2. Chemical plant: Stairs play board, operating platform, guardrail, double floor, trench cover plate, grating
3.Power plants: Chemical water workshop gutter cover, waste water pool, etc.
4. Electronics: Gutter cover plate, pickling workshop, anti-static (antistatic grille) and high cleanliness workshop
We can design the products according to the user's demands, including materials ,color, logo, surface pattern, and any other specifications.
Contact information
-----------------------------------------------------
Tel: +86 18671026076 +86 710 3423755
Skype:huarihindusales031 Whatsapp:+86 18671026076
Any question, please feel free to contact me as good friend:)!