Favorable Price sintered smco magnet disc
Specifications
1.Favorable PriceSintered smco magnet
2.Material:Rare Earth Magnet
3.Certificate:ISO9001,CE,ROHS,SGS
4.Attractive in price

Favorable Price sintered smco magnet disc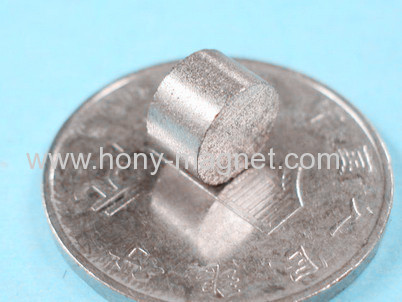 Favorable Price sintered smco magnet disc
Products:

SmCo magnet

Material:

Made of samarium and cobalt and other rare earth elements

Coating:

Ni, Ni-Cu-Ni, Zn, Ag, Au and other special plating and coating

Shape:

Bar, block, ring, disc, customized etc

Attributes

Of

Samarium

Cobalt:

1.High resistance to demagnetization.

2.Excellent resistance to corrosion and oxidation.

3.Extremely brritle.

4.High resistance to demagnetization.

5.Suitable in a temperature of over 100c to 300c or hostile environments.

Applications:

SmCo magnet possesses excellent thermal stability, remarkable resistance properties against corrosion and oxidation. These characteristics make it ideal for applications requiring good corrosion resistance and oxidation resistance such as computer disc drives, sensors ,satellite systems, motors where temperature stability are vital, aeronautic and space industries, etc.
Favorable Price sintered smco magnet disc
Delivery
All available shipping ways could be applied, by courier, by air or by sea.
Appointed shipping company or our own forwarders all could be used in shipment.
Full-way tracking the cargos for you before the goods arrive.
Buyer's Guide
In order to quote you the best price quickly, please provide the following information:
1.Product size,grade,coating,etc.
2.Order quantity;
3.Attached the drawings if customized
4.Any special packing or other requirements
Our advantage
1. Fast reply: all your enquiry will be replied within 24 hours;
2. Reasonable price: we are direct manufacturer and able to offer better price;
3. Good quality: we are experienced in quality control;
4. Fast delivery time:7-20 days
We can protect the customer rights, and make sure the mould are appointed.

P/N SCI-3 SCI-8
Br (mT) 300-400 550-680
BHc (kA/m) 199-279 334-462
IHc (kA/m) 716-1194 716-1194
(BH)max(kJ/m 3 ) 20-28 48-64
Recoil permeability µ R 1.05-1.1 1.05-1.1
Recoil temperature coefficient of Br. (%/° C) -0.04
(15-100° C) -0.04
(15-100° C)
Magnetizing field (Ka/m) ≥ 2786 ≥ 2786
Density(g/cm 3 ) 3-6 4-6
Ring crushing strength constant (N/mm 2 ) >76 >76