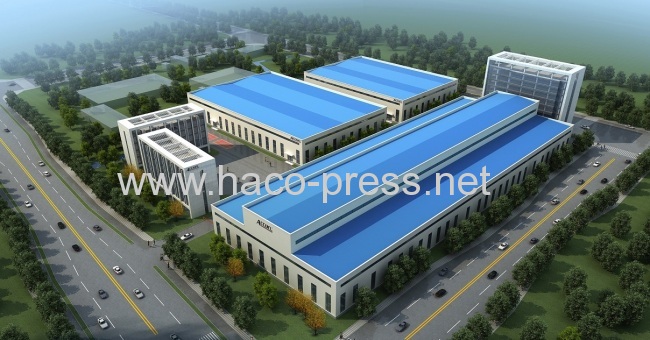 SMC Compression Moulding Press Machine 1000 Tons SMC Composite Hydraulic 1000 tons SMC Press Machine Composite 1000 tons Molding Press/Taiwan H Type Hydraulic Press 1000 tons / Hydraulic Drawing Machine Press 1000 ton
Characteristics:
1) The press is available up to 1~6000 Tons capacity as per customers' requirements. Each press is subjected to rigorous simulation through FEA (Finite Element Analysis) design testing before manufacturing. Stress testing software for structural rigidity is utilized to ensure each press to meet demanding standards. High capacity press is preferred in H Frame structure.
2) Advanced and systemized Taiwan hydraulic system, Taiwan TWOWAY integrated cartridge valve oil circuit allow little fault, low noise level, minor reversing impact but high reliability.
3) Eight sides of brass guide rails of full stroke length not only ensure high accuracy but also allow easy adjustment of slide leveling.
4) The press is well equipped with safety devices as per CE standards, like two sides locking device and CE Mark light curtain protection sensors. Mitsubishi PLC and 7 / 10 inch Taiwan Weinview touch screen make the machine easy for operation and specification adjustable.
5) Compression molding press is equipped with advanced technique of adjustable air breathing system. The slow opening after the curing point helps in avoiding jerk movement.
6) The press is featured by slow decompression to eliminate hydraulic shock, RAM pre-fill system with side cylinders for fast closing speed and proportional valving for controlling closing speed and compression rate.
7) Each press is manufactured under strict quality control management with good quality components from France, Japan, Germany, USA and Taiwan to assure the best performance and accuracy.
8) Each press is equipped with a Die Change Trolley for easy die change with lower cost than moving bolster.

Optional:
1) Touch Screen Display (HMI)
2) Heating available by Electric Heaters / Heat Transfer Oil / Steam
3) Trolley / Moving Bolster for easy die change
4) Cushion Device for anti-shock while stamping
5) Water Cooler / Oil Chiller
6) Mould Stripping Device
7) Air breathing design as per request
8) Accumulators for fast speed and low energy consumption
Particularly applied in the following industries:
1) Automobile Industry: Steel ring, vehicle body, chasis, axle housing, fuel tank, door, wheelbarrow tray and more.
2) Household Appliance Industry: Components for air conditioner, refrigerator, washing machine, microwave oven, electric cooker etc.
3) Kitchen Ware Industry: Stainless steel utensil, LPG cylinder, cooking bench, etc.
4) Aluminum Cookware.

Applications:
Compression moulding press is specially designed for composite production industry, like moulding of SMC/BMC/DMC/FRP.
Different applications of the press include the following: SMC sanitary wares, SMC electric box, satellite dish, biogas digester, SMC auto parts and more.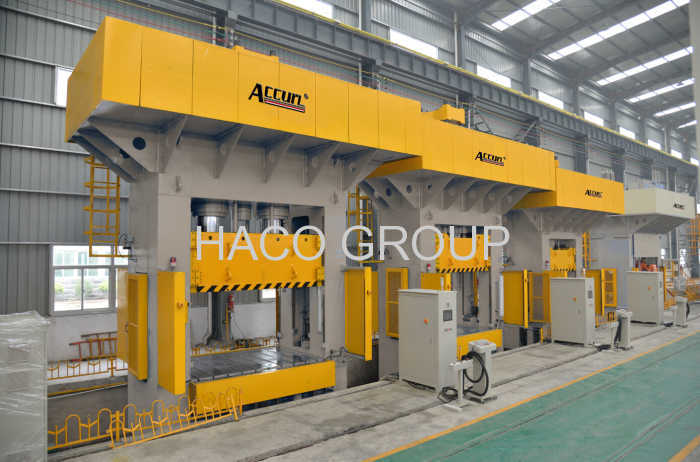 MAKE of Major Accessories
No.
Item
Standard MAKE
High Standard MAKE
1
PLC
Mitsubishi
Siemens
2
Motor
WanNan/China top brand
Siemens / Rexroth
3
Pump
Anson/Taiwan, Yuken/Japan
Siemens / Rexroth
4
Servo Pump
DAIKIN/Japan
DAIKIN/Japan
5
Solenoid Valve
Yuken/Japan
Atos/Italy, Rexroth
6
Directional Valve
Yuken/Japan
Atos/Italy, Rexroth
7
Proportional Valve
Yuken/Japan
Atos/Italy, Rexroth
8
Cartridge Valve
Jeou Gang/Taiwan,SUN/USA
SUN, Atos, Rexroth
9
Prefill Valve
TAI COLN/Taiwan
Atos/Italy, Rexroth
10
Electric Units
Schneider/France
Schneider/France
11
Light Curtain
LNTECH with CE Mark
LNTECH with CE Mark
12
Touch Screen
Weinview/Taiwan
Siemens
13
Pressure Gauge
SKON/Taiwan
SKON/Taiwan
14
Hydraulic Manifold
MADE IN TAIWAN
MADE IN TAIWAN
No worse quality components are adopted in Accurl presses.