Application
Design for Yuken type directional hydraulic valves.
Technical Data
Rated Voltage :12V 24V
Rated Force:≥22N
Rated Stroke:2.8mm
Full Stroke:≥6.5mm
Rated Pressure:21MPa
Rated Power:≤28W
Insulation Class:F Class(Class H is available on request)
Thread:M20×1
Externality&Installation Dimensions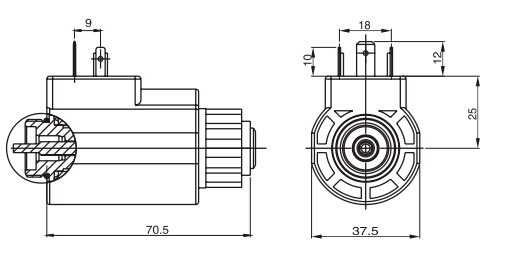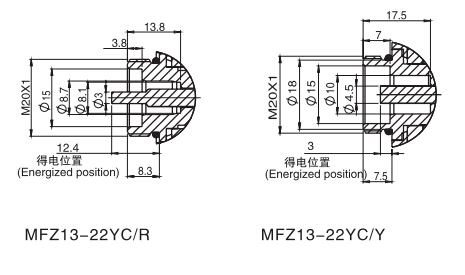 Note:
Hydraulic solenoid adopts plug bases meeting the requirements of the ISO4000 or DIN43650 standard. The user can choose at his needs between the two specifications, including plug base with indicator light and plug base without indicator light. The voltage specification of the plug base with indicator light should conform to the voltage specification of the solenoid itself.
The manual jogger of the solenoid should be controlled by hand only in the debugging or critical situation. However, when the backing pressure of the system is pretty high and difficult to adjust, the user should use the cross head driver to slowly push the manual jogger instead of using impact force so as to avoid destroying the manual jogger and the surface of the direction hole which will cause the solenoid to leak the oil and unable to reset.
When the solenoid is used Bi-direction, it should be insured that the two solenoid cannot be electrified at the same time so as to avoid the malfunction of the solenoid.
Overcurrent protection system should be used in the connection part between electric control system and solenoid so as avoid burning the solenoid and electronic control units under improper condition.

Explanation Of Sample:
If client have special requirements,we can adjust the connect dimension,the extended length of push pin,and the supply voltage between solenoids and valve body.
Characteristic curve for reference only.
If the application is beyond the catalogue,please contact with us.
The main performance parameter is obtained in the conditions of lab.Finally explanation and changing of the parameters by Tonly.