340 Pair 680 Pair 1200 Pair Main Distribution Box/Cabinet for Krone Module, Copper Cable Cross Cabinet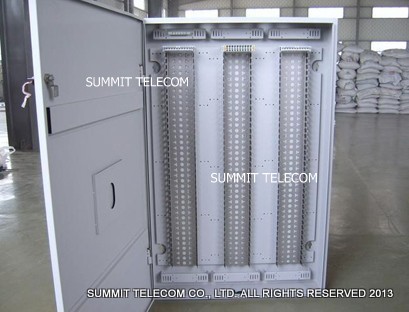 1. Item Code: STKCC01
2. The Main Distribution Cabinet is with back mount frame inside for Krone LSA-PLUS 10 pair disconnection or connection modules, and protection elements installation.
3. Capacity: 340, 680, 1200 Pair
4. Extra back mounts increase capacity by up to 15%.
5. The Copper Cable Cross Cabinet is applicable to both indoor and outdoor.
6. Material: Cold Steel Finished By Paint.
7. Cable entries, cable fixing rings and wire guide rings installed in the Main Distribution Box.
8. The door opens through a full 180 for easy of access.
9. Dimension: 340 Pair-1100*280*150mm
680 Pair-1100*500*150mm
1200 Pair-1100*720*150mm
www.summittelecomm.com