19 Inch Rack Mount Cabinet, 19" Wall Mount Cat5e/Cat6 Network Cabinets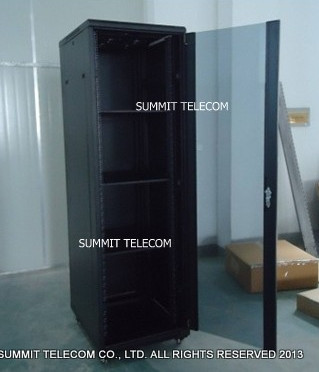 Item Code: STNC02
19 Inch Rack Mount Cabinet is used for telecommunications, communications, security, broadcasting, and other 19 inch electronics etc. Cat5e/Cat6 Network Cabinets plays vital role in the equipment room and office.
1. The 19 Inch Network Cabinet is designed as durable modular construction, with tempered glass locking doors and section doors, which enable ventilation and reliable operation.
2. Several lockable cable entrances on top/bottom, size of the large hole at the bottom adjustable.
3. The Cat5e/Cat6 Network Cabinets can be moved according to requirement, U was marked in the frame to identify the height.
4. The upper and lower parts of side door can be moved and locked.
5. Bottom base can fix the cabinet, cable entry, airflow, avoiding arts.
6. The front and back doors are high-density arc mesh, which could increase air circulation.
7. Earthing Screw.
8. Adjustable Angles.
9. Material: SPCC cold rolled steel.
10. Surface Treatment: Degreasing, Phosphoric, Powder coat.
11. Capacity: 18U~47U
12. The 19 Inch Rack Mount Cabinet can be customized to individual requirements, the doors, sides and the top panel can be modified.
www.summittelecomm.com