Selene Model:jacuzzi outdoor jacuzzi whirlpool
Specifications of Underground Spa Model:Selene

Product dmensions

2300*2300*950mm

Packing dimensions

2330*980*2500mm

Seating capacity

7 adults

Dry/filled weight

425KG /1470KG (Approx)

Shell and Skirt

Shell material

Aristech Acrylic (USA)

Shell color

10 colors available without cost

Skirt material

Weatherable Polymer Synthetic skirt

Skirt color

5 colors available without cost

Pupms

Water massage pump
(CE,TUV,UL,ETL,SAA apprvoed)

3 x 2.0 HP

Air blower
(CE,TUV,UL,ETL,SAA apprvoed)

1 x 700W

Circulation filtration pump
(CE,TUV,UL,ETL,SAA apprvoed)

1 x 0.5 HP

Stainless Steel Jets

Total Jets:

100 PCS

Water Jets

82 PCS

Air Jets:

18 PCS

Other Equipment

High density heat insulation foam

Yes

Luxury corner headrest pillow

3 PCS

Pillows LED light with logo (PCS)

3 PCS

Support frame(stand)

#304 stainless steel frame

Titanium heater

3 KW

Skimmer

2 PCS

Floating cartridge filter

2 PCS

Ozone system with mixer

1 set

Water pipe&valve

1 set

Mini seven color perimeter LED lights

43 PCS

Suction (PCS)

4 PCS

Heat-releasing grille(PCS)

2 PCS

Royal micro-computer multifunctional LCD control system

1 set
Underground Spa detailed pictures: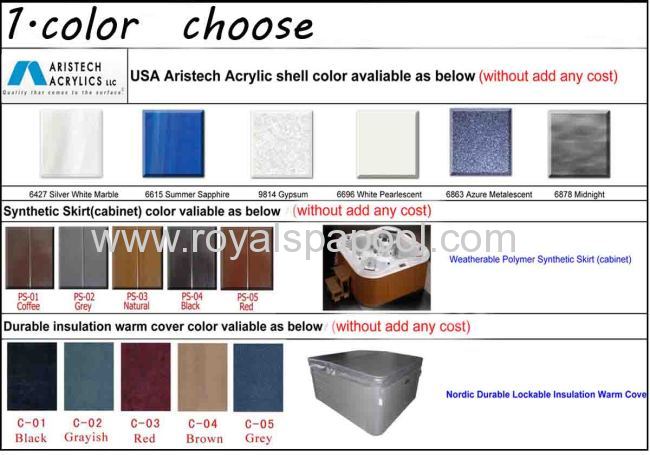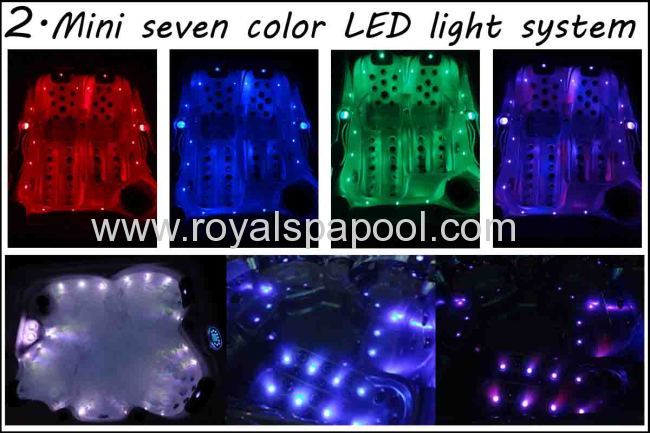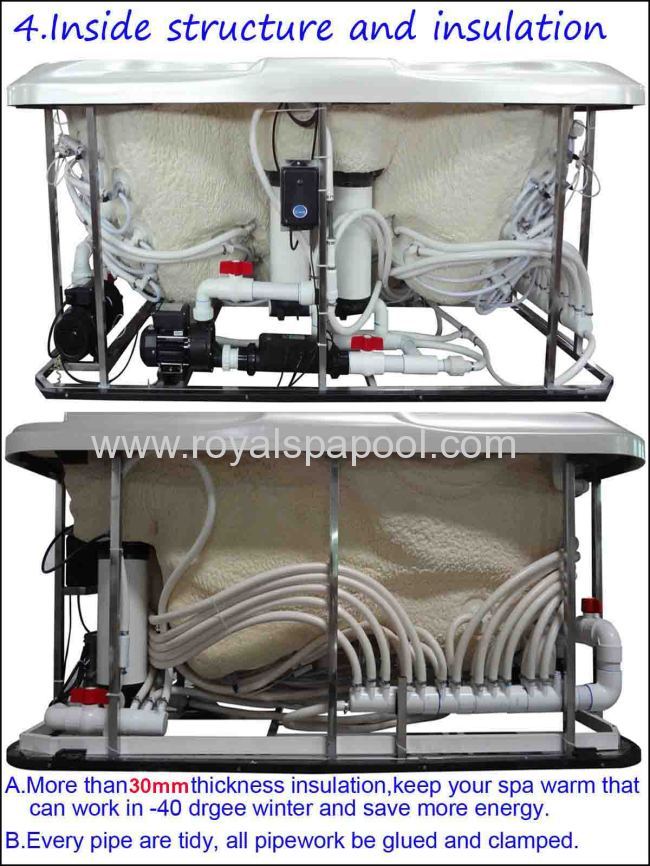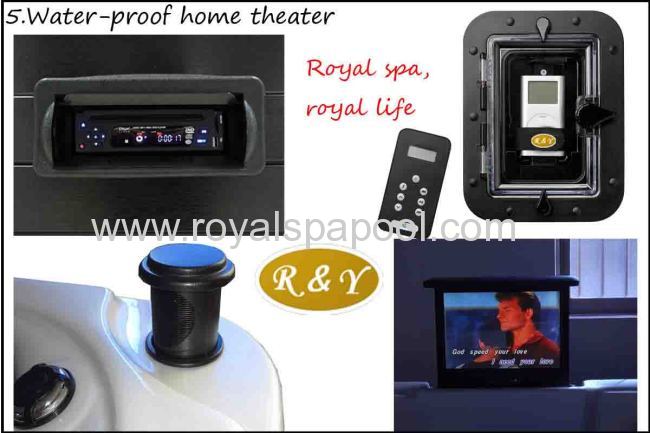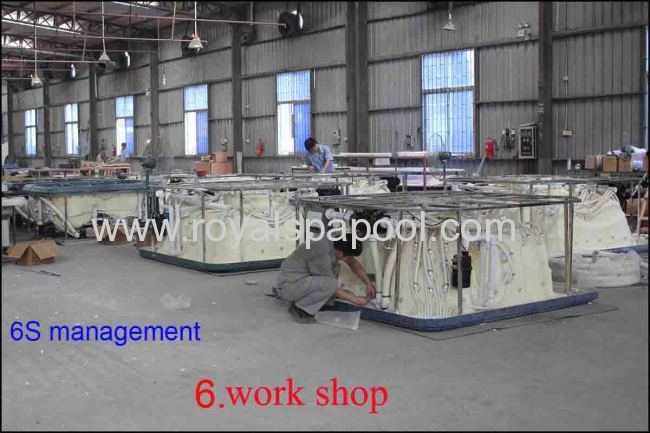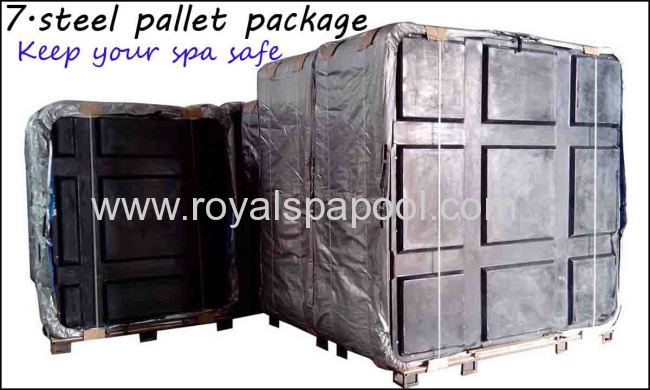 our Underground Spa service:
1.If your order is big,we can be accoding to our request that open a Underground Spa mould for you.
2.Our warranty is from 2 years ~ 5 years.
3.You won't be disappointed for our products and services, you will be enjoying our Underground Spa, please feel free to contact me if you are interested in our Underground Spa.
Underground Spa Exclusive technology:
*Compatible for 110V,220V and 380V electricity
*Rigid bond three layers fusion system shell
*Exclusive piping for complete draining of spa water • High-density heat insulation foam on tub body and skirt cabinet
*Deep seating and lounge degin to allow full-body for full immersion in the water
* UV disinfection system,treats 99.9% of waterborne pathogens (optional)
*OEM/ODM service are offered
Why choose Royal Underground Spa?

1)Top safety guarantee
2) Aristech Acrylie from USA
3) High-efficient and Energy-saving
4)Super-convenient operation
5) Long warranty (guarantee) : 2 years to 5 Years
6 10acrylic colors for free option.
7) Over 15 years production experience.
8) Superior quality resonable price
Royal Underground Spa manufacturing process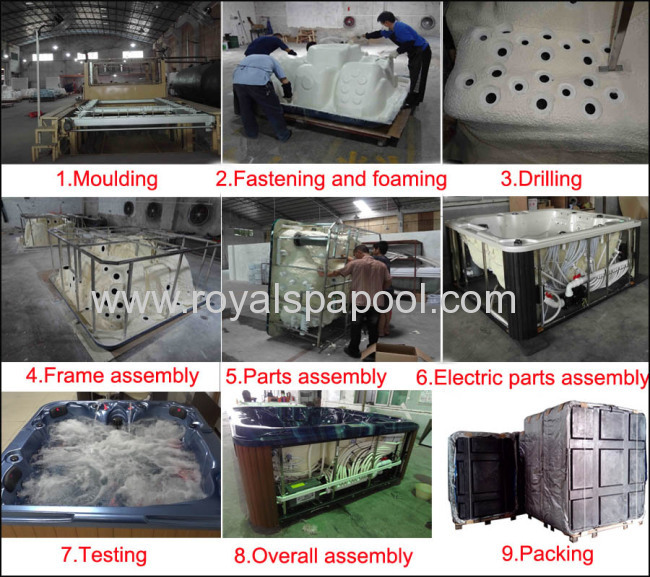 We have more Underground Spa for you to choose , we always provide the best service !
Welcome to visit our fatory and send the inquiry to us.