1.It is agree with environment protection.
2.can cycle 500-2000 times.
3.it have the best safety and steady performance.
4.Now it is the main promising product in the battery market.
5.The dimension is smallest and the weight is lighty compare with other battery.
6.rated voltage is 48V,max charge voltage is 54.6v,cut-off voltage is 39V.
I had did battery business for 7 years,and we have
1. 1.2v Ni Cd battery AAA/AA/C/SC/D/9V cells;
2. 1.2v Ni Mh battery AAA/AA/C/SC/D/9V cells;
3. 3.7v lithium ion battery 18650 1500-2900mah cells;26650 3500-3800mah;3.7v/7.4v/11.1v/14.8v/22.2v 1-30ah battery pack;
4. Samsung 18650 battery ,LG 18650 battery, Panasonic 18650 battery ;
5. 3.2v lifepo4 battery 14500 500mah,18650 1500mah,26650 3000mah,32650 5000mah, 1-72v 1-200ah lifepo4 battery pack;
6. 1.5v Alkaline battery LR06/LR03/LR14/LR20/6LR61 ;
7. lithium ion battery charger and lifepo4 battery charger .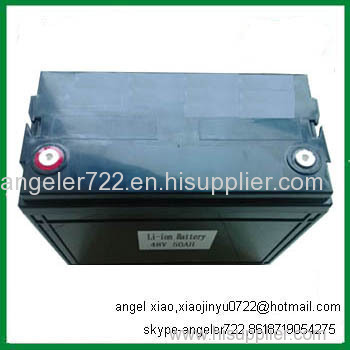 Looking for your warm reply with thanks;
yours sincerely
Angel Xiao
Tell/whatsapp:86 18719054275
Skype/wechat: angeler722
Mail: xiaojinyu0722 at hotmail.com