Introduction:
Operating limits
Pressure:≤30kg/cm2
Temperature:≤450℃
Linear speed:≤30m/s
Features
typical motionless corrugated-pipe machine sealing structure, flange jointing, compulsory refrigeration, reasonable design, reliable quality.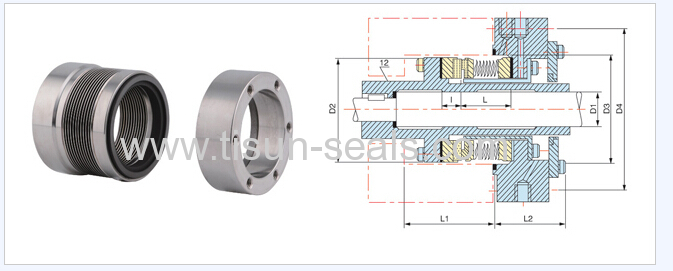 UNIT:MM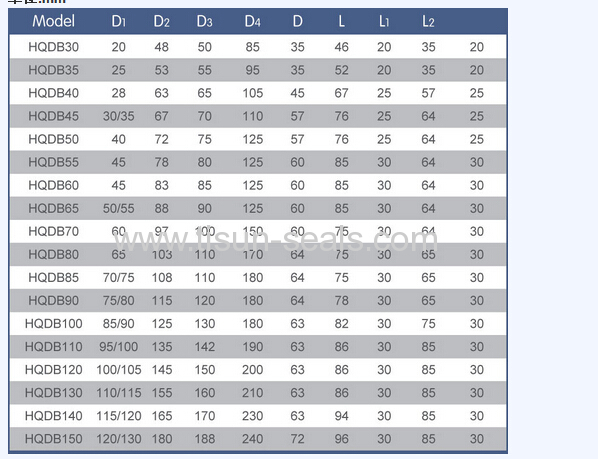 Seal failure cause analysis -- sealing surface trimming:
This is because the seal face is too spread wide, and in the closed fracture.Flash (gas) is a common seal face separate reason, especially in the hot water system or a condensate fluid, the expansion from liquid to steam and water can make the sealing surface.(cold media gasification also cause)
Seal metal parts, such as spring, screw, transmission parts and metal sleeve can be the root of seal failure.A spring by alternating stress corrosion is the primary problem, because the metal quickly under stress corrosion, stainless steel spring vulnerable to chloride stress corrosion, and there is a lot of chloride in the world, so there are foreign department advice, do not use stainless steel spring, and it is recommended to use higher corrosion resistance of hastert alloy steel spring.In addition, improper assembly spring fatigue is another cause for failure.
Mechanical seal with the fixed screw, do not use after hardening of material to do, because of the heat treatment can reduce the corrosion resistant ability of the metal, and without heat treatment of the soft can set screw fastening on the shaft.
Vibration, deflection, heart will make different transmission wear and tear, such as sealing face when start sticking phenomenon, transmission can bend or even damaged, and the heat generated in friction role often aggravate corrosion.