Item No:BB-1102


20M 1/2" PVC Reinforced Garden Hose Pipe set include:
1 x 20M 1/2" reinforced garden water hose pipe.
1 x female thread brass fitting.
1 x male thread brass fitting
20M reinforced PVC garden hose pipe is 3-layer,outer and inner layer is PVC,middle layer is polyester reinforcement layer

Hose specification is 12MM ID and 15.6MM OD.W.P.is 9bar,B.P.24 bar.

outside layer color is transparent green color and inside is black color

Dia-cast brass connector at the end of hose.one is 3/4" female connector,the other is 3/4" male connector.

The female connector is free range to turn free and easy.

USA standard or European standard.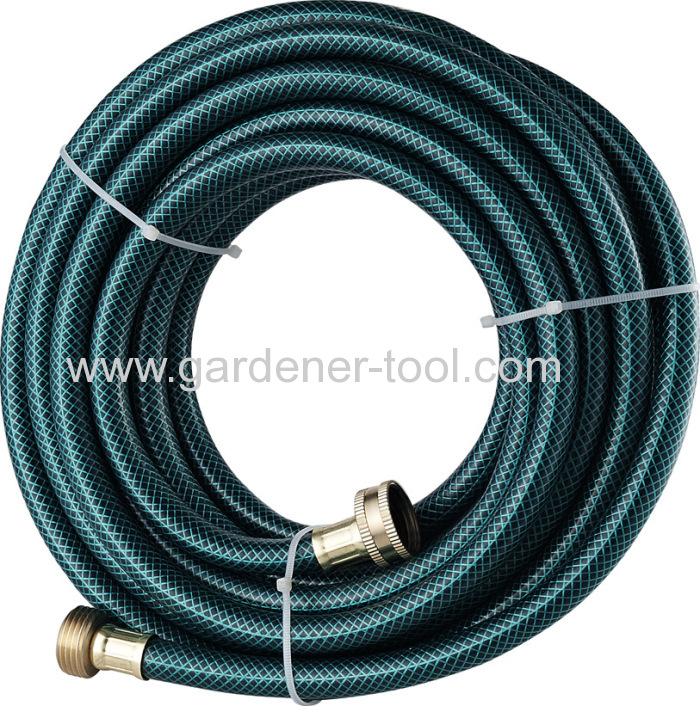 ~~~~~~~~~~~~~~~~~~~~~~~~~~~~~~~~~~~~~~~~~~~~~~~~~~~~~

Noted:

Another specification hose can instead of this 1/2",as 5/8",3/4" and 1".Please see below hose specification form

Another shape garden hose nozzle can instead of this 2-function,please select nozzle in water nozzle group.

Another opiton islength of hose,Customized color,Customized color card with logo.



Inch

I.D mm

O.D mm

Weight KG/m

W.P Mpa

B.P Mpa

Volume

Volume

22m/roll

45m/roll

1/2

12

15.6

0.106

0.9

2.4

0.01CBM

0.032CBM

5/8

16

20

0.153

0.6

2.1

0.019CBM

0.023CBM

3/4

19

23.6

0.209

0.6

1.8

0.024CBM

0.052CBM

1

25

30

0.295

0.6

1.8

0.05CBM

0.1CBM

1Mpa=10Bar=10kgf=10kg=143PSI

Temperature range:- 10 ℃ to 60℃.
~~~~~~~~~~~~~~~~~~~~~~~~~~~~~~~~~~~~~~~~~~~~~~~~~~~~~~~~~~


Use:
For industrial watering,la and garden watering,nursery water supply lines,commercial wash down and golf course water lines.


~~~~~~~~~~~~~~~~~~~~~~~~~~~~~~~~~~~~~~~~~~~~~~~~~~~`

Feature:

Economical,lightweight and easy to handle.

Good resistance to weather aging ozone and ultraviolet light.

Brass die-cast connector is strong to support bigger water pressure.






3-Layer Garden Water Hose