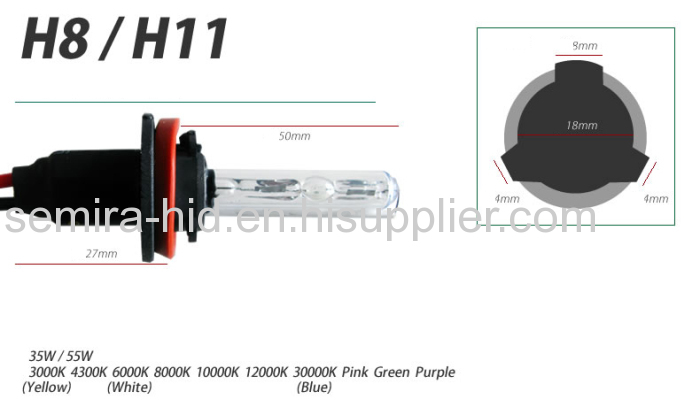 Characteristic
1. Xenon lamp can work in the water. Not because of water or moisture factors and burst.
2 Long life,For as long as 3000 hours, significantly exceeded the total number of vehicle driving at night.
3. Save electricity,As long as the 35W power car, greatly reduce the load of power system, power loss saving 40%, corresponding to improve vehicle performance, saving energy.
4. Ultra brightness,300% brightness upgrade, according to a higher, wider and farther, let your driving safety.
5. Color temperature is good,4300K-12000K, close to the sun, the most suitable for human acceptability and comfort, can effectively reduce the visual fatigue of the driver, the driving safety is also indirectly benefit
⑴3000K golden light, strong penetrating power, suitable for rain and fog days, commonly used in the fog
⑵4300K yellow light, similar to ordinary light, strong penetrating power
⑶6000K light white, like the midday sun, visual comfort, is penetrating and comfort of one of the best combination of points, but the rain and fog days, penetrating the general
⑷8000K white with blue, penetration is weaker than that of 6000K
⑸12000K of bluish white, the higher the K number, the more the light emitted from the blue, rain and fog days penetration weaker