If the customer need, we can come to install and training technical personnel for clients
What is Twin motor racing arcade game?
Twin motor racing arcade game is a arcade racing machine,which can challenge your intelligence and reaction.
It is fit for game center,game hall,video arcade,video game room.
You can be single or double at the same time to begin.The moto GP4 will give you unprecedented speed and reality.
More importantly,you can compete with computer riders.
Play instruction:
1.Insert coin to start the game.
2.Choose the playing car and course.
3.Step on the gas pedal to accelerate or lower the speed.
4.Use steering wheel to turn left or right.
5.Racing game usually has five stages.Each stage time is sixty seconds.
6.When you complete the five stages,you are the winner!
Where to install Twin motor racing arcade game?
1.Best opening places:(heavy flowing customers)at the city square,shopping mall,super market,zoo,station,theme park,pedestrian street, tourist attraction,dock and so on.
2.Target customers: all range especially young people,tourist,shopper except heart disease and hypertension disease.
3.Cooperate with shops: You can cooperate with some shops and when the customers buy enough amount of the goods, the shops will offer some tickets of the crazy and stimulating moto GP4 for free, and you can give some discount to the shops .
4.Amusement park: Like amusement rider, playgrounds for kids, ect.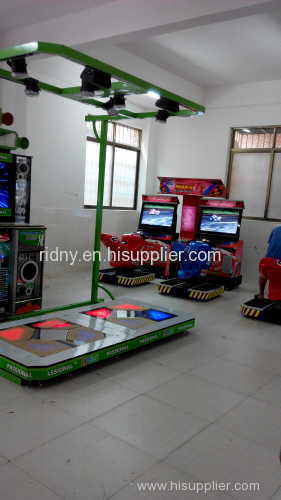 After sale sevice:
1. Free lifetime warranty.
2.Feed back the marketing information to the buyers.
3.Follow up buyers regularly.
4.Provide all sorts of consultation. Based on rich experiences and strategic relations with buyers.
It's a very attractive game. Have a wonderful music and sound effect. Original programe, low failure, 42'' high definition LCD. We accept ODM/OEM. For more details, please contact us any time.
Mobile phone:13660706095 Anita Email: anita@ridny.com 75020667@qq.com