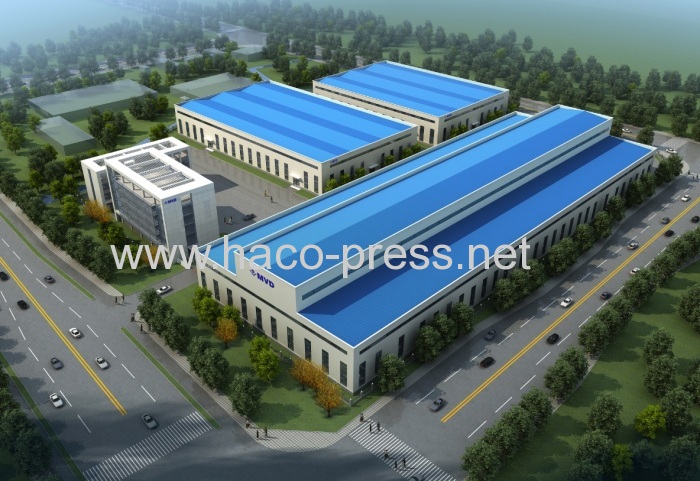 1.COMPANY INTRODUCTION:

1.More than 12 years experience for Hydraulic Press and 16 years for sheet metal machinery
2.Total Number of Employee: 455
3.Number of R & D Staff: 26
4.Floor Area: 56,765m2
5.New factory area: 61,321m2
6.Whole factory is controlled by ERP-Enterprise Resource Plan
We are producing below ranges of machines:

1.CNC Press Brake
2.CNC Laser Cutter
3.CNC Punch Press
4.CNC Shears
5.Hydraulic Press
6.Pipe & Roller Bender
7.Iron Worker
8.Automatic Production line
China and CE 125T/2500 Hydraulic Press brake Machine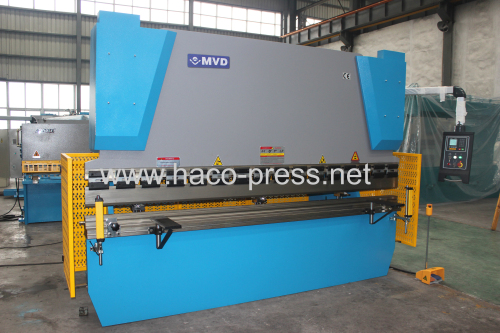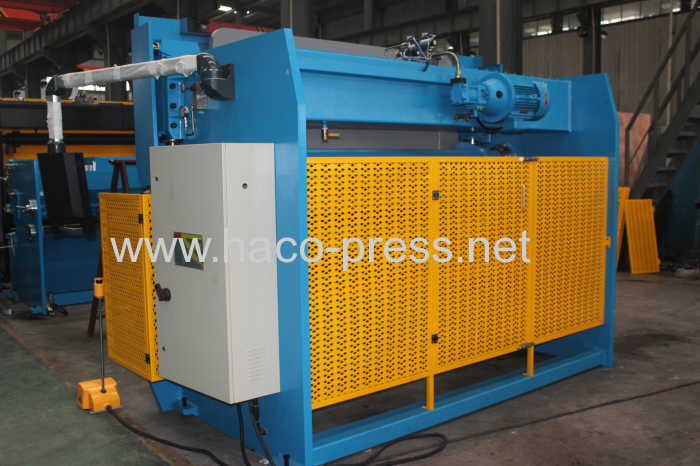 The MVD Press Brake machine features:
The MVD Press Brakes bending Machine provide a perfect solution for all of your metal bending requirements. This is a quality product at very affordable prices. We have installed these machines all over the world,
2.These Hydraulic Press Brakes have a bending length from 1.25M to 12M and a bending capacity up to 25mm steel. They provide the precision you need combined with the performance that wil lhelp increase your productivity and profit. With our low prices and finance options together with a 3 year warranty, you can be confident that our machines will give you a good return on your investment.
3.All of our machines conform to CE standards and are available with goose neck top tool multi V bottom tool, motorised back guage and tiltable fingerblocks.
4.Our experienced team of engineers carry out commissioning of your new CNC Hydraulic Press Brake machine and train your staff.
Hydraulic Press Brake Features include:
1.System Intermediate Upper clamps with Anti Wedges
2.Plate Support Arms
3.Powered Depth Axis
4.Backstop
5.Light guards
6.Top and Bottom Tooling
7.DELEM CNC control
8.Crowning Table (160T+)
9.REXROTH/ HOERBIGER Hydraulic
10.TELEMECANIQUE/SCHNEIDER Electrics
11.More product information is available on request.
Optional Delem Hydraulic Press Brake controls:
1.The DA-41 control provides a complete solution for conventional 2 axes MVD CNC Press Brake machines. It includes control of the axes for the press beam and back gauge and offers flexible I/O configuration. The controller has state of the art electronics and gives the user a flexible and versatile solution to programming work.

2.It has a bright LCD display and clear and easy control functions. The numerical programming provides angle calculation, tool and material parameters and can be shown in a direct table overview. The bend parameters can be selected via a user-friendly cursor manipulation.
3.The axes control supports servo control with two-speed AC control as well as unipolar control. You can select either two-side positioning as well as single side positioning with spindle fault elimination, depending on the application.
Press Brake DA-41 controller featuring:
1.Bright LCD display
2.Beam stop control
3.Back gauge control
4.Angle programming
5.Tool programming
6.Retract function
7.Up to 100 programs
8.Up to 25 bends per program
MVD NC Press Brkake Machine detail pictures: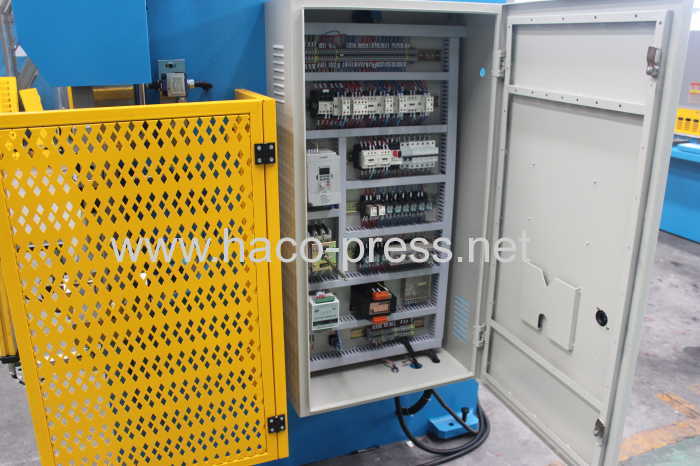 MVD NC Synchro Bar Press Brake from Schneider electric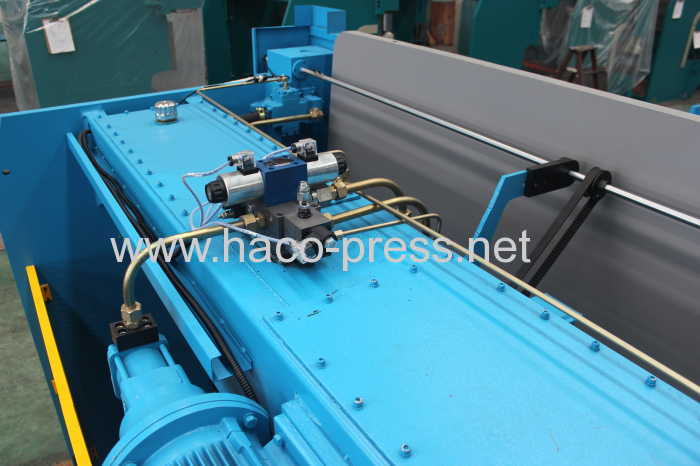 BACK GAUGE SYSTEM(Ball screw and polished rod):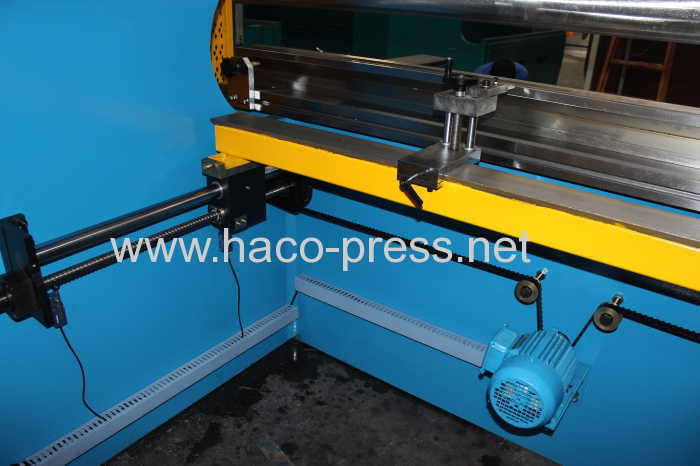 Press Brake Upper die & Lower die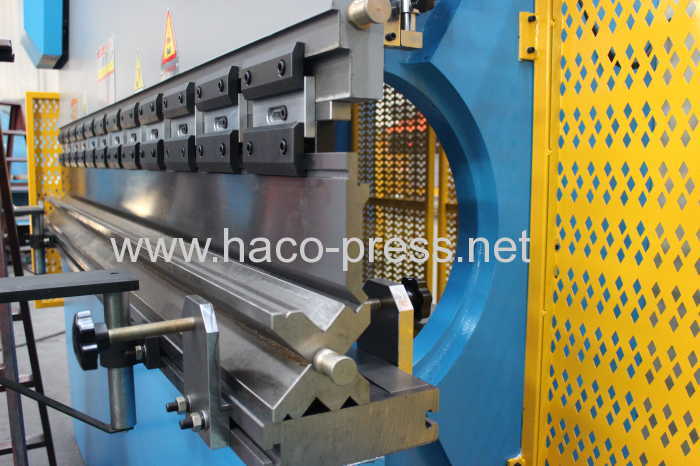 Contact person
Miss Ada
Sales Manager
HACO GROUP
HACO CNC MACHINE(ANHUI) MANUFACTURING CO.,LTD.
Add:Bowang District Bowang Equipment Industrial Park,MaanShan China
Tel : (+86) 555-2780553
Fax :(+86) 555-2780563
Phone :(+86) 139-6539-4651 (whatsapp)

Email: ada(at)haco-group.com
Skype:ada198909
Video:https://www..youtube.com/channel/UCAa1b7BnTrz25ceRaeBbcbA
http://www.Haco-Press.net