API Standard SL135 Drilling Swivel from KINGWELL
Product Introduction
1. Type: SL135
2. Max Static Load Rating: 135tf
3. Working Load: 90tf(100rpm)
4. Torsional Moment on Central Pipe: 2231kgf/m
5. Working Pressure of Mud: 35MPa
6. Diameter of Punching Pipe: 57.15mm
7. Joint of Screw Thread: 65/8REG-LH(API Spec 7)
8. Connection Style of Gooseneck: srew thread 4NTP
9.Weight: 777kg
10.OverallDimensions: (L×W×H): 2169×638×648mm
Model

SL135

SL160

SL170

SL225

SL450

LB140

CH125

Max. static load ratingkN

1350

1600

1700

2250

4500

1245

1250

Max. speedr/min

300

300

300

300

300

300

300

Max. working pressure Mpa

27.5

35

35

35

35

27.5

21

Dia.of stemmm

60

57

70

75

75

60

68




15°

15°

15°

15°

15°

15°

15°


Coupling thread

API
To stem

4 1/2
FH LH

4 1/2
REG LH

4 1/2
REG LH

65/8
REG-LH

6 5/8
REG LH

4 1/2
FH LH

4 1/2
FH LH

API
To Kelly

6 5/8
REG LH

6 5/8
REG LH

6 5/8
REG LH

6 5/8
REG LH

75/8
REG LH

6 5/8
REG LH

6 5/8
REG LH

Overall

dimension(L×W×H)mm

2291×
638×
648

2267×
781×
660

2169×
638×
648

2980×
1060×
860

3034×
1096×
1110

2291×
638×
648

620×
660×
2099

Weight kg

777

1750

1500

2500

3060

777

625
Photos of Products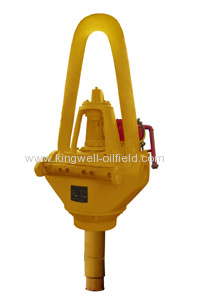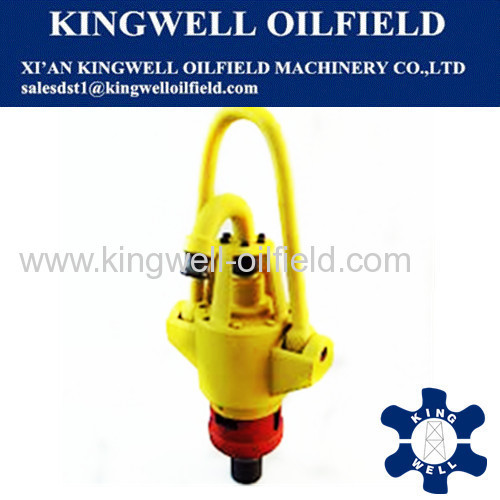 Briefly Introduction:
Xi'an Kingwell Oilfield Machinery Co.,Ltd is a highly reputable supplier for oilfield equipment and services to Oil & Gas industries and provide complete solutions.


With over 10 years developing, we were developed from the beginning drilling service to manufacture factory who produce OCTG, DST tools and Solid Control products.
KINGWELL have experienced team, stronger enough to meet any challenge, we do believe honest is the base of business and cooperation, our aim is to build solid relationship with any part of honest. kingwell can provide highly efficient services to its clients resulting in accurate and timely deliveries at the best prices.
is a professional supplier for oilfield products according to the API standard. We exporting ALL KINDS OF OILFIELD MACHINERY AND TOOLS with super Quality and Competitive Price in CHINA.

Now, Our tubing and casing couplings have exported to USA, Canada, Egypt, India and UEA , etc with 40 FCL contaniers per month.Now, with high quality and short supply and good service, our couplings has got good reputation home and abroad.

Certificates:



Our workshop and machines:


We own the world-class facilities with professional laboratory technicians. The main facilities are Surface Testing (Hydraulic Testing Unit), high temperature heat treatment furnaces, API Gages (Master & Working), Profile Projector, tensile testing machine, pressure sensor and data acquisition system, Universal Testing Machine, Hardness Tester, Nitrogen Pump, Function Test Pump, Ultrasonic Thickness Tester etc. All the goods must be tested by several processes and must be qualified when packed.
Warrantee:
1. All of our goods give 1 year warranty.
2. Within guarantee period, we supply free after service. After guarantee period, we supply square parts in 20% discount.
Contact:
1. Our working time: 8:00am~22:00pm (if urgent, please call our director: jerry, Mobile: +86-18729329559)
2. All the inquiries will be replied within 24hours, so please feel to send us your inquiry.
3. When our skyper is off line, please feel free to leave a message, and tell us the products you need, our model number, and your E-mail address.
When ordering or requesting quotation, if size other than above specifications, please specify clearly! Please feel free to contact us for more details and more products.