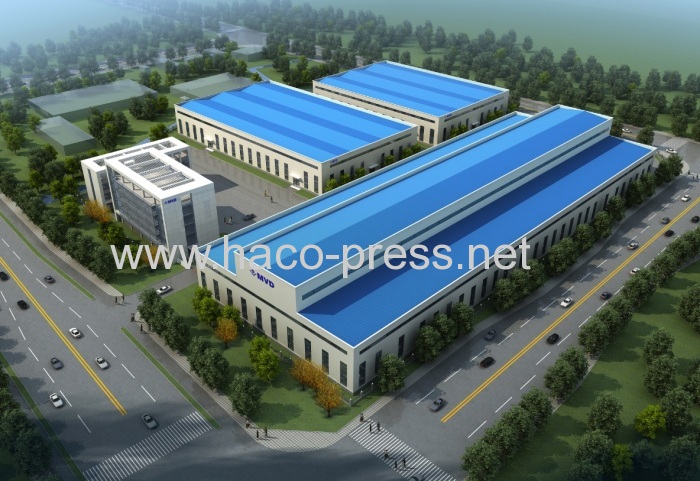 1.COMPANY INTRODUCTION:

1.More than 12 years experience for Hydraulic Press and 16 years for sheet metal machinery
2.Total Number of Employee: 455
3.Number of R & D Staff: 26
4.Floor Area: 56,765m2
5.New factory area: 61,321m2
6.Whole factory is controlled by ERP-Enterprise Resource Plan
We are producing below ranges of machines:

1.CNC Press Brake
2.CNC Laser Cutter
3.CNC Punch Press
4.CNC Shears
5.Hydraulic Press
6.Pipe & Roller Bender
7.Iron Worker
8.Automatic Production line
3 axis CNC Press Brake 1000 tons Delem DA52s CNC Press Brake 6 meters 4 axis Hydraulic CNC Press Brake 1000T/8000mm from MVD Press Brake
MVD CNC Press Brakes bending Machine provide a perfect solution for all of your metal bending requirements. Electronic hydraulic servo cnc press brake.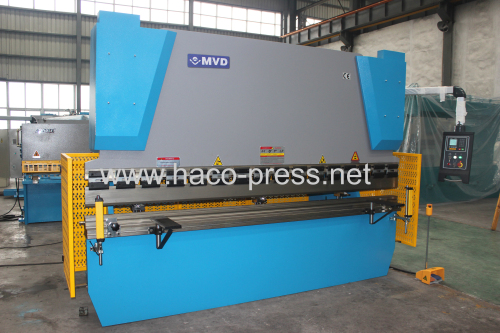 3 axis CNC Press Brake 100 tons Delem DA52s CNC System Press Brake 4 axis Full Servo CNC Press Brake 100T/3200mm from MVD Press Brake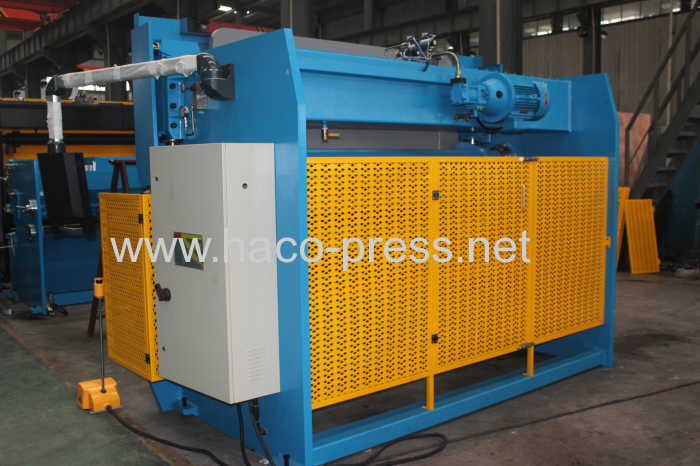 100x4000 cnc hydraulic press brake with CE STANDARD for 100 tons
MVD CNC Press Brake Characteristics:
The MVD CNC Synchro Press Brake use state-of- the-art hydraulics (Bosch-Rexroth or Hoerbiger) and electronics (Telemecanique, Merlin Gerin Legrand, Siemens) to ensure accurate control of the bending process. The Press Brake Frame is a robust welded mono-block steel construction, stress relieved after welding and machined without repositioning to guarantee machine precision, all-in-all, ensuring minimum deflection during bending operation. Pistons are steel forgings, precision ground and micropolished for long production life. The Synchronised Press Brake is a downstroking twin cylinder hydraulic pressbrake (Y1 – Y2 Axis) and includes the following:
The CNC Press Brake machine configuration:
1.CE Conformity including AKAS Light guards
2.Beam Synchronization via linear scales and proportional valves
3.Delem Angle Programming Control
4.Y1 + Y2 + X axis as standard, auto indexing of axis at start-up
5.uro (System) Top and Bottom Tool Clamping
6.Hardened Gooseneck Top Tool and 4-V-die Bottom Tool
7.Servo motor driven back gauge on ball screws (=X-axis)
8.Crowning Table / Top clamping with anti deflection wedges
8.Side and rear safety guards and safety interlock switches
Optional equipment:
1.Control of additional axis like X1, X2, R1, R2, Z1 and Z2
2.Delem 65, 66, 69 and Cybelec 80, 1200, Modeva Series
3.Larger throat gap, higher daylight opening etc...
4.Quick manual or hydraulic Top Tool clamping
5.Additional back gauge universal finger blocks
6.Central motorised lubrication system
Delem DA-56 Control:
1.Delem DA-56 is a 2D graphical CNC system with CNC postprocessing.
2.The graphical programming, bend sequence computation and 2D simulation provide a user-friendly and fast programmable CNC for Press Brakes.
3.Programming the Delem DA-56 is simply drawing the profile of your product on the screen. Simulation of the bend sequence is done with the user-friendly bend determination tool. With one simple keystroke, the CNC program is calculated and stored.
4.The pendant Control Panel is conveniently located at the left-hand side of the machine within the immediate reach of the operator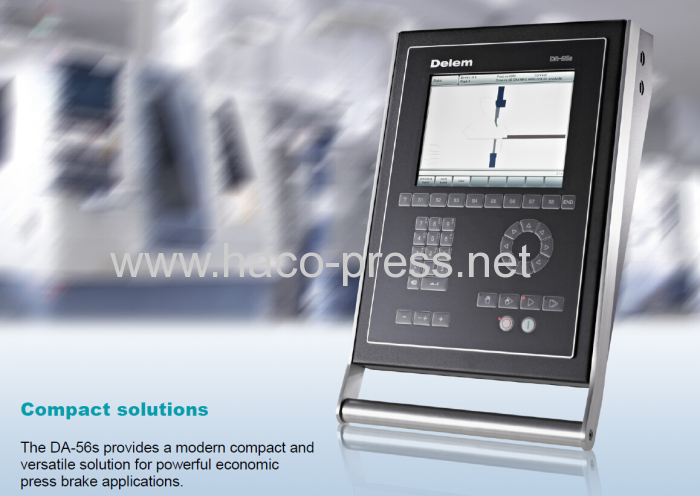 CNC Press Brkake Machine detail pictures: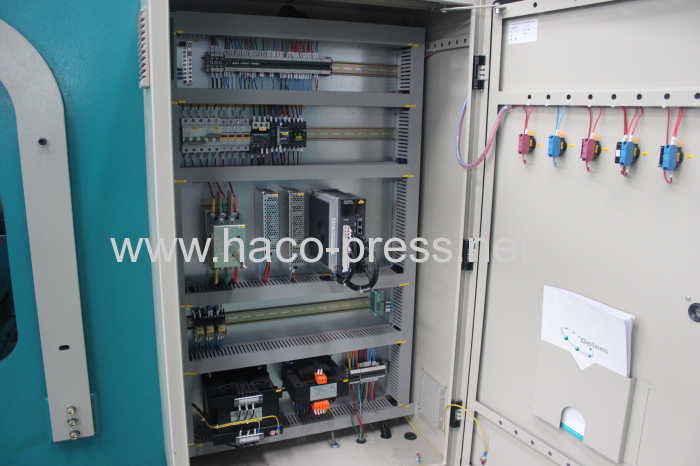 CNC Synchro Press Brake from Schneider electric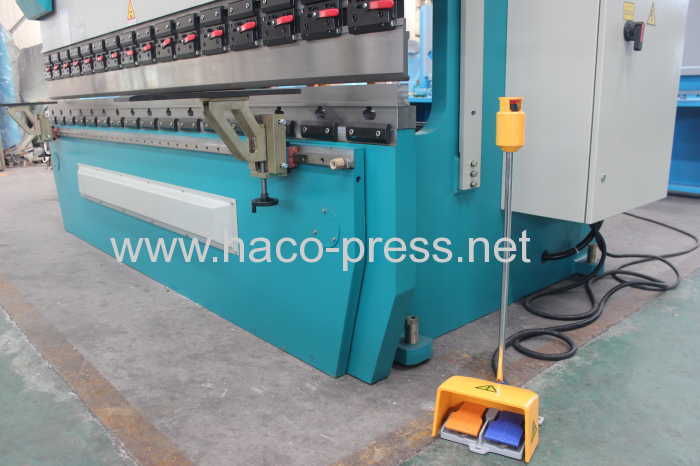 CNC Synchro Press Brake from AMADA Tool type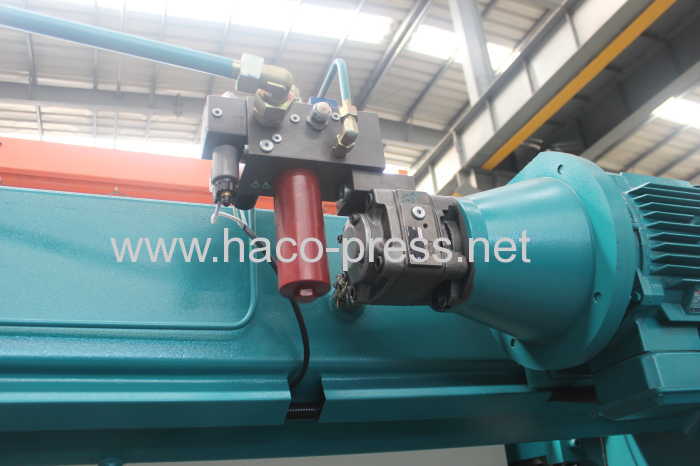 CNC Synchro Press Brake from Bosch Rexroth hydraulic system
MVD CNC Press Brakes bending Machine provide a perfect solution for all of your metal bending requirements. Electronic hydraulic servo cnc press brake.
100x4000 cnc hydraulic press brake with CE STANDARD for 100 tons
MVD CNC Press Brakes Technical Parameters:
Model

Nominal pressure
KN

Distance between uprights

mm

Throat Depth

mm

RAM Stroke

mm

Open Height

mm

Main Motor

kW

Dimensions

mm

MB8-40/2000

400

1600

200

200

335

4

2545*1510*2050

MB8-40/2500

400

2000

200

200

335

4

2950*1510*2080

MB8-63/2000

630

1600

250

200

350

5.5

2555*1600*2130

MB8-63/2500

630

2000

250

200

350

5.5

2960*1600*2180

MB8-63/3200

630

2600

250

200

350

5.5

3740*1600*2260

MB8-100/2500

1000

2000

350

200

400

7.5

2980*1650*2330

MB8-100/3200

1000

2600

350

200

400

7.5

3740*1650*2355

MB8-100/4000

1000

3200

350

200

400

7.5

4550*1650*2450

MB8-100/5000

1000

4000

350

200

400

7.5

5100*1500*2650

MB8-125/2500

1250

2000

350

200

410

7.5

3980*1650*2370

MB8-125/3200

1250

2600

350

200

410

7.5

3750*1650*2450

MB8-125/4000

1250

3200

350

200

410

7.5

4550*1650*2470

MB8-125/5000

1250

4000

350

200

410

7.5

5100*1500*2795

MB8-125/6000

1250

4500

350

200

410

7.5

6100*1500*2895

MB8-160/2500

1600

2000

350

200

425

11

2980*1715*2410

MB8-160/3200

1600

2550

350

200

425

11

3750*1715*2450

MB8-160/4000

1600

3200

350

200

450

11

4550*1715*2730

MB8-160/5000

1600

4000

350

200

450

11

5100*1570*2900

MB8-160/6000

1600

4500

350

200

450

11

6100*1570*3010

MB8-200/3200

2000

2600

350

240

460

11

3750*1815*2715

MB8-200/4000

2000

3200

350

240

460

11

4550*1815*2850

MB8-200/5000

2000

3800

350

240

460

11

5100*1715*3020

MB8-200/6000

2000

4500

350

240

460

11

6100*1715*3120

MB8-250/3200

2500

2600

400

240

525

11

3750*2010*2850

MB8-250/4000

2500

3200

400

240

525

11

4550*2010*3010

MB8-250/5000

2500

3800

400

240

525

11

5100*1890*3190

MB8-250/6000

2500

4500

400

240

525

11

6100*1890*3350

MB8-30/3200

3000

2600

400

250

545

15

3740*2100*3235

MB8-300/4000

3000

3200

400

250

545

15

4340*2100*3300

MB8-300/5000

3000

3800

400

250

545

15

5100*2100*3430

MB8-300/6000

3000

4500

400

250

545

15

6100*2100*3490