pre-bending steel bending machine
1. Accurl machine has specialized in metal plate rolling machine for 17 years.
Our new factory covers a total area of 46,600 square meters.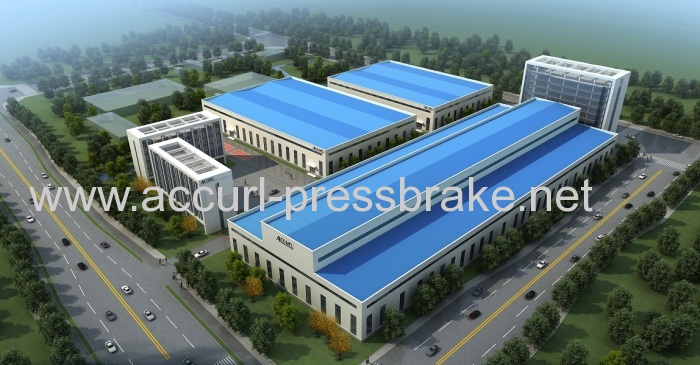 Our machine export to more than 200 conties all over the world.
We professional R&D team, and we have World-class design and manufacturing capabilities.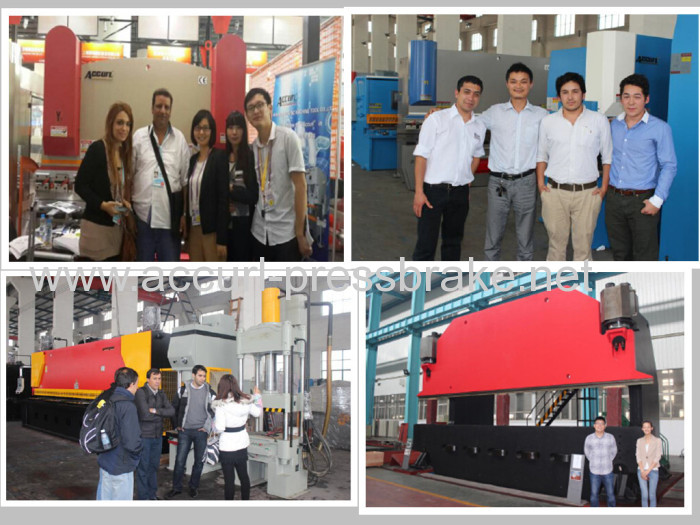 Accurl machines are with CE,ISO,SGS certificates.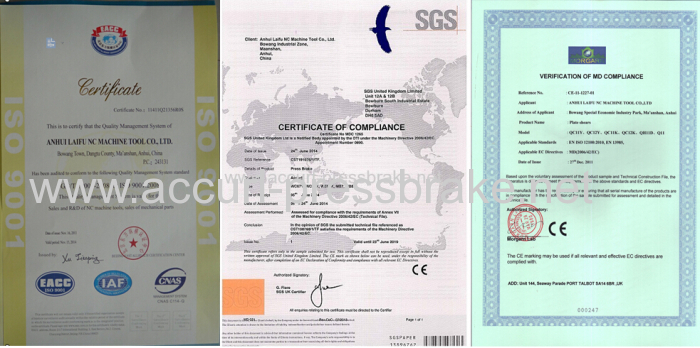 2.W12 series hydraulic 4-roller rolling machine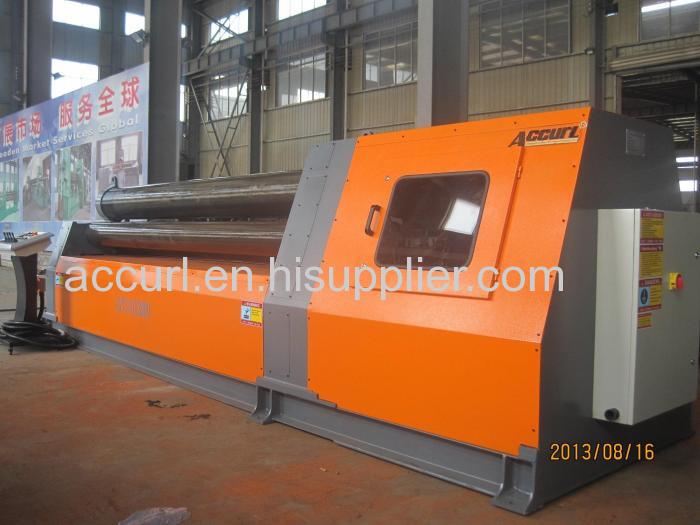 The Feature of 4 Roller Rolling Machine :
■Totally European design,streamlined looking,frames of our machines are fabricated, welded steel (ST-52). Roll shafts, materials and bearings used in production are European quality. latest hydraulic technology CNC programmable dual pre pinch.
■ The machine widely used in petroleum, chemical industry, cement, boiler, shipbuilding, aviation, water conservancy, power transmission towers …. Its working principle is rotating bending deformation. Safety devices in compliance with European regulation. CE mark.

| | |
| --- | --- |
| The whole structure of machine : | |
■ The main structure of the equipment includes upper roller, lower roller and movement mechanism, supporting mechanism,main drive mechanism, downturn system, left and right machine frame, chassis and balance mechanism, hydraulic and electrical control systems.
■ It allows for excellent roundness, thanks to the Planetary movement of the side rolls (Accurl patent), moving them to the center of the machine (the tightest geometry available), compared to the inclined linear guides of other brands that, especially on large diameters, move farther away from the central roll and the plate clamping.clamping pressure is adjustable(no-existent skidding,productivity is 80% than three roller plate rolling machine).
■ Hydraulic pressure adjustment system to control rolls deflection under load. Greasing free with sealed bearings and Permanent lubrication technology(bearing life period without refueling).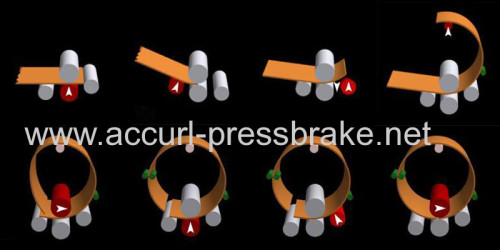 The Feature of machine :
■ Fully hydraulic operated plate rolling machine with pre pinch roll forming of the plate edges. Rollers driven with direct coupling hydraulic motorized protected against overloading.
■ Upper roller likes drum with collaboration of carrier roller permit continual bending of any thickness of plate. Hardening of the 4 rolls high resistance surface with induction treatment.Operation control unit with centralised electric console movable on wheels around the machine
■ Safe work, fixed two down roller, upper roller does horizontal and vertical movement, and the plate don't move during upper roller moving.
■ Pre-bending facility with pinch pressure adjustable to compensate for rolls deflection under load upon plate thickness.
■ Conical bending attachment hydraulic operated to form cones- fast and easy procedure.Opening drop-end with self align bearings.
■ Hydraulic power from centralized unit self enclosed with multiple pumps for simultaneous bending operations.
Control system of machine:
■ CNC controller 4 axis programmable for automatic plate rolling with digital display of the rolls position and teach-in input of parameters.
■ It is controlled, in entry-level, by a user-friendly CNC, to roll parts in automatic mode. More powerful CNC (the most advanced in the industry, until those selected by NASA), are self-programmable, without the need of experienced operators.
■ HMI (human machine interface), intelligent operation. Self-compensating, single operate, high efficiency, safe and convenient.
■Centralized console with electric commands easy one-man operation.machine fully hydraulic operated with cylinders and pumps
Design of the rolled plate on the screen of the CNC with direct input of plate parameters.
Configuration of Hydraulic Plate Rolling machine is follows:
■ Motor: Siemens
■ Electronic elements: Schneider
■ Axletree: Double-row self-aligning bearing from Germany
■ PLC: OMRON from Japan
■ Hydraulic valve: Bosch
■ Gear pump: Yuken
■ Digital display system: Touch Screen for Delta
■ Automatic lubrication system:Sino-Japanese joint,which has block alarm
3. Specification of Hydraulic Plate Rolling machine is follows:
Type

Max. rolling thickness (mm)

Max. rolling width (mm)

Rolling speed (m/min)

Pre-curved thickness (mm)

Upper roll diameter (mm)

Down roll diameter(mm)

Side-roll
diameter(mm)

Dimension (mm)

Motor

(Kw)

W12-12×2000

12

2000

5.45

10

260

260

200

5600*2000*2070

18.5

W12-12×2500

12

2500

5.5

10

300

300

220

6300*2000*1200

18.5

W12-12×4000

12

4000

4

10

410

360

280

7600*2000*1800

30

W12-16×2000

16

2000

5.5

12

300

300

220

5800*2000*1800

18.5

W12-16×2500

16

2500

6.5

12

330

330

260

6810*2000*1870

22

W12-20×2000

20

2000

6.5

16

330

330

260

6000*2000*1850

22

W12-20×2500

20

2500

6.5

16

360

360

280

6850*2000*2070

30

W12-20×3000

20

3000

4.5

16

410

400

320

730*2100*2200

37

W12-25×2000

25

2000

6.5

22

360

360

280

6300*2300*2070

30

W12-25×2500

25

2500

5

22

410

400

320

8000*2600*2100

37

W12-25×3000

25

3000

5

22

480

480

400

9000*3200*2500

37

W12-25×4000

25

4000

4

22

560

520

420

10100*3500*2900

45

W12-30×2000

30

2000

5

25

410

400

320

7500*2600*2500

37

W12-30×2500

30

2500

4.5

25

480

480

400

8400*2590*2600

37

W12--30×3000

30

3000

4

25

560

520

420

9200*3500*2900

45

W12--30×4000

30

4000

4

25

650

580

480

10200*3500*2900

55

W12-40×2000

40

2000

4.5

36

480

480

400

8200*3000*2500

37

W12-40×2500

40

2500

4

36

560

520

420

8700*3500*2900

45

W12-40×3000

40

3000

4

36

650

580

480

9200*3600*3000

55

W12-80×3200

80

3200

3

70

800

780

620

13500*3500*3800

75

W12-90×4000

90

4000

3

80

900

880

700

15000*3800*4200

90