Welcome to HAWELL MAGNETICS (NINGBO) CO., LTD
Our website: http://www.hwmagnet.com; http://www.hawellmagnetics.com
Contact Name: Andy Mao My skype: sale02@hawellmagnetics.com
neodymium disc magnet gold coating/N35-N52 grade
Brief introduction of our products
Material: Neodymium Rare earth magnet, NdFeB magnet, Neodymium magnet
1, various grades from N35 to 35EH: N35,N38,N40,N42,N45,N48,N50,N52 ( N~EH) , high coercive UH, EH, AH series.
2, precise tolerance and dimension with high performance; +/-0.05mm for small dimensions, +/-0.1mm for common specifications, +/-0.15mm for big blocks
3, the range of size:
| | | | |
| --- | --- | --- | --- |
| Ring | Outer dia (mm) | Inner dia (mm) | Thickness (mm) |
| Maximum | 200.00 | 120.00 | 50.00 |
| Minimum | 3.00 | 1.50 | 0.50 |
| Tolerance | +/-0.10 | +/-0.10 | +/-0.10 |
| Minimum tolerance | +/-0.02 | +/-0.02 | +/-0.02 |
| | | |
| --- | --- | --- |
| Disc | Outer dia (mm) | Thickness (mm) |
| Maximum | 200.00 | 50.00 |
| Minimum | 1.50 | 0.70 |
| Tolerance | +/-0.10 | +/-0.10 |
| Minimum tolerance | +/-0.02 | +/-0.02 |
| | | | |
| --- | --- | --- | --- |
| Block | Length (mm) | Width (mm) | Thickness (mm) |
| Maximum | 280.00 | 160.00 | 50.00 |
| Minimum | 2.00 | 0.80 | 0.50 |
| Tolerance | +/-0.10 | +/-0.10 | +/-0.10 |
| Minimum tolerance | +/-0.02 | +/-0.02 | +/-0.02 |
Note:Magnets in arc, segment or other spacial shapes can be produced according to customer's design and drawing.
4, different surface treatments for you to choose: Zinc-coating, Nickel Coating, NiCuNi coating, Gold and Silver coating, Epoxy sealing, Phosphating and others;
5, very good corrosion resistance and heat resistance;
6, working temperature:80~230 centigrade degree
7. lead time: 20 -25 days for prompt delivery
The Introduction of NdFeB Magnets' Applications:
1, Electroacoustic field: loudspeaker, headphone, earphone, stage sound device, alarm, microphone and so on. We have been producing magnets for sound equipments with better sensitiveness and susceptibility.
2, Electric products: Permanent magnetic actuator, vacuum circuit breaker, magnetic, relay, watt-hour meter, water meter, sensor, reed switch and so on.
3, Motor areas: VCM, CDVDROM, generator, electromotor, servo motor, vibration motor, step motor, DC motor, linear motor and so on. Our magnets with stable performance and high HCJ can work under high temperature which can guarantee your products work better.
4, mechanical equipment: magnetic separator, magnetic holder, and other magnetic machines.
5, Health care: nuclear magnetic resonance spectrometer, medical apparatus and instruments,
magnetic therapy and health care products, fuel-saving magnetizer and so on. Our stable permanent magnets used in health care areas will make people healthier.
6, Other fields: bags magnets, toy magnets, craft gifts and packaging, doors and windows magnets, magnetic locks, magnetic holding devices and so on.
SHAPE

PICTURE

APPLICATION

Cylinder NdFeB Magnets

Disc NdFeB Magnets

a) Motors

b) Sensors

c) Microphones

d) Switchboard

Block Neodymium

Cube Shape Magnet

a) VCM

b) Printer

c) Magnetic chuck

d) Switchboard

Ring Neodymium Magnets

Bar Magnets

a) Horn, Trumpet

b) Magnetic separation

c) Loudspeakers

Segment Neodymium

Arc Segment Magnets

a) Motor

b) Wind turbines

c) Wind generators

d) Switchboard

Customized Size

Neodymium Magnets

a) Motors

b) Permanent-magnet machine

c) Magnetic device

d) Magnetic therapy
Performance of our sintered NdFeB magnets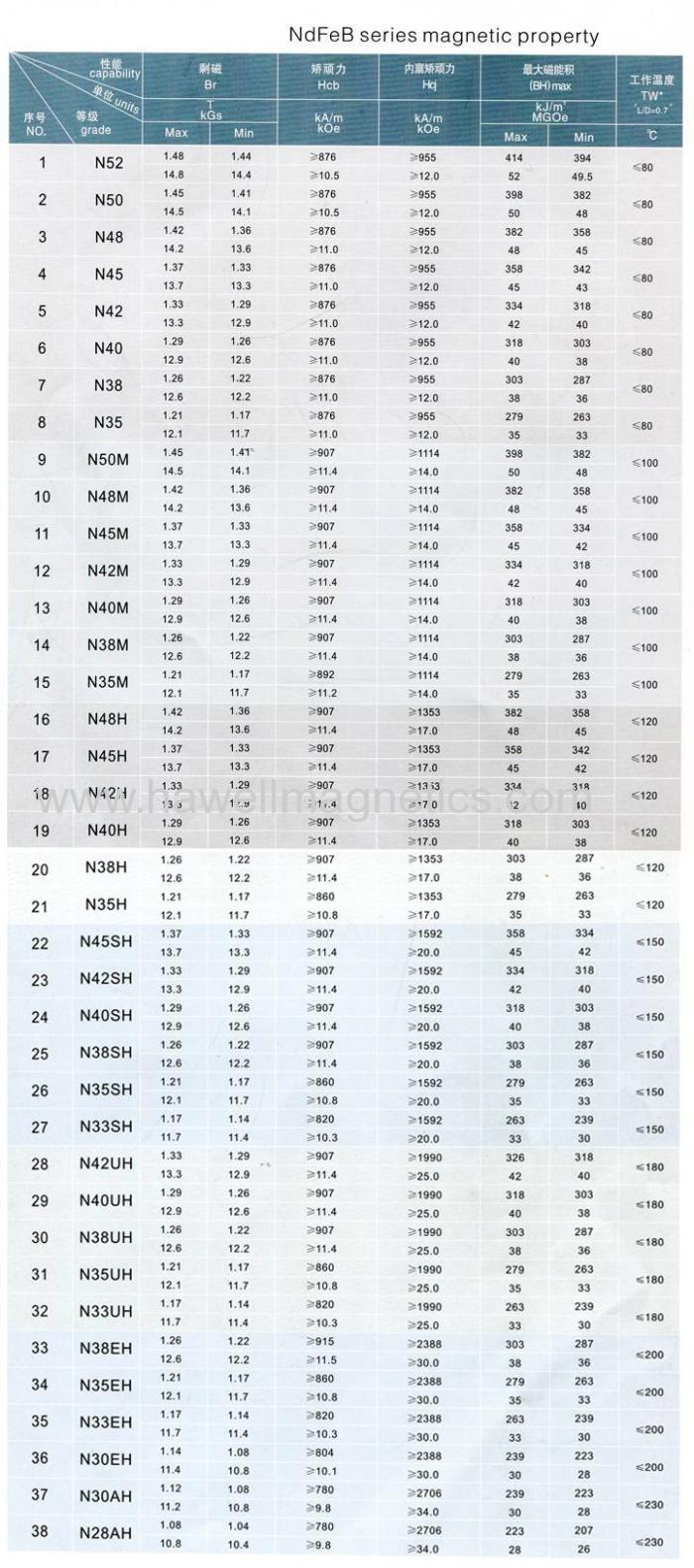 Flow of our products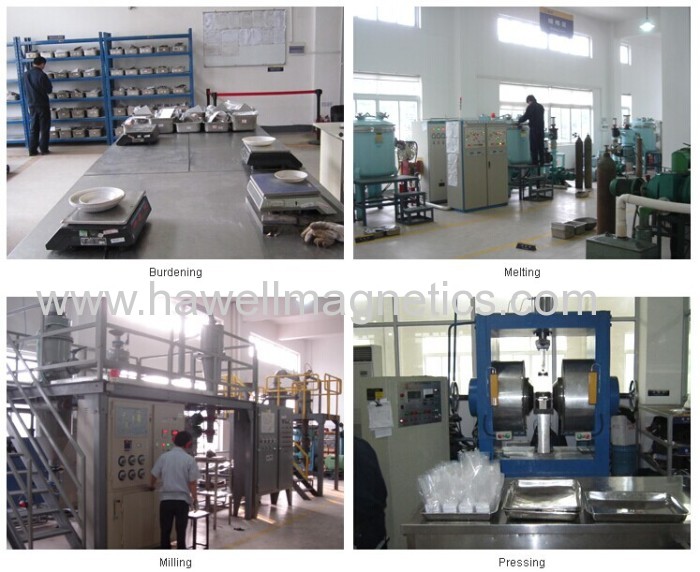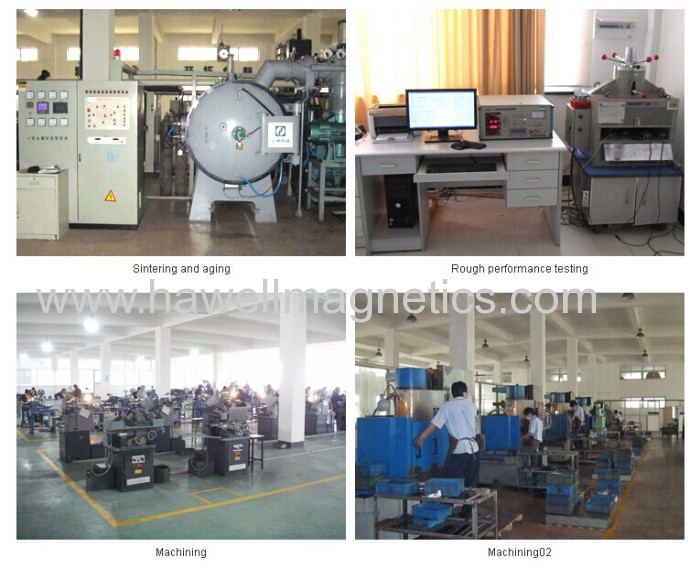 Packing of Our Products
1. Sea shipment : strong cartons with well-protected foam and then packed in strong wooden cases
2. Air shipment: well shielded iron sheets and well-protected foam with cartons for magnetism inspection
3. Lead time: 20 -25 days for prompt delivery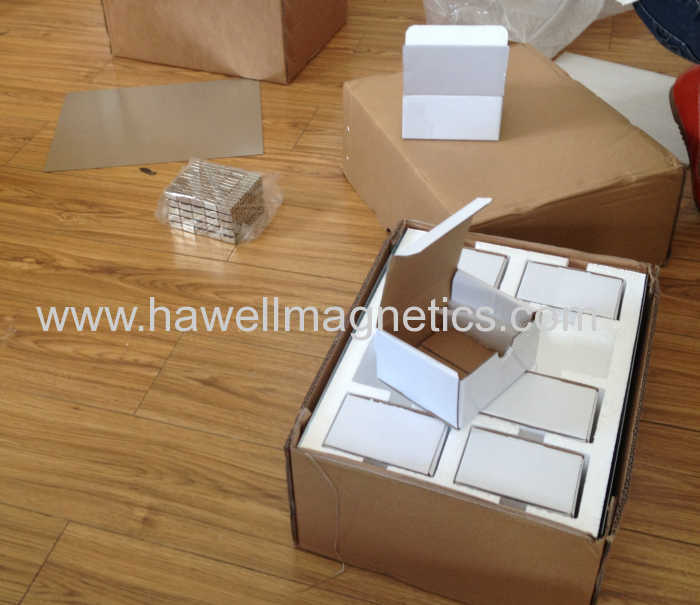 Shipping Measures
1. Express courier, TNT, Fedex, DHL,UPS for your choice.
*Ship door to door. You can provide your express account for the freight payable at destination.
*Delivery time: 3-7 days
2. Air cargo , shipping to your nearest airport.
*If you choose this way, please provide us your nearest airport and zip code.
*Delivery 5-15days.
*Suitable for cargo over 45 kg
3. Sea cargo, shipping to your nearest port.
*If you choose this way, please provide us your nearest port and zip code.
*Delivery approximately 30 days.
*This type of shipping is suitable for cargo over 200KGS, or have big volume.
Quick Leads for Buyers
Please provide the following information when you sent RFQ to us.
1. Dimension: Diameter x thickness, length x width x thickness, etc (attached drawing if customized)
2. Working temperature
3. Grade & Coating
4. Quantity
5. Provide us the sea port if order large quantity.
Payments that we accept:
· T/T
· Paypal
· L/C
Note: If there is other payment methods you want to choose, please contact us.
Enquiry way: by E-mail , Tel , Fax, Skpye, Trade Manager or other message.
Contact name: Andy Mao
Skype: hawellmagnetics.sale02
Tel: 0086 0574 87351697
Fax: 0086 0574 87850998
Trademanager: cn1501729850
Mobile: 18968280978
Brief introduction of our company
HAWELL MAGNETICS (NINGBO) CO.,LTD mainly supply various kinds of permanent magnets, magnetic tools and other magnetic assembles.
Our products include NdFeB magnet, Smco magnet, Alnico magnet, Ferrite (Ceramic) magnet, rubber magnet, educational magnet , magnetic pick up tool, magnetic lifter, magnetic pot, etc.We also make high-tech magnetic motor parts, magnetic coupling part.
Our factory have advanced equipment, complete inspection instruction, a party of well-trained engineers, strong support from well-know universities, all guarantee the stable quality and excellent service. Our products are manufactured on the base of ISO9001:2008 Quality System.
Our company is located in the East China sea – Ningbo, which is a based city of manufacturing magnetic material production. We guarantee prompt delivery and competitive prices. Our products have been exported to all over the world, like South Korea, Japan, Southeast Asia, South Pacific, America, Canada, Europe, Africa, Russia, etc.
Our sales team will give you our prompt reply in 24 hours for any question , we hope to develop together with our customers on the basis of mutual benefit and win-win cooperation relation.
If you have any question,please do not hesitate to contact me.
Contact name: Andy Mao
Skype: hawellmagnetics.sale02
Tel: 0086 0574 87351697
Fax: 0086 0574 87850998
Trademanager: cn1501729850
Mobile: 18968280978