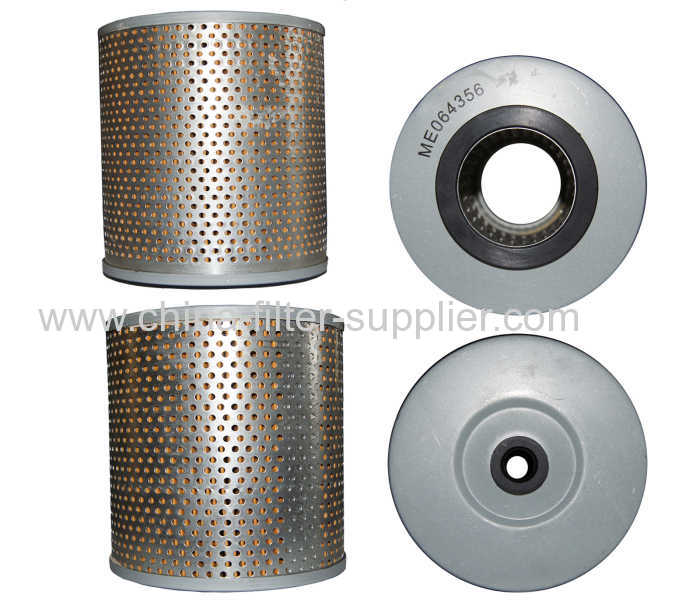 It is easy to remove while the skin contact with the used oil is minimized.

The risk of installing of incompatible parts is significantly reduced by using back original external components.

Thermoplastic end discs of element are made of recycled materials which help to save the environment.

The cost of servicing is reduced.
O.E.M. Nummern
HYUNDAI 2645272000S
MITSUBISHI 3124053100
MITSUBISHI ME 064356
MITSUBISHI 3124053010
MITSUBISHI 3124053103
MITSUBISHI 3124053053
MITSUBISHI 3124053500
MITSUBISHI 3124053054
MITSUBISHI 34101198130

Referenznummern
BALDWIN P7092
DONALDSON P 55-0065
DONALDSON P 55-0066
FLEET GUARD LF-3447
HASTINGS LF248
ORTURBO EM 128.150
VIC 359A
WIX 51599
| | | | | | |
| --- | --- | --- | --- | --- | --- |
| Hersteller / Modell / Hubraum | Motornummer | KW | PS | Baujahr | Bemerkung |
| | | | | | |
| --- | --- | --- | --- | --- | --- |
| MITSUBISHI FUSO (DC GROUP) Canter VI (93-2000) 2.8 TD 35 | 4M40A/4M40-2AT | 85 | 115 | 01.1995-12.2000 | partly/or |
| MITSUBISHI FUSO (DC GROUP) F-Serie F-FP | 8DC8 | | | 09.1983-12.1990 | partly/or |
| MITSUBISHI FUSO (DC GROUP) F-Serie FP102DR | 8DC4 | | | 12.1974-01.1977 | partly/or |
| MITSUBISHI FUSO (DC GROUP) F-Serie FP103DR | 8DC8 | | | 12.1974-01.1979 | partly/or |
| MITSUBISHI FUSO (DC GROUP) F-Serie FP107 | 6D20 | | | 01.1976-10.1979 | partly/or |
| MITSUBISHI FUSO (DC GROUP) F-Serie FP112DR | 8DC4 | | | 12.1974-01.1977 | partly/or |
| MITSUBISHI FUSO (DC GROUP) F-Serie FP113DR | 8DC8 | | | 12.1974-01.1979 | partly/or |
| MITSUBISHI FUSO (DC GROUP) F-Serie FP113DRA | V8 (8DC60A) | | | 01.1977-12.1987 | partly/or |
| MITSUBISHI FUSO (DC GROUP) F-Serie FP117 | 6D20 | | | 12.1975-01.1979 | partly/or |
| MITSUBISHI FUSO (DC GROUP) F-Serie FP204DR | 10DC6 | | | 12.1974-01.1980 | partly/or |
| MITSUBISHI FUSO (DC GROUP) F-Serie FP214 | 10DC8 | | | 01.1976-03.1980 | partly/or |
| MITSUBISHI FUSO (DC GROUP) F-Serie FP214DR | 10DC6 | | | 12.1974-01.1980 | partly/or |
| MITSUBISHI FUSO (DC GROUP) F-Serie FP215 | 8DC9 | | | 01.1980-09.1983 | partly/or |
| MITSUBISHI FUSO (DC GROUP) F-Serie FP418 | 6D22-IAT2 | | | | partly/or |
| MITSUBISHI FUSO (DC GROUP) F-Serie FP418F | 6D22.1A | | | 01.1986-01.1986 | partly/or |
| MITSUBISHI FUSO (DC GROUP) F-Serie FP418N | 6D22.1A | | | 01.1986-01.1986 | partly/or |
| MITSUBISHI FUSO (DC GROUP) F-Serie FQ112 | 8DC4 | | | 09.1976-03.1980 | partly/or |
| MITSUBISHI FUSO (DC GROUP) F-Serie FQ112H | 8DC4 | | | 12.1976-01.1980 | partly/or |
| MITSUBISHI FUSO (DC GROUP) F-Serie FS119 | 8DC7 | | | 12.1977-01.1979 | partly/or |
| MITSUBISHI FUSO (DC GROUP) F-Serie FS428 | 6D22-IAT2 | | | | partly/or |
| MITSUBISHI FUSO (DC GROUP) F-Serie FS428S52 | 6D22.1AT3 | | | 01.1987-01.1987 | partly/or |
| MITSUBISHI FUSO (DC GROUP) F-Serie FT 102/103/112/113/119 | 8DC 2/4/6/7/8 | | | 12.1976-01.1979 | partly/or |
| MITSUBISHI FUSO (DC GROUP) F-Serie FU 102/103 | 8DC 2/6 | | | 12.1974-01.1976 | partly/or |
| MITSUBISHI FUSO (DC GROUP) F-Serie FU 112/113/119 | 8DC 4/7/8 | | | 12.1974-01.1979 | partly/or |
| MITSUBISHI FUSO (DC GROUP) F-Serie FV102 | 8DC 2/6 | | | 12.1974-01.1976 | partly/or |
| MITSUBISHI FUSO (DC GROUP) F-Serie FV102HR | 8DC 4/8 | | | 12.1974-01.1980 | partly/or |
| MITSUBISHI FUSO (DC GROUP) F-Serie FV103 | 8DC 2/6 | | | 12.1974-01.1976 | partly/or |
| MITSUBISHI FUSO (DC GROUP) F-Serie FV 112/113/119 | 8DC 4/7/8 | | | 12.1976-01.1979 | partly/or |
| MITSUBISHI FUSO (DC GROUP) F-Serie FV112HR | 8DC 4/8 | | | 12.1974-01.1980 | partly/or |
| MITSUBISHI FUSO (DC GROUP) F-Serie FV113HR | 8DC 4/8 | | | 12.1974-01.1980 | partly/or |
| MITSUBISHI FUSO (DC GROUP) F-Serie FV113HRA | V8 (8DC60A) | | | 01.1977-12.1987 | partly/or |
| MITSUBISHI FUSO (DC GROUP) F-Serie FV 204JR/214JR | 10DC 6/8 | | | 12.1975-01.1980 | partly/or |
| MITSUBISHI FUSO (DC GROUP) F-Serie FV214 | 10DC6 | | | 01.1976-03.1980 | partly/or |
| MITSUBISHI FUSO (DC GROUP) F-Serie FV315 | 8DCA,8DC90A | | | | partly/or |
| MITSUBISHI FUSO (DC GROUP) F-Serie FV315H | 8DC90 | | | 12.1983-01.1984 | partly/or |
| MITSUBISHI FUSO (DC GROUP) F-Serie FV358J | 6D22 | | | 12.1983-01.1984 | partly/or |
| MITSUBISHI FUSO (DC GROUP) F-Serie FV415J | 8DC91A | | | 01.1986-01.1986 | partly/or |
| MITSUBISHI FUSO (DC GROUP) F-Serie FV418J53 | 6D22.1AT3 | | | 01.1985-01.1985 | partly/or |
| MITSUBISHI FUSO (DC GROUP) F-Serie FV419 | 8DC11 | | | 11.1984-12.1990 | partly/or |
| MITSUBISHI FUSO (DC GROUP) F-Serie FV458J | 6D22A | | | 01.1985-01.1985 | partly/or |
| MITSUBISHI FUSO (DC GROUP) K-Serie K-FP215DR | 8DC9T | | | 01.1980--> | partly/or |
| MITSUBISHI FUSO (DC GROUP) K-Serie K-FP313 | 6D22 | | | 01.1980-09.1983 | partly/or |
| MITSUBISHI FUSO (DC GROUP) K-Serie K-FP313DR | 8DC 8/9 | | | 01.1979--> | partly/or |
| MITSUBISHI FUSO (DC GROUP) K-Serie K-FP315 | 8DC9 | | | 01.1980-09.1983 | partly/or |
| MITSUBISHI FUSO (DC GROUP) K-Serie K-FP315DR | 8DC 8/9 | | | 01.1979--> | partly/or |
| MITSUBISHI FUSO (DC GROUP) K-Serie K-FS313 | 8DC8 | | | 01.1979--> | partly/or |
| MITSUBISHI FUSO (DC GROUP) K-Serie K-FU 313/315/318/353/358 | 6D22T, 8DC 8/9 | | | 01.1979--> | partly/or |
| MITSUBISHI FUSO (DC GROUP) K-Serie K-FV 313/315 | 8DC 8/9 | | | 01.1979--> | partly/or |
| MITSUBISHI FUSO (DC GROUP) K-Serie K-FV215 | 8DC9 | | | 03.1980-07.1983 | partly/or |
| MITSUBISHI FUSO (DC GROUP) K-Serie K-FV215 | 8DC9T | | | 03.1980-07.1983 | partly/or |
| MITSUBISHI FUSO (DC GROUP) K-Serie K-FV215JR | 8DC9T | | | 01.1980--> | partly/or |
| MITSUBISHI FUSO (DC GROUP) K-Serie K-FV315HR | 8DC9 | | | 01.1980--> | partly/or |
| MITSUBISHI FUSO (DC GROUP) K-Serie K-FW123M | 8DC9 | | | | partly/or |
| MITSUBISHI FUSO (DC GROUP) K-Serie K-MP107 | 6D21 | | | 03.1979-12.1984 | partly/or |
| MITSUBISHI FUSO (DC GROUP) K-Serie K-MP118 | 6D22 | | | 01.1980-08.1984 | partly/or |
| MITSUBISHI FUSO (DC GROUP) K-Serie K-MP518 | 6D22 | | | 01.1980--> | partly/or |
| MITSUBISHI FUSO (DC GROUP) K-Serie K-MS 613/615 | 8DC 8/9 | | | 01.1980--> | partly/or |
| MITSUBISHI FUSO (DC GROUP) K-Serie K-MS613 | 8DC8 | | | 01.1980-12.1983 | partly/or |
| MITSUBISHI FUSO (DC GROUP) K-Serie K-MS713 | 8DC8 | | | 07.1983-04.1990 | partly/or |
| MITSUBISHI FUSO (DC GROUP) K-Serie K-NW413 | 8DC8 | | | 02.1981--> | partly/or |
| MITSUBISHI FUSO (DC GROUP) M-Serie MP107 | 6D21 | | | 09.1977-01.1980 | partly/or |
| MITSUBISHI FUSO (DC GROUP) M-Serie MS504 | 10DC6 | | | 08.1974-07.1980 | partly/or |
| MITSUBISHI FUSO (DC GROUP) M-Serie MS504Q | 10DC6 | | | 12.1974-01.1978 | partly/or |
| MITSUBISHI FUSO (DC GROUP) M-Serie MS512 | 8DC4 | | | 02.1976-03.1979 | partly/or |
| MITSUBISHI FUSO (DC GROUP) M-Serie MS512 | 8DC8 | | | ->12.1980 | partly/or |
| MITSUBISHI FUSO (DC GROUP) M-Serie MS513 | 8DC 4/8 | | | ->12.1980 | partly/or |
| MITSUBISHI FUSO (DC GROUP) M-Serie MU515.525 | 8DC9T | | | 10.1985--> | partly/or |
| MITSUBISHI FUSO (DC GROUP) P-Serie P-FN428 | 6D22T | | | 09.1983-12.1990 | partly/or |
| MITSUBISHI FUSO (DC GROUP) P-Serie P-FP318 | 6D22T | | | 02.1980-07.1983 | partly/or |
| MITSUBISHI FUSO (DC GROUP) P-Serie P-FP418 | 6D22 | | | 09.1983-12.1990 | partly/or |
| MITSUBISHI FUSO (DC GROUP) P-Serie P-FP418 | 6D22T | | | 09.1983--> | partly/or |
| MITSUBISHI FUSO (DC GROUP) P-Serie P-FT | 6D22 | | | 09.1983-12.1990 | partly/or |
| MITSUBISHI FUSO (DC GROUP) P-Serie P-FU413 | 8DC8 | | | 09.1983-12.1990 | partly/or |
| MITSUBISHI FUSO (DC GROUP) P-Serie P-MP218.618 | 6D22T | | | 08.1988--> | partly/or |
| MITSUBISHI FUSO (DC GROUP) P-Serie P-MP518 | 6D22 | | | 01.1980-12.1983 | partly/or |
| MITSUBISHI FUSO (DC GROUP) U-Serie U-FN428 | 6D22T | | | 09.1983-12.1990 | partly/or |
| MITSUBISHI FUSO (DC GROUP) U-Serie U-FP418 | 6D22 | | | 09.1983-12.1990 | partly/or |
| MITSUBISHI FUSO (DC GROUP) U-Serie U-MS815 | 8DC9 | | | 08.1992--> | partly/or |