Drilling Mud Pump Power End Crankshaft from KINGWELL
Power End (frame, pinion shaft, crankshaft, crosshead and extension rod )
Continuous tooth herringbone gear.

one-piece alloy steel crank.

Renewable crosshead guide.

The frame is made of welded steel plate to provide the frame with high strength, good rigidity and light weight.

The extension rod packing is duplex seal structure to provide the good seal result.

The power end uses the combined lubricating system of forced lubrication and splash lubrication.

The frame is made of welded steel plate and stress relief treated to obtain the good rigidity and high strength. The place where the crankshaft bearing is fitted is strengthened by using ribbed plates. The frame is furnished with the necessary oil basin and oil way system for cooling and lubricating purpose.

Crankshaft is made of casted alloy steel and furnished with herringbone gear, connecting rod and bearing. The tooth form of the big geared ring is herringbone gear. The gear bore and the crankshaft surface are interference fitted and they are both fastened with bolts and lock nuts. The big end of the connecting rod is mounted on three eccentric straps of the crankshaft through single row short cylindrical roller bearings and the small end on the crosshead pin through double row long cylindrical roller bearing. Double row radial spherical roller bearings are mounted at both ends of the crankshaft.

Pinion shaft is made of forged alloy steel on which a herringbone gear with the medium-hard tooth surface is machined. For easy maintenance, the single row radial long cylindrical roller bearing with inner ring (without sides) is used. The both ends of the pinion shaft extend out, so that the sheave or the sprocket can be mounted on either end.



KINGWELL is the biggest manufacture of drilling mud pumps and parts in China.
Mud Pump: We make F-500 mud pump,F-800 mud pump,F-1000 mud pump,F-1300 mud pump,F-1600mud pump, PZ-9 mud pumps.
All items are manufactured to API 7K quality standards. Parts are available for these popular pump models:
BOMCO/Emsco Mud Pumps:F-1300, F-1600, FB1300, FB1600, F-800, F-1000, F-500, F-350, DB-550, DA-700, FA-1600/1300, FC-2200, D-300/500, D-375, D-700,
Ideco Mud Pumps: T-500, T-800, T-1000, T-1300, T-1600,
National Mud Pumps: 7P50, 8P80, 9P100, 10P130, 12P160
Picture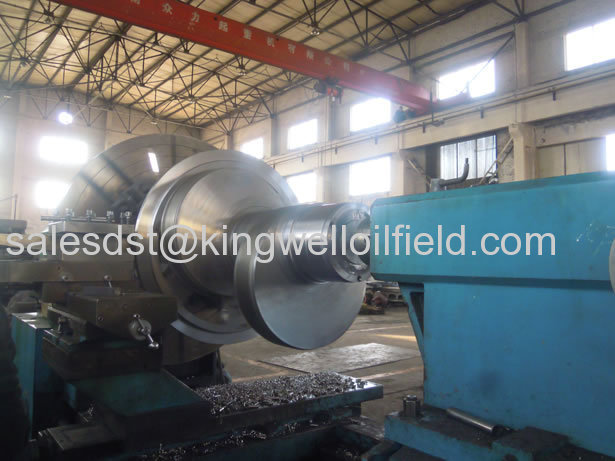 Other spare parts of Kingwell can supply:






Manufacturing facility:

Equipped with latest machining facilities. Our company could meet long term production target and be governed efficiently by well-qualified and experienced Board of Directors and Engineers.
Why you choose Kingwell as your pump supplier:

1). Technical Support and Production Ability: Although we are one relatively new company, but we have the most professional engineers with tens of years experience in mud pump. And we have hundreds of highly skilled workers working on the pump parts and pump assembling with numerous advanced machines. Our production ability has been siteaudited by supervising inspectorate like France BV (Bureau Veritas), DNV(Det Norske Veritas) and SGS-CSTC(Standards Technical Services Co., Ltd.)

2). Quality Assurance: Ten professional inspectors performstrict quality inspection from the initial forgings, castings, other rawmaterials, each finished machined parts until the final assembling of the pump. Each part assembled on the pump will be well tested and highly qualified. Andfor each pump finished, it will be running tested in our test center for atleast 4 hours. Quality certificate, Inspection report and testing report will beattached when pump is delivered. 12 Months quality guarantee will be offered for each pump.

3). Competitive Price: We are one of the top pump manufacturers in China. We have the greatest advantages in price. We can not offer you the lowest price in China, but most competitive price but with very good quality.

4). Quick Delivery: Usually we will keep some pump model in stock so that we can make fast delivery for clients with urgent need. For pump we do not have in stock, we can also deliver with 40 days.

5). We can offer unitized pump package according to your different needs.

Kingwell inspection machine:





Kingwell Working flow: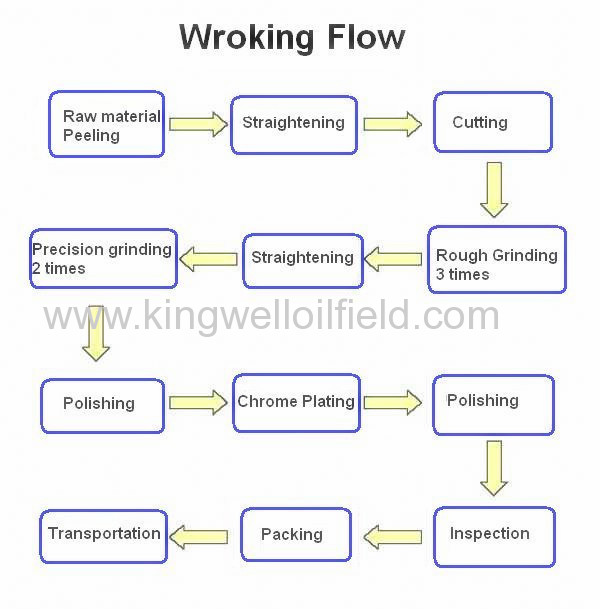 Training and Field Supports

We have a team of well qualified and experienced field support personnel for Training. According to customer's requirements, we provide operation training service for our customers who cooperated with us.
Generally speaking, our customer training mainly includes followings:
1) To know the basic knowledge of the products, such as the usage, the working environments, the working principles, the structure, ect.
2) To learn the operation and use of products.
3) To master the basic requirement of designs of tool strings and of testing operation.

Product delivery:
Payment term: 30% deposit by T/T or L/C and 70% before shipment.
Warranty: Warranty period is 12 months after installation.
Origin: China Mainland.
Minimum order: 1 sets
Packaging: wood case or steel frame which suitable for long term transportation.
Delivery Date: within 30days after receiving the deposit.
Logo: KW or customize.
Technical Documents: We can provide technical documents according to your requirements.
Additional service: Customers are served to test our products in our factory upon request.

Shipment
Kingwell are experienced in production and also the shipment, our goods were sold to wordwide and has been accepted by the end users.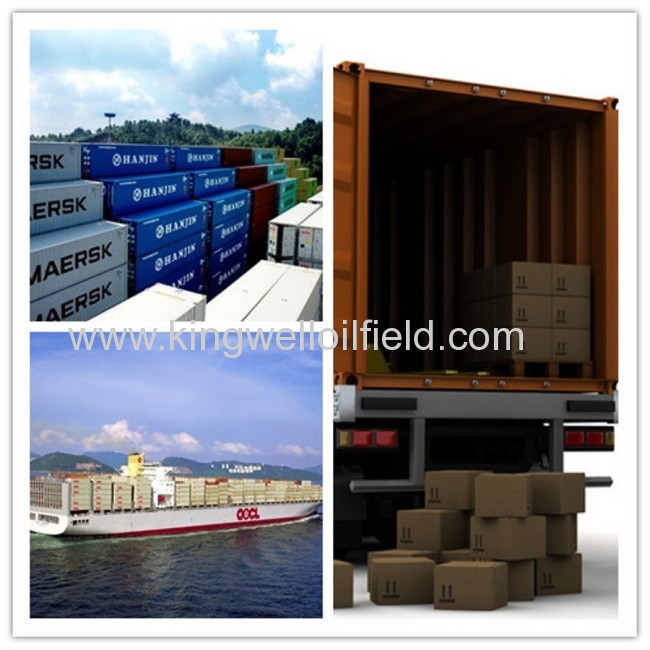 Any enquiry for above products or mud pump spare parts, kindly contact with us. A competitive price and good service will be shown you.