Production introduction
Vermiculite is a mineraloid of hydrated laminar magnesium-aluminum- iron silicate. Its chemical composition greatly varies and chemical formation could be simplified as (Mg,Fe,Al)3(Al,Si)4O10(OH)2·4H2O. When heated to a temperature of about 850-950℃, it instantly expands(exfoliates) up to 15-25 times as water flashing into steam, maximum 30 times its original bulk volume. There is a color change during expansion from golden brown into silver white depending upon the composition of the vermiculite and temperature. With such prominent characteristics as being fireproof, heat insulating, sound and moisture absorbing, non-toxic, lightweight and disease free, it is widely used in construction, chemical industry, petroleum, electronics, light industry, environmental protection and as a medium of agricultural chemical products etc.
Our vermiculite essential has the following characteristics:
PH 7 max.
-Asbestos-free
-Thermal conductivity: 0.045-0.06 Calorie/M
-Unit weight: Approx.0.9kg/M3
-Tensile strength: 1,000-1,500kgs/CM2
-Hardness: 1-1.8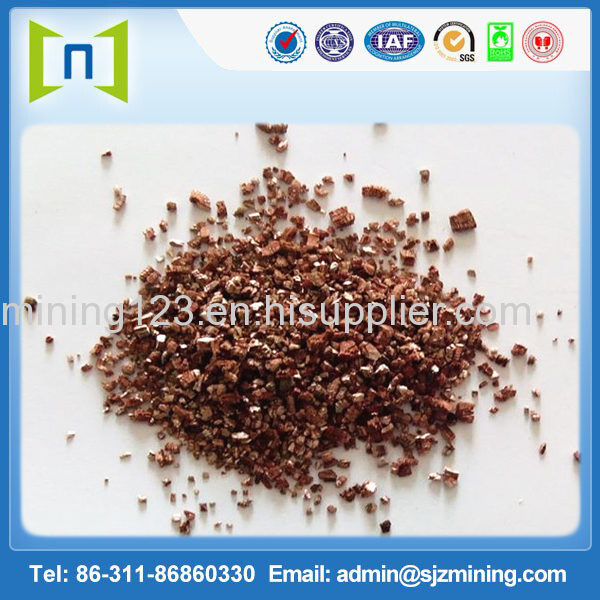 Production specification
Golden vermiculite

Raw vermiculite

Expanded vermiculite

0.3-1mm

0.3-1mm

1.5-2.5mm

1-3mm

2.5-6mm

2-4mm

4-8mm

4-8mm

Silver Vermiculite

Raw vermiculite

Expanded vermiculite

0.3-1mm

0.3-1mm

1-3mm

1-3mm

2-4mm

2-4mm

4-8mm

4-8mm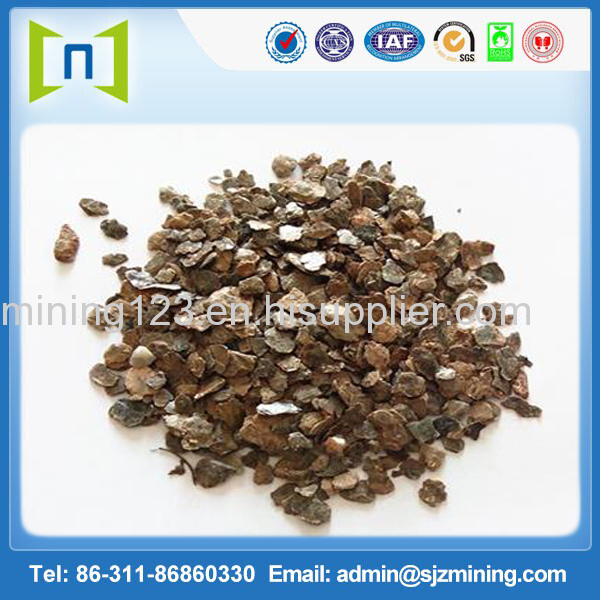 Product application
| | |
| --- | --- |
| Gasket or seals | Fertilizer Carrier |
| Fireproof board | Horticulture |
| Packing material | Hydroponics |
| Animal Feedstuffs | Construction coating |
| Friction Lining | Loose fill insulation |
| Refractory Products | Vermiculite plasters |
| Processed Vermiculite | Light weight concretes |
| Soil improvement | |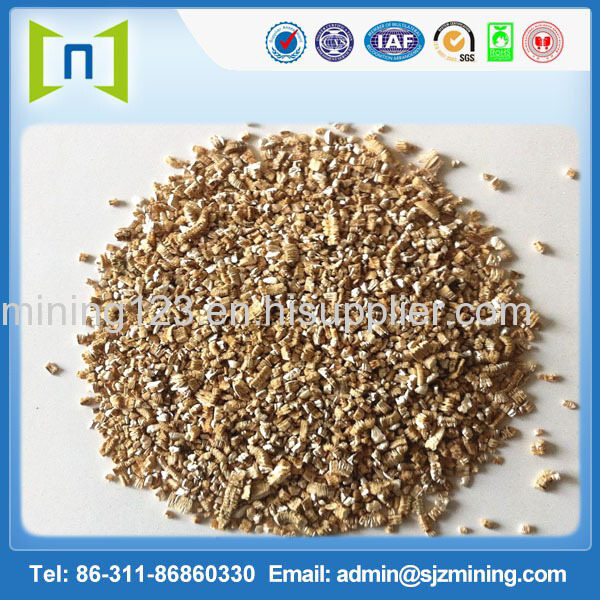 FAQ
1.MOQ: 22MT for raw vermiculite,
2.Production capacity: 2000MT per year
3.Pack: Pp bag,100 L/bag for expanded vermiculite, 1.1MT/bag for raw vermiculite
4.Delivery time: Within 20 days
5.Loading quantity: 22MT raw vermiculite Per 20 GP ,70M3 expanded vermiculite per 40HQ
6. Sample: Free of charge within 1kg, but postage need to be paid
7. Payment term: T/T, L/C.