Wellcome to our store

The EjiaLe's EPW58E has 5.8" Single LCD Panel Display Technology with 16:9 widescreen Resolution (native 1,280 x 800 Pixels) and delivers 3,600 lumens of brightness, it's interactive white board projector,ideal for the classroom or office environments. also for home theater market is a new challenge, full compliance to user requirements,Just put your TV cabinet Replacement LCD TV,16: 9 widescreen Dynamic Image perfect present.
The most poverful function is Interactive pen,and list five tips at below. >cost-effective improvement of teaching conditions, improve teaching quality
>convenient mobile office presentation
>reliable quality
>plug and play, very convenient
>compared to the traditional interactive whiteboard more affordable to rid itself of the shackles of the mouse!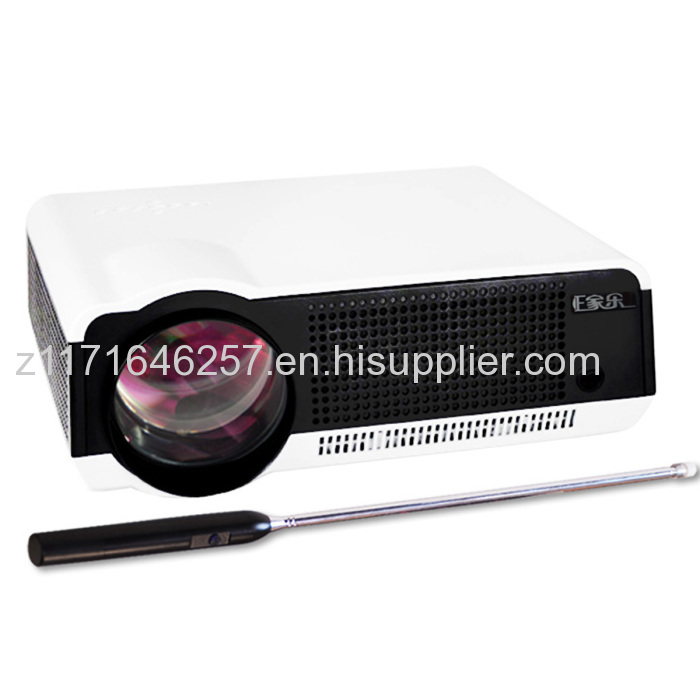 Brand:Ejiale
Ejiale Model:EPW58E
Imaging System:5.8" Single LCD Panel Display Technology
Brightness(Marketing):3600lms
Brightness(Typical): 2800lms
Brightness(MIn):2500lms
physical resolution:1280x800Pixels
Contrast Ratio:2000:1,Dynamic up to 12K
I/O(Input/Output):HDMI x 1;USB x 2; AV x 1; VGA X 1; 2xVideo(YPbPr/CbCr); 1xYPbPr component video(3xRCA); 1xS-video(4-Pin mini DIN);1xTV Tuner(optional).
Life:Over 20K Hrs Life
Display colors:The horizontal (1.67 million)
Aspect ratio4:3 & 16:9 (native)
Keystone correction:V +/- 15° (manual )
V +/- 40° (Digital )
Product color:black/white
Projection Distance: 2 ~6.5M
Lens:Manual Lens&Focus
Scanning frequency
YPBPR (YCBCR): 525i (480i), 625i (576i), 525p (480p), 625p (576p),
750 (720)/60p, 750 (720)/50p, 1125 (1080)/60i,
1125 (1080)/50i, 1125 (1080)/24P, 1125 (1080)/50&60P
Video compatibility HDTV (720P,1080i, 1080P),EDTV (480p, 576p),SDTV (480i, 576i).NTSC (3.58/4.43), PAL (B/D/G/H/I/M/N), SECAM(B/D/G/K/K1/L)
Projection method: Front, rear,hanging cast
Power supply:110-240V&50-60Hz
Power consumption: 240W
Fan noise:as low as 29 dBa
Speaker: 12Ω, 2 W x2 stereo
Dimension (WxHxD):projector size:350*275*140(mm)
packing size:465*365*230(mm)
Product weight:projector weight 4.4KG
packing weight 5.5KG
OSD menu language:8 Language
What's in the Box:1 x Remote Control,1 x English user manual,1x power adapter,1 x 1.5m VGA cable,1 x AV cable,1x USB cable,1 x Electronic pointer, 1 x E-pen.
Scope of application:High-end electronic gifts, family education, business, etc
Warranty: Projector&lamp total 1-years