Product name:2 slice cool touch stainless steel toaster
Model No:TS001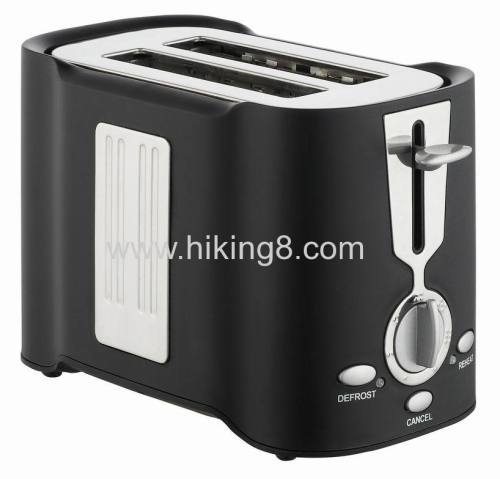 Feature:
2 slice cool touch toaster
Plastic boby with stainless steel panel on both sides
Variable electronic browning control
Multifunction (defrost, reheat, cancel) with indicator light
Auto pop up and auto shut off
Slide out crumb tray easy to clean
Cord storage under base
Anti-slip rubber feet
GS/CB/CE/EMC/LVD/RoHS/REACH/LFGB/PAHs approval
Packing:
Product size:266X146X168mm PACKING DETAILS:
* Giftbox: 272x154x170mm
* Carton: 482x287x365mm (6pcs/ctn)
* G.W.: 7.86kgs N.W.: 6.06kgs
* Loading qty: 3408pcs/20' 7008pcs/40' 8160pcs/40HQ
Fascinating facts about the invention of the
Toaster by Charles Strite in 1919.
AT A GLANCE:
During World War I, a master mechanic in a plant in Stillwater, Minnesota decided to do something about the burnt toast served in the company cafeteria. To circumvent the need for continual human attention, Charles Strite incorporated springs and a variable timer, and filed the patent application for his pop-up toaster on May 29, 1919. He intended the device would be sold to the restaurant trade.
Invention: toaster (pop-up) in 1919
Toastmaster Model 1-A-1 image courtesy www.toaster.org
Definition: noun / toast·er
Function: A mechanical device used to toast bread, especially by exposure to electrically heated wire coils.Toasted bread is called toast.
Patent: 1,394,450 (US) issued October 18, 1921
Inventor: Charles P. Strite
Charles Strite photo courtesy www.toastercentral.com
Criteria; First practical..Modern prototype.
Birth: Minneapolis, Minnesota
Nationality: American
Milestones:
1905 Albert Marsh discovered Nichrome the filament wire needed to toast bread
1906 George Schneider applied for a patent for his version of the electric toaster. It is never built.
1909 General Electric introduces their first electric toaster for the home. Invented by Frank Shailor
1913 Hazel and Lloyd Copeman apply for toaster patents
1913 Copeman Electric Stove Company introduced toaster with automatic bread turner
1914 Westinghouse introduces electric toaster for the home. Under license of Copeman patents
1919 Charles Strite invents a automatic pop-up bread toaster and applies for a patent
1921 Waters Genter Co. formed to manufacture Strite's toaster and market it to restaurants.
1921 Two of Strite's patent application are approved
1926 Strite file patent application for his design for a home toaster
1926 Waters Genter Co introduce their first electric toaster for the home under the Toastmaster name
1926 Max McGraw purchased Waters Genter Co. and the Toastmaster brand
1928 first mechanical pre-sliced bread goes on sale to the public in Chillicothe, Missouri
1929 Patent 1,698,146 issued to Strite for the automatic pop-up toaster for home use
1930 Wonder Bread begins selling pre-sliced bread, most bakeries follow suit
1933 toaster sales skyrocketed, thanks to the standardized size of sliced bread
toaster, pop-up toaster pop up toaster, electric toaster, home appliance, Charles Strite, Hazel and Lloyd Copeman, Frank Shailor, George Schneider Albert Marsh, invention, history, inventor of, history of, who invented, invention of, fascinating facts.
Contract:
We will keep online every work day .
Please call us anytime if questions on products.


Company information:
Hiking Electronic Co., Ltd. is a manufacturer and trade company, specializes in home electric appliance research and designing, production as well as international trade services.
The products include food processor, chocolate fountain, chocolate dispenser, ice cream maker, popcorn machine, BBQ, Hot dog maker, food steamer etc.
With more than ten years of development, the company have been concentrating on marketing exploring, technology innovation and researching, customer service. it meets to most of world wide customers' requirement, and established good cooperation to many customers from all around world, the sales volume are increasing fast yearly..
Apart from our wide range of present products, we also offer products sourcing on the cost basic. Our sales team have the most extensive connection in the internal manufacturers. Product sourcing are one of our services to customers. Any of your enquiries or the products you would like to source, don't hesitate to let us know.
Our mottos is: professional services, innovation, fast delivery, quality superior, improvements ,Sincerity and mutual benefits.
We sincerely welcome the customers from all around world to come and visit us, Hope to establish long terms rations with you in the near future for mutual development.