Fe EDDHA 6% Organic Fertilzier

Outline:
Organic chelated iron fertilizer, EDDHA Fe, is most efficient to prevent and cure the disease of leaf-yellows due to iron deficiency for grain ,crops, fruit, vegetables, and flowers etc.
It is perfect replacement product for ferrous sulphate, EDTA ,DTPA etc
As super water-soluble single microelement efficient organic fertilizer with a very fast iron releasing capacity EDDHA Fe can be widely used in various soils safely and efficiently.
It can be as iron-supplementary agent to normal crops, making them grow better, and improve the quantity and quality of crops.
There was also a significant improvement in the hardened, and fertility declined soil.
It can be used as material for compound fertilizer also.
Feature:
1.Chelated organic fertilizer, absorbed easily by plants, improve the soil
2.Widely used for pH 4-9 alkaline and acid condition
(Many fertilizers only used in acid condition, i.e. pH below 7 )
3.Used for soils, plants, grain, crops, vegetables, fruits, flowers, aquatic systems and so on.
4.Good compatibility with all agricultural inputs such as fertilizers and pesticides
5.Extremely stability (Stability constant Log Kt = 33.9)
EDTA Fe's stability constant Log Kt = 25
6.100% soluble in water about 5 seconds
7.Fast effect, and operate quickly
8.Considerably long fertilizer efficiency
Spec.:
| | |
| --- | --- |
| Item | Standard specification |
| Product name (EDDHA Fe 6%) | Ethylenediamino-N, N'-bis (2-hydroxy-phenyl) acetic acid |
| Appearance | Granule, micro granule, powder |
| Chelate iron content | 6.0% Min |
| Ortho iron content (O-O) | 1.8, 2.4, 3.0, 3.6, 4.2, 4.8 |
| Solubility in Water | 100% Soluble |
| pH value(range of application) | 4.0-9.0 |
| Molecular formula | C18H16N2O6FeNa |
| CAS No. | 16455-61-1 |
| Molecular weight | M=435.2 |
| | |
Package:

1.Kraft bag: 25kgs net with PE liner
2.Color box: 1kg/foil bag per color boxes, 10 color boxes per carton
3.Carton: 1kg/foil bag, 10 or 20 bags per carton
4.Drum: 20 or 25kgs/PE bag + nylon cable tie.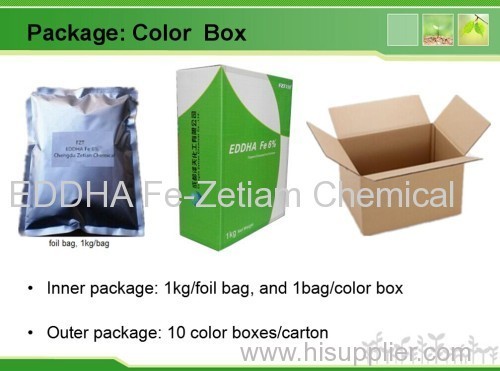 Cautions:
1.Best time: crops that sprout after blooming, such as peach trees, are used once
within one week before blooming and another two weeks after blooming.
Crops that bloom after sprouting, such as oranges, are used once they
sprout and flowers wither.
Note: Once the best time was missed, to use doubled volume at a time.
2.Never use this product in bloom.
3.Store in cool dry place. Keep out of reach of children and food.
4.Forbidden from human beings and livestock.
5.Stored in the dry and ventilated inside storeroom
Welcome to contact our salesman for details!