Large Diameter Hollow Wall Winding HDPE/PP Pipe Machine(200mm-800mm) is used to produce 200mm-800mm diameter hollow wall winding HDPE/PP pipe.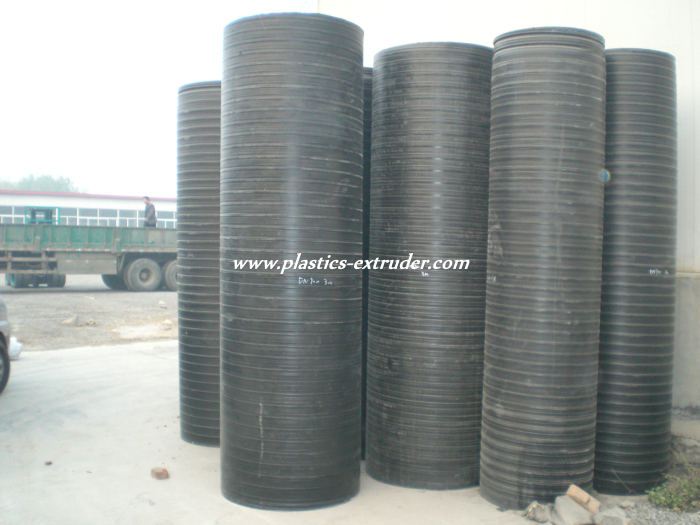 Specification:
DIAMETER:Ф200mm,Ф300mm,Ф400mm,Ф500mm,Ф600mm,Ф700mm,Ф800m
TOTAL INSTALL POWER: 196KVA, 380 V three phases, 50HZ
LOAD FACTOR: 50%-80%
WORK HOUSE: 26M×16 M
CIRCULAR COOLING-WATER:5m3/h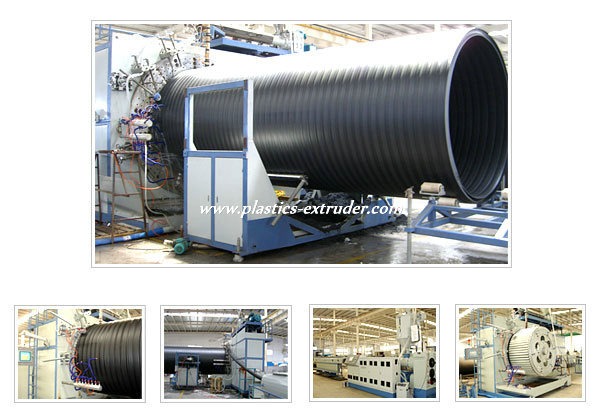 Configuration of Machine:
A. Extruder
1. Single Screw Extruder:FSJ-65×33 Quantity: one set
Screw diameter: 65mm
Screw and diameter ratio (L/D): 33:1
Motor: DC 55kW driven by EROTHERM converter
Screw speed: 120rpm
Heater for barrel power:24kW
Max output: 220kg/h
2. Single Screw Extruder: FSJ-50×33 Quantity: one set
Screw diameter: 50mm
Screw and diameter ratio (L/D): 33:1
Motor: AC 37 kW FUJI inverter
Screw speed: 120 rpm
Heater for barrel power:12kW
Max output:120kg/h
B. Extruding Die
C. Vacuum Calibrating Bath: DJ-56 Quantity: one set
D. Spray Cooling Baths: PL-56 Quantity: one set
E. Forming unit: CR-800 Quantity: one set
F. Wrapping mould
G. Cutting unit: QG-800 Quantity: one set
H. Stack unit: DF-800 Quantity: one set
I. Automatic control system: Quantity: one set
1. PLC controller: ORMON
2. Touch screen: 10.4 color brand of pro-face one set
3. Touch screen: 5.7 white/black brand of pro-face two sets
4. Other low voltage electrical equipment: SIEMENS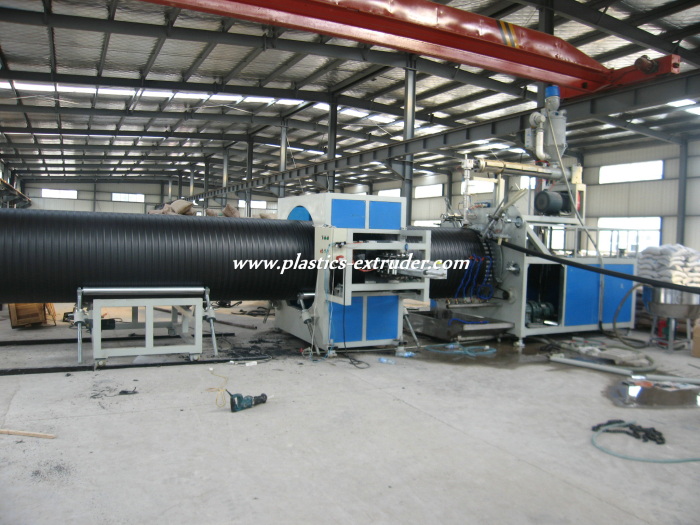 Technology and Service:
1. Seller supply full set of technical document, cutter and other full document (write in English).
2. Seller supply training for buyer's staff until buyer can produce the eligible production independently.
3. Seller is responsible for installing, testing, adjusting and debugging the machines in buyer's factory.
4. Buyer should pay the expense for our engineers including for our engineer including round-
way tickets, inland traffic, lodging and boarding fee when the machine is installed, tested and maintained.
5. Seller will go to install machines after the machine is arrived at buyer and buyer will have prepared all
conditions (including power, water, compress air, tools and materials for producing pipe, etc) for installing
and testing these machines. Buyer should pay 60USD/day.
6. When installing,people of both sides cooperate well and carefully,buyer supplies convenient working
condition,any problem, should discuss peacefully and kindly.
7. Buyer supply proper working tools, equipments and other conditions.
8. The expense including the accommodation and materials of the trial-
run the machine for testing and other expenses(electric, water, air and worker) will be on seller's account,
if the buyer or their representatives do the inspection of the machines before shipment.
9. Guarantee period: 14 months after shipment (the date of B/L)
http://www.plastics-extruder.com