PVC/WPC crust foam board extrusion machine is used to produce PVC/WPC crust foam board.
PVC/WPC crust foam board is the scientific name,it is widely used in furniture board,kitchen cabinet,bathroom board and wardrobe board,interior decoration board,advertising board,office board,construction formwork board,door board,floor board, and so on.Because of the speacial features of modified plastics,stronger,stiffer,lighter,more environmentally friendly,it is starting to replace the wood board.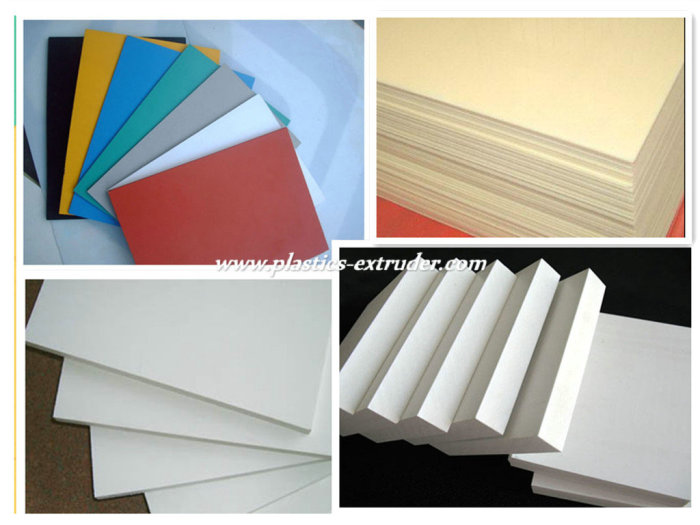 Summarize:
1.Power supply: 380V/3phase/50Hz
2.Materials: PVC mixed powder
3.Production specification: width:1220mm thinckness:5-30mm
4:Production application: different formula,diffrent application,but machine is same
5.Output: 400-450kg/h
Here is the equipment list of pvc/wpc crust foam board production line:
1,Automatic feed loader
2,SJ80/156 Twin Conical Screw Extruder
3,Mould
4,Calibration platform
5,Cooling bracket
6,Haul-off equipment
7,Cutter
8,Stacker
Auxiliary machines:
1,Crusher
2,SMF-600 miller
3,500/1000 high speed heat/cooing mixing machine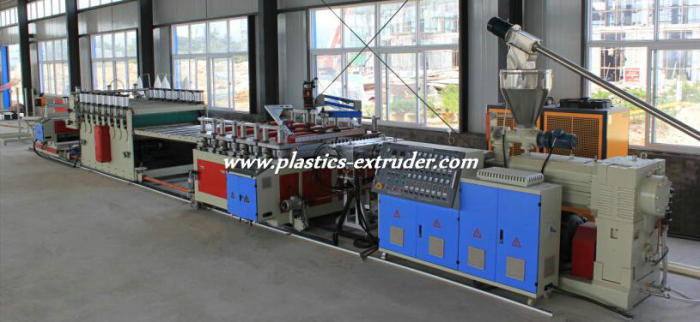 Technology and Service:
1. Seller supply full set of technical document, cutter and other full document (write in English).
2. Seller supply training for buyer's staff until buyer can produce the eligible production independently.
3. Seller is responsible for installing, testing, adjusting and debugging the machines in buyer's factory.
4. Buyer should pay the expense for our engineers including for our engineer including round-
way tickets, inland traffic, lodging and boarding fee when the machine is installed, tested and maintained.
5. Seller will go to install machines after the machine is arrived at buyer and buyer will have prepared all
conditions (including power, water, compress air, tools and materials for producing pipe, etc) for installing
and testing these machines. Buyer should pay 60USD/day.
6. When installing,people of both sides cooperate well and carefully,buyer supplies convenient working
condition,any problem, should discuss peacefully and kindly.
7. Buyer supply proper working tools, equipments and other conditions.
8. The expense including the accommodation and materials of the trial-
run the machine for testing and other expenses(electric, water, air and worker) will be on seller's account,
if the buyer or their representatives do the inspection of the machines before shipment.
9. Guarantee period: 14 months after shipment (the date of B/L)
http://www.plastics-extruder.com