Neware produce good quality battery charging station for Ni-MH Ni-CD Li-ion polymer battery ,we can customized with different voltage and current range.This system provides most applications in battery testing fields such as electrode materials research, battery performance test, small-scale battery formation, capability grading, battery pack testing and etc.
Technical Specification:
Description

Product Specification

AC Input

AC 110V±10% 50Hz

Power

3733

mW

Resolution

AD: 16bit; DA: 12bit

Input Impedance

≥1MΩ

Voltage

Measuring Range

Charge: 10mV~5V

Discharge: 10mV~5V

Discharge Min Voltage

10mV

Accuracy

± 0.1% of FS

Stability

± 0.1% of FS

Current

Range

Charge: 0.1mA~50mA Discharge: 0.1mA~50mA

Accuracy

± 0.1% of FS

Stability

± 0.1% of FS

Power

Output Power Per Channel

250mW

Stability

± 0.2% of FS

Time

Rise Time

20ms (0~Full Range)

Step Time

≤ (365*24) hour/step

Time Format 00:00:00 (h:min:s)

Data Acquisition

Intervals

Time interval Δt:(1s~60000s)

Voltage interval ΔU: (10mV~5V)

Current interval ΔI: (0.1mA~50mA)

Frequency

1Hz

Charge

Modeof Operation

CCC, CVC, CC & CVC

End Conditions

Voltage, Current, Test Time, Capacity

Discharge

Modeof Operation

CCD, CPD

End Conditions

Voltage, Current, Test Time, Capacity
The BTSDA softeware to analyze the data: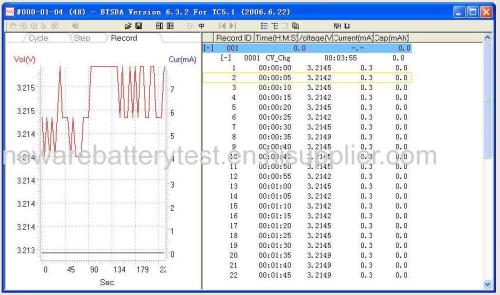 Differfent clamp to connect the battery: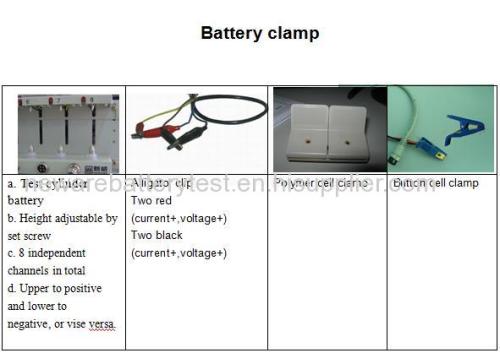 10units set in a rack: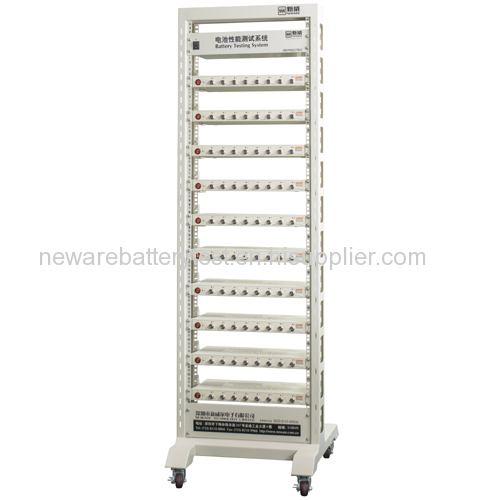 Our advantages:
All kinds of types are manufactured for a range of current from 1mA to 1000A, a range of voltage from 5V to 500V to meet customers' special needs. We also provide the BTS which can test the voltage of 0 V or even lower.
1.Reasonable Price, standarbale and Reliable Product.
2.Improve the quality and life expectancy of your products
3.Work Performance more effective and efficacy
4.17years innovation guarantees you a in better future.
Warranty and Customer Service:
Neware warrants its equipment for 1 year from shipment, to be free from defects in workmanship and material. For some other consumptive materials, like battery clamps, we provide a 3-month warranty. This warranty, including customer service support and software licenses, is not transferable. Meanwhile, we provide lifetime software update
service to help your equipment optimized in its best status.
We provide below customer services:
1.Free Technical Training.
2.Free Service Call Service.
3.Testing Service.
4.Calibration Service.