Feature:
It has the function of baking, drying, cooking, cold smoking, hot smoking and cooling. Customer can flexibly choose the proper process, to reach the aim of curing and sterilization.
It composed of Cabinet, automated program controller, smoke generator and smoke trolley. The key components is perfect circulation system made from steam pipe, heat ex-changer and outlet channel. Under the function of two sets of circulation fan, the mixture of smoke and heat form a vortex area to make the mixed gas trough hanging meat with balance and uniform speed, to reach the objective of curing and sterilization. 1. imports of Japanese SMC pneumatic pilot valve control steam steam flow, temperature control accurate, reliable operation, the temperature of the entire cabinet temperature is less than 1 ℃.
2. Blades after 3000 rpm, the maximum wind speed can be up to 25 m/s, to effectively ensure the product temperature uniformity during process.
3. Smoke generator use wooden type, with stable smoke performance, fast coloring and clean smoke.
4. Equipped with high pressure pipe pump used for washing plates and dirt in the smoke pipe; there are different angles of nozzle in the coil and flue.
Main technique parameter
Production capacity

(kg/ oven)

250kg

500kg

Power kw

3

6

High pressure steam mpa

0.1-0.2

0.1-0.2

Low pressure steam mpa

0.1-0.2

0.1-0.2

High pressure oven temp ℃

<85

85

Low pressure oven temp ℃

<100

100

Water pressure mpa

0.2

0.2

Steam consumption kg/h

140

280

Trolley(mm)

1000×1030×1980

100*1030*1980

Main body dimension(mm)

1350×1510×2600

2420*1510*2600

Installation dimension(mm)

5000×2200×3400

6000*2200*3400

Weight kg

≈1400kg

1800kg
Equipment List
| | | |
| --- | --- | --- |
| No. | Name | Origin |
| 1 | Motor | Shan Dong |
| 2 | Standalone controller | Chint |
| 3 | Temp controller | Chint |
| 4 | Contactor | Chint |
| 5 | Contactor | Schneider |
| 6 | Thermometer MODE | Japan Mitsubishi |
| 7 | Air switch | Chint |
| 8 | Button switch | DELIXI |
| 9 | Switch supply | DELIXI |
| 10 | Temp probe | Tian Jing |
| 11 | pneumatic valve | |
| 12 | pneumatic device | Chint |
| 13 | Trap | Shen Yang |
| 14 | Door panel | 1.5mmSUS stainless steel wire drawing plate |
| 15 | Box plate | 1.5mmSUS stainless steel wire drawing plate |
| 16 | Bottom plate | 2mmSUS stainless steel wire drawing plate |
| 17 | Coil | SUS Ф24×2.0 |
| 18 | Frame | 160*120*5mm square steel stainless steel |
| 19 | Top plate | 12mm stainless steel |
Product PIcture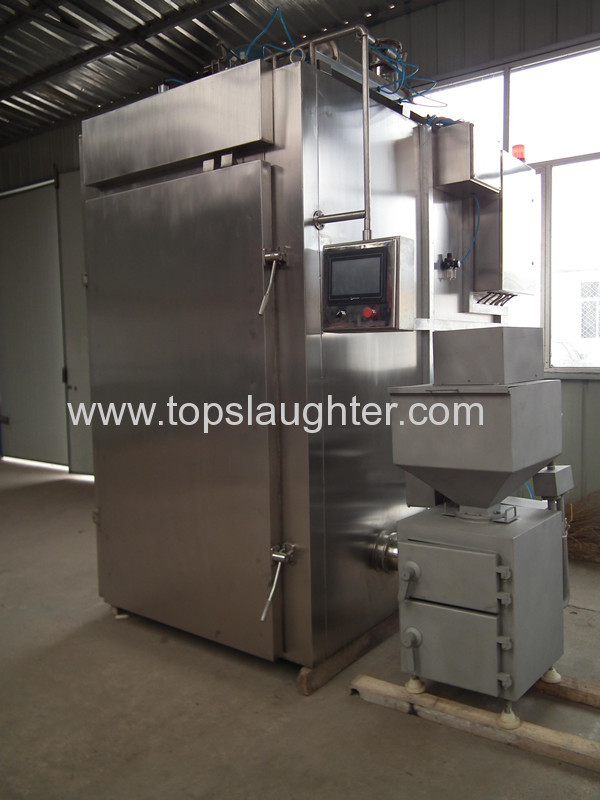 Tunnle Type Smoking Oven