20-63mm ppr pipe welding machine
***Introduce:
PPR fuser(PPR welding machine), also known as heat sealing, heat sealing machine and so on. PPR pipe
butt suitable for heating. Simple and practical, small price around 30RMB. Existing fixed adjustable thermostat and thermostat two kinds. Like its specifications and pipe specifications. Thermostat
controls the fuser can be used for other materials pipe. Such as: PE PP and so on.
PPR is short for polyethylene Sanbing using thermal welding way, a dedicated welding and cutting tools,
may have a higher flexibility. Price is also very economical. Insulation performance is also good, the
wall is very smooth, including internal and external wire connector.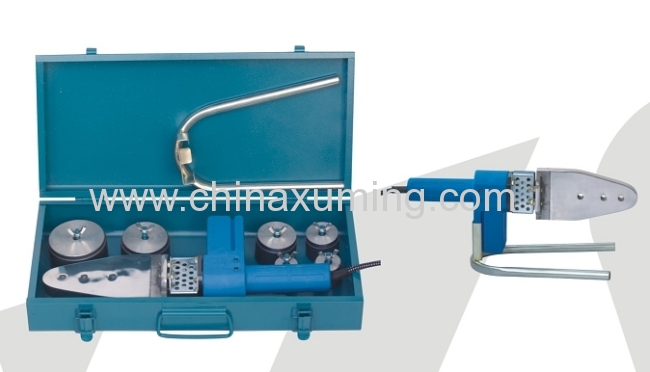 ***USE of PPR welding machine

The fixed installation heating welding tip, placed on the shelves of the weld, install the

corresponding heating pipe die according to the required specifications, and with a hex wrench,

generally small in front.




Power on


Power (note that power must be grounded with a protective wire), green light, red light is off, welding enters the automatic control state, you can begin to operate. Note |: automatic

temperature control state, the red light green light will light up alternately on their own, suggesting that fusion is in a controlled state, does not affect operation.




Weld Pipe

Cut with a tube cutter vertical pipes, the pipes and fittings while non-rotating propulsion die

within the welding device and operating requirements of the table, the time immediately after

reaching the heating pipes and fittings removed from the die head while quickly without rotation linearly uniformly into the desired depth, so that a uniform flange joints.




***Technology data:




| | |
| --- | --- |
| Code No.: | CXM-63 |
| Working Range | DN20,DN25,DN32,DN40,DN50,DN63 |
| Rated Power | 1000W |
| Rated Voltage | 110V & 220V +-10% |
| Rated Frequency | 50/60Hz |
| Working Temperature | 260ºC±5ºC |
| Appling To | PPR,PE,PB,PE-X,PE-RT |
| Q'ty/CTN | 2CS/CARTON |
| N.W./G.W.(kgs) | 17KGS/18KGS |
| Meas. (cm) | 46X27X26CM |

***Workshop