Volume:0.025L-5.0L
Pressure(Bar):100bar/210bar/315bar/330bar/360bar/700bar
Temperature:-40---120( Celsius Degree)
Fatigue Tes:2million Times
Diaphragm Compound:NBR/ECO/FPM/IIR/HNBR/EPDM


We are the largest manufacturer for Welded diaphragm accumulator in China. We specialize in this field for several years. Accumulators from AOQI Accumulator be characterized by:
1. All accumulator products using electron beam welding,
2. Real - time imaging technique,
3. Clean assembly
4. The finite element Optimized design
5. High performance
6. Different oil - or gas - connections available
7. Different Diaphragm - and Shell - material available
8. Burst high pressure and high durability of dynamic stress
9. Multilayer - diaphragms for Maintenance free applications
The Company was committed to the research and manufacture of accumulators and related modules, product promotion, and related design and manufacturing systems engineering, technical advice and other services. Product quality and installation dimensions comply with appropriate industry standard in Europe and America. Many accumulators and hydraulic modules have been widely used in automobiles, engineering machinery, wind power, ships, iron and steel, metallurgy, coal mining, construction and other industrial areas.
Current customers: Volvo, JCB, BYD, SANY, CAT etc.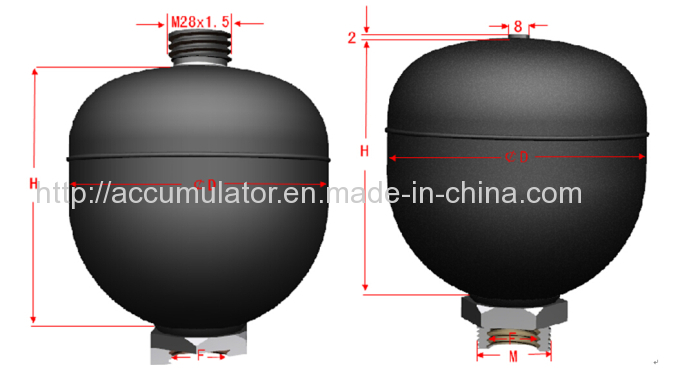 Dimensions For Welded DiaphragmAccumulators
Models

Volume
L
Max.
Operating
Pressure
BAR
Mass
KG
Dimensions

Max flow
L/min
P
(bar)


Diaphragm
Compound

D
mm
H
mm
F
A(Metric) B(EN) C(UN)
M
ADB250
0.075
250
0.7
64
68
M14×1.5
G 1/2
SAE #6
/

38
210








NBR
ECO
FPM



other Diaphragm
Compound
please request


ADB210
0.16
210
0.9
74
79.5
38
170
ADB250
0.16
250
0.9
75
81
38
210
ADB100
0.32
100
0.8
89
99.5
M18×1.5
other Connection size please request

90
60
ADB210
0.32
210
2.2
95
101
90
140
ADB250
0.32
250
2.5
98
95
90
160
ADB330
0.32
330
2.8
101
104.5
90
250
ADB250
0.5
250
2.7
112
114
SAE #8
90
210
ADB330
0.5
330
4
118
120
90
280
ADB100
0.75
100
2.4
116
125
M33×1.5
90
65
ADB210
0.75
210
3.3
122
124
90
175
ADB250
0.75
250
4.5
124
129.5
90
210
ADB330
0.75
330
5.5
126
124
90
270
ADB210
1
210
3.6
136
131
90
100
ADB330
1
330
4.2
147
147
90
130
ADB210
1.4
210
5.4
152
160
90
100
ADB330
1.4
330
9.8
162
170
90
130
ADB210
2
210
6.7
168
180
G 3/4
SAE #10
150
117
ADB250
2
250
9.7
172
184
150
180
ADB330
2
330
8.1
178
190
150
180
ADB210
2.5
210
7.6
168
203
150
100
ADB250
2.5
250
8.6
172
206
150
120
ADB210
2.8
210
9.4
168
220
150
100
ADB210
2.8
250
10
168
224
150
140
ADB210
3.5
210
12
168
270
150
130

Product show: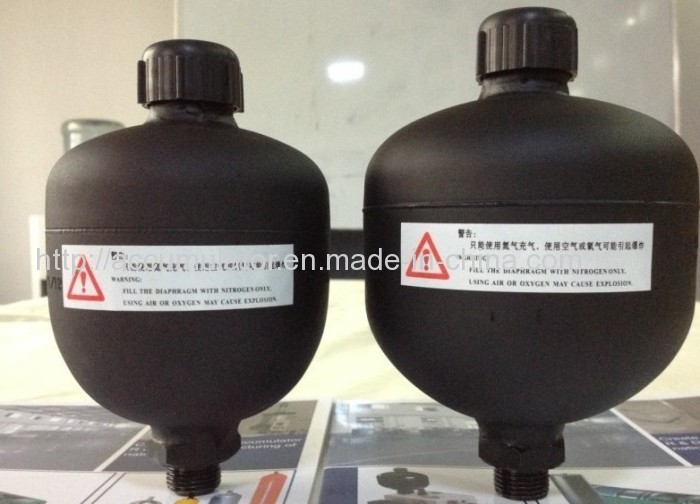 BLADDER ACCUMULATOR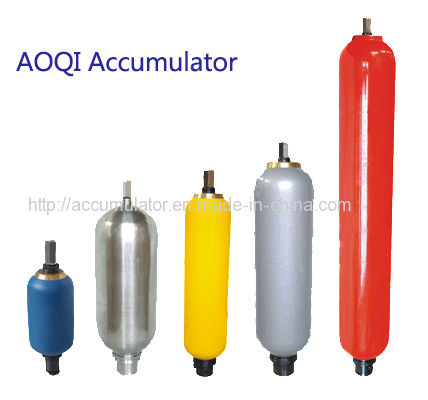 1. Model and Size (GB)


Model
Nominal
capacity
(L)
Size(mm)
Weight
(kg)


M
d
1
2
3
4
n-5
L
L1


NXQ-0.4/*-L-Y
0.4
89
M27×2
32










260
155


3
NXQ-0.63/*-L-Y
0.63
290
185
3.5
NXQ- 1/*-L-Y
1
425
320


4.5
NXQ- 1/*-L-Y
1
114
320
205


5.0
NXQ- 2/*-L-Y
2
435
320


9.0
NXQ-1.6/*-L-Y
1.6
152
M42×2
50
42
50
97
130
6-17
365
215


12
NXQ-2.5/*-L-Y
2.5
430
280
14
NXQ-4/*-L-Y
4
540
390
16
NXQ-6.3/*-L-Y
6.3
710
560
22
NXQ-10/*-L-Y
10
219
M60×2
70
55
65
125
160
6-21
650
490


40
NXQ-16/*-L-Y
16
860
700
54
NXQ-20/*-L-Y
20
985
825
62
NXQ-25/*-L-Y
25
1160
1000
74
NXQ-32/*-L-Y
32
1400
1240
90
NXQ-40/*-L-Y
40
1680
1520
110
NXQ-20/*-L-Y
20
299
M72×2
80
70
80
150
200
6-26
680
490
299
80
NXQ-25/*-L-Y
25
770
580
90
NXQ-40/*-L-Y
40
1050
860
120
NXQ-63/*-L-Y
63
1470
1280
175
NXQ-80/*-L-Y
80
1810
1620
215
NXQ-100/*-L-Y
100
2190
2000
260
2. Model and Size (ASME CODE)




Model
Nominal
Pressure


(Psi)
Nominal
Capacity


(Gal)
Size(mm)
Weight

(kg)
M
D
L
A
B
B 0.25/3000
3000
0.25
NPT3/4
Φ114
50
325
195
5
B 1/3000
1
NPT11/4
Φ168
60
385
315
14.5
B 2.5/3000
2.5
NPT2
Φ229
87
565
410
43
B 5/3000
5
865
710
64
B 10/3000
10
1435
1280
104
B 11/3000
11
1540
1385
109
B 14/3000
14
1875
1720
126
B 15/3000
15
1975
1830
132
T 2.5/3000
2.5
555
410
43
T 5/3000
5
855
710
64
T 10/3000
10
1425
1280
104
T 11/3000
11
1530
1385
109
T 14/3000
14
1865
1720
126
T 15/3000
15
1975
1830
132
B 0.25/4500
4500
0.25
NPT3/4
Φ114
50
325
195
5.5
B 1/4500
1
NPT11/4
Φ168
60
385
315
20
B 2.5/4500
2.5
NPT2
Φ232
87
555
400
58
B 5/4500
5
860
700
84
B 10/4500
10
1450
1295
136
B 11/4500
11
1570
1415
146
B 14/4500
14
1935
1780
178
B 15/4500
15
2005
1850
183
T 2.5/4500
2.5
545
400
58
T 5/4500
5
845
700
84
T 10/4500
10
1440
1295
136
T 11/4500
11
1560
1415
146
T 14/4500
14
1925
1780
178
T 15/4500
15
1995
1850
183