Custom Minrui Plain Hologram Destructible Vinyl Eggshell Seal Sticker Self Adhesive Label Papers In Sheets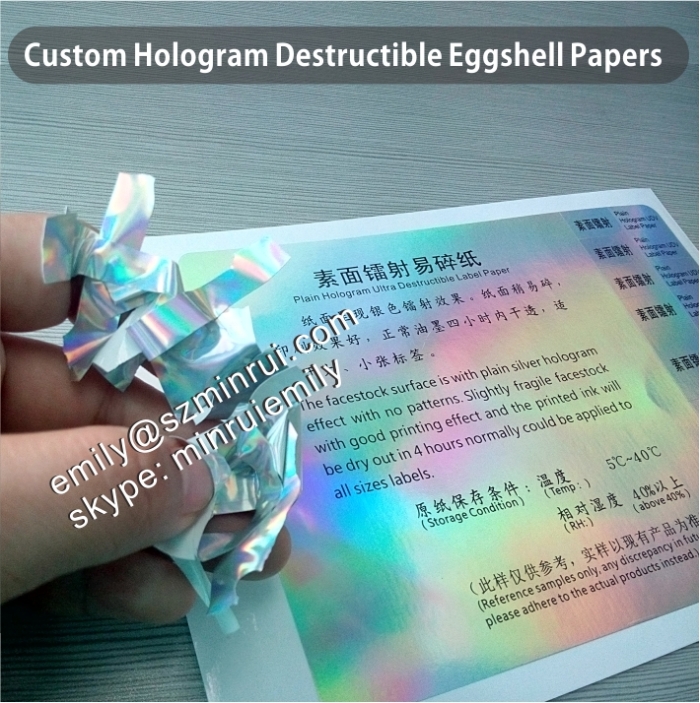 New Arrival Hologram Destructible Vinyl Eggshell Sticker Papers:
this model is moderate fragile (B and C and grade)
The facestock is moderate fragile and the surface is smooth with hologram effect,the printing effect is as well as common vinyl labels.

Glossy and smooth fish scales image like surface , and these image will present small hologram dots in the sunshine

Because the model is moderate fragile,suggest printed for all size labels or eggshell stickers which you need very sticky and fragile and in common temperature

Adapt temperature 5 centigrade to 40 centigrade

Relative Humidity:above 40%
You could notice that the faceside effect is plain holographic.
And they are also destructible labels, the Hologram Destructible Vinyl Eggshell Sticker Papers will break into many tiny pieces once tampered.
We combined 2 security characteristics (3D hologam and destructible).
This is one of new products for year 2014 from us.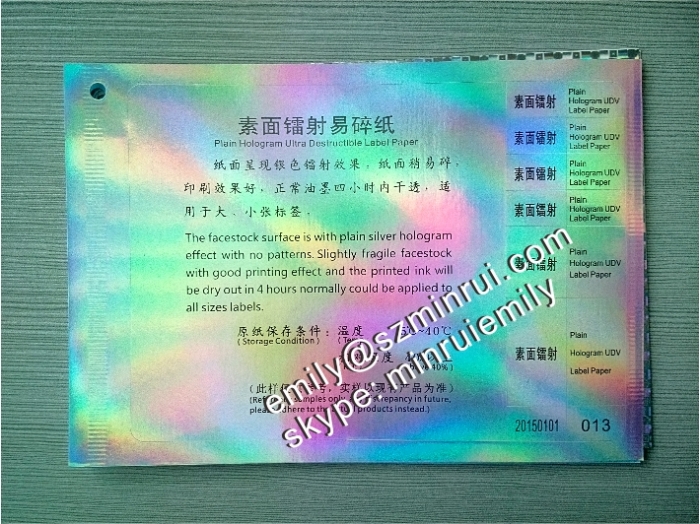 Custom Glossy Plain Hologram Eggshell Sticker Papers Sheets
Security Hologram Holographic Ultra Destructive Vinyl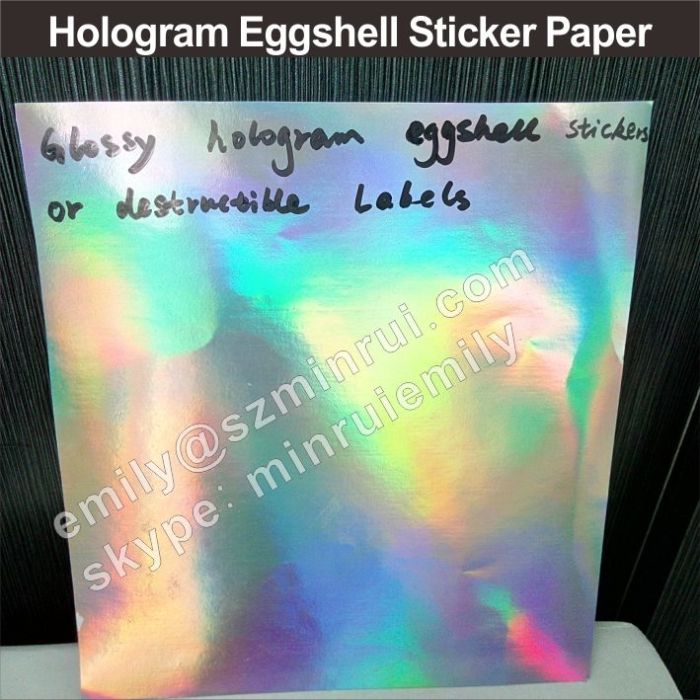 These plain hologram eggshell sticker papers are a kind of our new hologram ultra destructible label materials.
Glossy holographic destructible brittle eggshell sticker paper feature
All hologram destructible label face shows hologram light like rainbow.

Without any hologram patterns , you could custom any printing design on it.

This hologram eggshell stickers are with strong adhesive and can only removed after thousands of times.

Usage for high securty tamper evident labels or as special outstand eggshell stickers

Glossy White Plain White Rainbow Hologram Seld Brittle Vinyl Eggshell Gaffti Destructible label Sticker Papers

Glossy White Reflect Hologram Shine Ultra Destructile Vinyl Materials,Glossy Holographic Destructive Label Materials

These are our new glossy destructible label materials, you could check that the destructive label papers are white in room light and still reflect the holographic shines,they present colorful from different sight.

Check below, the left one sight was from common room light and the right is reflect from different sight

And they are still destructible labels, these gloosy holographic will break into any tiny pieces once tampered.

They are with strong adhesive and will printed by UV label printing machine, because of the surface is gloosy and in order to keep the fragile security charateristic won't coated with lamination in normal situation.

If you want to coat the lamination, just let us know please.We will adjust the printing way for you.

Below is common glossy white destructible label papers, they are gloosy but less glossy than the glossy white hologram label papers above and also do not wth hologram shine effect.

Glossy Eggshell Sticker Papers,Glossy White Ultra Destructible Vinyl Materials,Glossy White Breakable Fragile Label

Only our company has this kind of gloosy white destructible label materials

Glossy WhiteUltra Destructible Vinyl Materials,Destructive Label Materials with Gloss WhiteSurface,Gloss Destructible Labels:







This is gloss whiteand matte white destructible label materials comparison.




You could see that thegloss white is more shinny then matte white one.


Minrui Glossyfacestock adhesive destructible label paper,Glossy destructive paper





Instructions:

Tamper evident destructiblelabels ara unique tamper proof security labels for excellent high bond adhesionand conformability to smooth or curved irregular surfaces.

When the destructiblelabels are tampered against removal and are easily damaged, causing cracking andcause multiple chipping effect in tits and bits leaving behind the evidence oftampering.

These tamper evidentdestructible labels are great for use on electronic equipments, appliances,rental equipment, computers, laptops and instrumental or machinery repairs whenyou need to prevent undetected access.

These destructible labels or stickers cannot be switched to another piece of equipment withouttamper detection being evident.







Ultra Destructible Vinyl Data Sheets

| | |
| --- | --- |
| Facestock thickness: | 0.1mm |
| Adhesive: | water-proof SENSITIVE strong adhesive |
| Coating Thickness: | 0.025±0.002mm |
| Dry Coating Weight: | 50±2g/square meter |
| Peel Adhesivon: | 12# ball |
| Release liner thickness: | Glassine liner (80g) white coated liner (180g) |
| Tensile Strength: | 9.0kg/15mm |
| Elongation: | 2‰----4‰ |
| Color: | white or you could custom other colors |
| Smoothness and printability : | good |
| Release Force: | ≥8N |
| Holding Power: | 24 hours |
| Temp Range: | -5---40°C |
| Solvent Resisrance: | Good |
| Breaking Strength: | 5.0kg/cm² |
| Die Cutting: | Good |



Custom Rolls of high tack ultra destructiblevinyl materials

1:manufacturer ofdestructible vinyl

2:jumbo rolls,largestorage for sale

3:factory price andquickly leading time (in 3 work days in common)



Please check the models for different grades of frangible below:



Grade A:very brittle of the facestock,But it ishard to cut the spare papers

Grade B:moderate brittle of the facestock,butit is tend to Grade A.The spare papers cannot be cutted by hand,cannot bymachine

Grade C:moderate brittle of the facestock,butit is tend to Grade D.The spare papers can be cutted by machine

Grade D:the facestock is not very easybrittle.The spare papers can be cutted by machine For further information,pleasecheck our blog on the left in the catalog! Or you could contact with us for thedate sheets and instructions,we will get you back in 24 hours!^_^

Frangile grade

Models

Suitable conditions

A

11A,11A0,DO,D4

for small sizes labels and for the straight corners labels.These models

cannot be die cutting,because the facestock is toofrangible

B

11CA2,D3

can be die cutting by hands (not by machine)

C

11CA4,D2

can be die cutting by MACHINE

D

12A3

for cold temperature



But it is not the absolutly situation,because the temperature also affect thegrades for the same models. Please just contact with us,we will introduce youthe suitable models.

Printinginstructions:






Please attention:

Some otherdestructible label papers (from some other companies) are very brittle,even alittle morn brittle than our most brittle models.What's morn they are verysticky,you will feelling the good sticky as soon as you test them

But what's the diferencesbetween our papers from some other destructive labelpapers?


1:the adhesive :

ouradhesive is water-based and the labels will have a good effect after youstick on something surface for 48 hours enough!Then the glue will permeate intothe surface and they will be very sticky!That is because we have moisturizingprocessing,it can make the users to print and stick the labels simply!

Others use oil-based adhesive,they wil be verysticky and will have good sticky effect as soon as you test them the firsttime,but as the days passed away,the labels will be no sticky and then dropdown


2:the brittle grade:

ourpapers have moisturizing processing,it can make theusers to print and stick the labels simply!And you could storage them for a halfof years.It canbe promised that the materials won't be destructed in theprocessing of make the papers into labels and stick on the products

Othersare very brittle,like eggshells.At first you will think it is very goodof the brittle,but they will be destructed before printing in winter or in lowtemperatures

Because the brittle grades arechanged with the temperatures,low temperatures results in high brittle.What'smorn the inferior labels will increase


My Skypeis:minruiemily





You could have a look at your back of the release liners,usually we havemarks "HF" on the white liners (180g) of the destuctible label materials.


We also produce lots of special destructible label papers,and we combine the other security factors withour destructible label papers.Please check the catalog left :ultra destructibelvinyl for further information or contact with us directly!

We also produce lots of special destructible label papers,and we combine the other security factors with our destructible label papers.Please check the catalog left :ultra destructibel vinyl for further information or contact with us directly!

New products:

Small rectangle hologram eggshell sticker papers, samll rectangle ultra destructible label materials

Glossy hologram eggshell sticker materials, gloosy plain holographic destructive vinyl materials

Glossy white plain hologram vinyl eggshell graffiti stickers, glossy white rainbow hologram self brittle destrutible label papers

↑ Small rectangle hologram eggshell sticker papers, samll rectangle ultra destructible label materials

↑ Glossy hologram eggshell sticker materials, gloosy plain holographic destructive vinyl materials

↑ Glossy white plain hologram vinyl eggshell graffiti stickers, glossy white rainbow hologram self brittle destrutible label papers