Custom graffiti art egg shell sticker sheets, non removable destructible vinyl eggshell stickers permanent stickers.
Custom graffiti art screen printing eggshell stickers, photo vinyl eggshell stickers, eggshell stickers custom variaty designs
Custom Any Design Printing for Breakable Eggshell Graffitti Stickers,Custom Fragile Eggshell Stickers Print For Graffiti Writer, egg shell sticker custom graffiti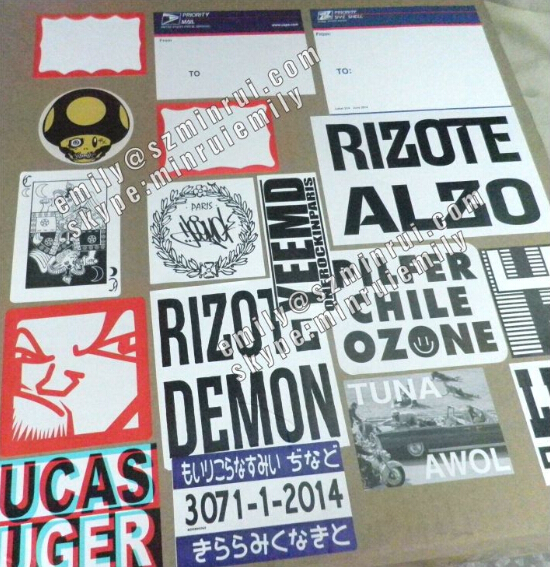 These eggshell Vinyl stickers were some of the customized designs for our customers,You could custom any size , any shape and any colors as your printing designs.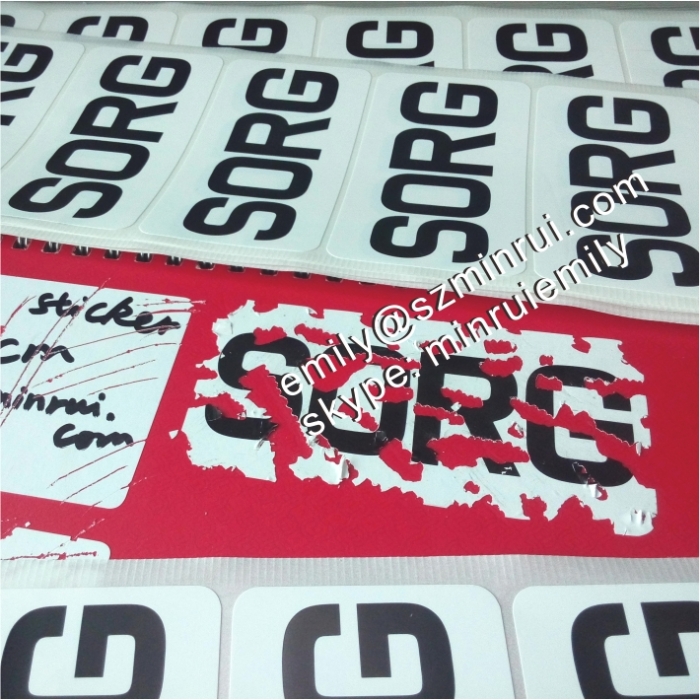 These black printing eggshell sticker size 10x5mm and customized by a customer from Australia and he choosed the thicker face eggshell paper sitckers then normal use.
| | |
| --- | --- |
| Label Name: | thicker face fragile egg shell sticker custom graffiti with black printing |
| Label Feature: | destructible label,the labels cannot be tear off by one time,will show the broken pieces once tampered |
| Label Size and design: | 10x5cm or Custom |
| Payment: | bank wire transfer,western union or paypal (paypal will add 3.9%+0.3USD for every deal for paypal deal fees if by this way!) |
| Notice: | Different areas and the temperatures will use diiferent frangible destructible labels,for not very fragible gardes please stick on the labels for 24-48 hours enough when you tests |
| Leading Time: | in 4-5 days in normal situation |
| Delivery: | door to door express by DHL,FEDEX,UP,TNT or BY air or by shipping (if the quanty is large) |
| Skype: | minruiemily for more details and design |

For special usage or requests, we have some different way of printing the egghell stickers as below:
For Sun-proof, no faded eggshell stickers, you could choose sun-proof ink printing

for water resistant, you could choose coat the eggshell stickers with transparent indestrucible lamination, then the lamination is indestructible but the eggshell stickers below this are also fragile destructible

Usually we printed eggshell stickers with the destructible label materials face thicknees of 100micron±10micron and you could also ask for thicker face around 120micron as your stickers

We will choose the best fragile model according to your temperature if there weren't special requests

Some special eggshell sticker shows below:

These Stickers are eggshell stickers with strong adhesive and printed with sun-proof ink printing for graffiti or advertisment or promotions use.

AND IF YOU WANT THEM TO BE WATER-PROOF, YOU COULD ALSO CHOOSE COATED WITH LAMINATION ON THE SURFACE, THE DETAILS ARE A BELOW :

Custom Sun Proof Ink Printing Laminated Eggshell Stickers,Water Proof Self Egg Shell Stickers Destructible With Matte Lamination:

*These Eggshell Sticker Labels size is 100x100mm with sharp corners and they are also with sun-proof ink printing and with matte transparent lamination.

*They are also water resistant egg shell stickers and destructible characteristic and strong adhesive.

*They were designed by two graffiti artists from Melbourne,Australia ^_^

(If you do not want matte lamination, you could choose gloosy one which is more shinny, as below:)

Glossy Laminated Eggshell Stickers,Water Proof Eggshell Stickers,Outdoor Use One Time Use Labels:

And the special is,we coated the labels with a transparent lamination for protecting the labels as ourdoor use.

You could checked that the lamination is indestructible ,but the destructible labels below the lamination is still frangible brittle labels with strong adhesive.




Because if the labels coated the lamiantion will be less fragile,please stick on these labels for 24-48 hours then try to remove,the labels won't be removed by one time.

For custom eggshell stickers,you could custom the blank die cut labels in rolles and then printing by yourself or in sheets and then written with pens

The labels will getting sticky as the time goes buy!

Some uncoated destructible label shows below:

Ultra Destructible Vinyl Labels,Strong Adhesive Eggshell Stickers, Destructive Vinyl Break Away Stickers:

Products Features:

The destructive materials will be broken into pieces once being removed.

The materials can be manufactured into easiest destructible, medium destructible and hard destructible materials according to customers' needs.

Color, size, thickness, and destructible effect can be customized.

The smooth surface is suitable for printing process. Resist for aging and high temperature, no crack and no discoloration.

Strong acrylic adhesive provides high bond and excellent destructibility on most substrates, including metals, power coated surfaces, and plastics, including many low energy surface materials.

For custom eggshell stickers,you could custom the blank die cut labels in rolles and then printing by yourself or in sheets and then written with pens

Or you could also custom the pre printed destructible vinyl labels from us,becuase the materials surface is smooth and could be printed with various designs,colors and could also be with scratch ink or embossed with golden,sivler or hologram strips.

Our eggshell stickers are with eco-friendly water based adhesive with strong later adhesion.

According to different requests we have some different brittle fragile grades destructible label materials.

Grade A:very brittle of the facestock,But it is hard to cut the spare papers

Grade B:moderate brittle of the facestock,but it is tend to Grade A.The spare papers cannot be cutted by hand,cannot by machine

Grade C:moderate brittle of the facestock,but it is tend to Grade D.The spare papers can be cutted by machine

Grade D:the facestock is not very easy brittle.The spare papers can be cutted by machine

For further information,

please check our blog on the left in the catalog! Or you could contact with us for the date sheets and instructions,we will get you back in 24 hours!^_^

But it is not the absolutly situation,because the temperature also affect the grades for the same models. Please just contact with us,we will introduce you the suitable models.

But it is not the absolutly situation,because the temperature also affect the grades for the same models. Please just contact with us,we will introduce you the suitable models.

Please attention:

Some other destructible label papers (from some other companies) are very brittle,even a little morn brittle than our most brittle models.What's morn they are very sticky,you will feelling the good sticky as soon as you test them

But what's the diferences between our papers from some other destructive label papers?

1:The adhesive :

our adhesive is water-based and the labels will have a good effect after you stick on something surface for 48 hours enough!Then the glue will permeate into the surface and they will be very sticky!That is because we have moisturizing processing,it can make the users to print and stick the labels simply!

Others use oil-based adhesive,they wil be very sticky and will have good sticky effect as soon as you test them the first time,but as the days passed away,the labels will be no sticky and then drop down

2:The brittle grade:

our papers have moisturizing processing,it can make the users to print and stick the labels simply!And you could storage them for a half of years.It canbe promised that the materials won't be destructed in the processing of make the papers into labels and stick on the products

Others are very brittle,like eggshells.At first you will think it is very good of the brittle,but they will be destructed before printing in winter or in low temperatures

Because the brittle grades are changed with the temperatures,low temperatures results in high brittle.What's morn the inferior labels will increase

My Skype is:minruiemily

The custom labels process is simple:

Enquiry

→we reply you with labels questions

→you will answer us about the design,sizes,quantity,materials and so on

→we will send you draft design with valid quotation

→make sure of them

→finished paying

→leading time is 3-7days according to your quantity

→send them out

→you will receive them soon.

Waiting for your kindly enquiry!

We will get you back in 24 hours.

Any shap or size is ok!

please just send us your design in PDF or please send us your ideas about the design,then we will offer you a free design with valid quotation according to your quantity!

We will send the finished labels to you by door to door express!!

We are the largest manufacturer of ultra destuctible vinyl materials for more than 13 years in China.

We produce: (check the unique solution for further details)

• matte white destructible label materials;

• glossy white destructible label materails;

• transparent dstructible vinyl maerials;

• colored destructive label materials;

• hologram destructive vinyl materials

• metallic fiber breakable fragile destructible label materials;

• double colors destructible label materials;

• water damaged destructive label materials

......

We are the largest manufacture for this kind of label materials in China

Our row materials exported to many other countries,such as UAE,India, Indonesia,Jordan,USA, Vietnam,UK and the ect.

And the destructible labels were also exported to all round the world.

Warmly welcome your inquiry and orders !

We provide free designs for simple labels!

We are professional in destructible vinyl materials and also the leader in China,we could provide unique destructible label materials solution,no one could copy your guarantee security labels for packaging your products!

Competitive Advantage :

1)we are the biggest and best professional maufacturer of ultra destructible vinyl and own 70% market in China (ultra destructible vinyl is the materials for destructible labels)

we have patents for these destructible label materials, we studied out lots of different destructive label materials for different use by ourselves. No one other company could do these kind high quantity ultra destructible label materials in China.

We have more than 14 years-history for manufacturer destructible eggshell sticker materials.

You could custom the special ultra destructible label materials from us according to the real condition.

We have storage and the leading time is very short in 1-2 days for common used models destructible label materials no matter you want the materials in rolls or in sheets

2)we have a sub-company major in producing custom adhesive labels,that can be proof the leading time and quality.

The desructible eggshell label materials are including many different kinds, including different fragile grade, different face thickness and the ect. Not the more fragile the better.

Fragile grade choice is accorting to your label size, temperature, and how will you use these stickers.

For special finsihed, we offer transparent lamination or varnish or sun-proof ink printing or silkscreen printed according to your designs and the requests

3)our salers could offer you designs and give you professional suggestions before printing,that would be great for saving much time of you!

Shape of Sticker:

Quantity:

Size of Sticker:

Ink Colors:

Label Material:

Label Coating:

What material are you apply the labels to?

And any other reuqests?Could you please show us the design?

How to order destructible labels from us?

Make sure what's the label size and quantity would you want?

Make sure which destructible style would youw want?

What's your design? if you do not have design, just tell us your ideas, such as your company logo, name, any texts and the ect.

Any special requests? barcode or QR code or numbers?

Then we will send you the valid price with door to door express delivery costs and also draft design

After paid by T/T, western union , paypal , we will produced in promised time and then send to you by door to door express delivery

| | |
| --- | --- |
| Label size And Shape: | round , rectangle or special? |
| Label Quantity | how many pieces? the more the cheaper unit price |
| Which sticker style and model? | common white or glossy or hologram or colored face or any special style or models? |
| Design ideas? | company logo or name or any texts ? |