Specification
JINLING- 850
· Pneumatically driven electronicallycontrolled system
· Built-in ventilator, 10.4" LCD displayscreen
· With 1 patient circuit for adult (Option:patient circuit for children).
· 5-tube flowmeters, O2 & N2O & Air;0.1L/Min ~ 10 L/Min;
· Two vaporizers,Enflurane/Isoflurane/Sevoflurane; (Option: Halothane)
· Oxygen Flush: 25~75 L/Min;
· Respiration Mode: IPPV, SIPPV(VCV), IMV,SIMV, PEEP, Manu, Sigh
· Tidal Volume: 0~1500 mL;
· I:E: 8:1~1:10
· Respiration Frequency: 1~99bpm;
· PEEP: 1~10 hPa;
· Ptr: -10~10 hPa;
· CO2 absorber capacity: 1 kg
· Lung compliance: ≤ 30mL/kPa;
· IMV frequency: 1~12bpm
· Inspiratory Plateau: 0~1S;
· O2 Concentration: 21%~100%
· Alarm parameter: upper /lower limit ofairway pressure, tidal volume exceed limitation, no tidal volume output, apnea,AC power malfunction, battery low power
Patient Monitor
· 12.1''TFT large screen of high resolution
· ECG: 5-lead, gain:×2.5mm/mV ×5.0mm/mV×10mm/mV ×20mm/mV, analysis of ST segment and abnormal of heart rate(anti-defibrillate, anti-HF electrotome)
· Heart Rate: 20~250bpm
· RESP: Impedance, range: 0~100bpm
· SpO2: 0%~100%
· Pulse Rate: 20~250bpm
· NIBP: SBP, DBP, MBP, 10~270mmHg interval ofautomatic measurement 1~90min adjustable
· TEMP: 0~50ºC
· Alarm: Audio and visual alarm
· Tendency record 96 hours
Loop part:
· Integrateddesign, integrated breathingcircuit
Evaporator:
· High-precision double evaporatorsconfiguration, enflurane or isoflurane or Sevflurane or Haloflurane
· Concentration adjustment range: 0.5 ~ 5%VOL
· Evaporator flow, pressure, and automatictemperature compensation function
· Self-locking feature
Configuration:
· Vaporizer: Two vaporizers, Enflurane/Isoflurane/Sevoflurane(Option: Halothane)
· Anesthetic gas concentration range: 0.5~5%
· Soda lime absorption system: resistance to high temperature of 176 degrees Celsius.
· CE & ISO certificate
Payment Method:
Accept T/T, Paypal, It's Optional
Certification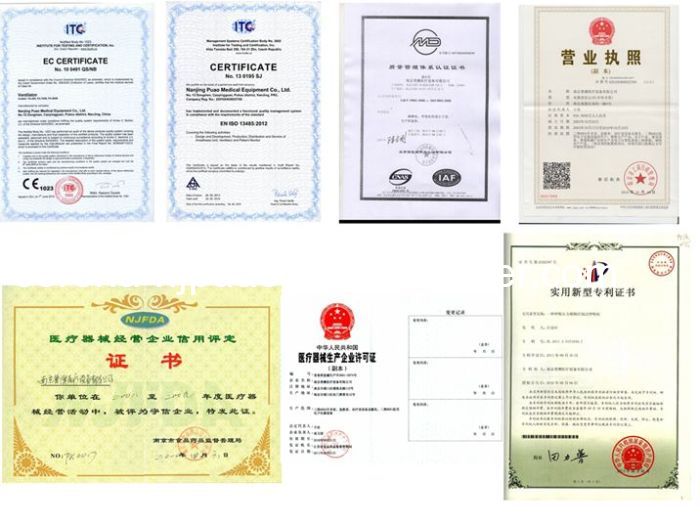 Our Top Products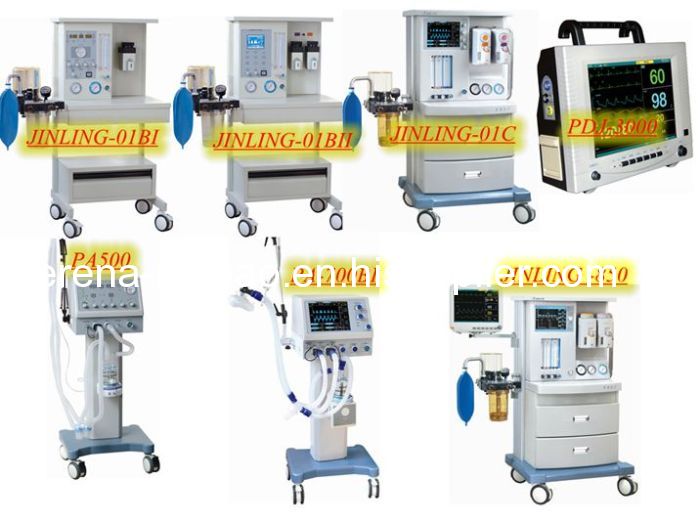 Company Information: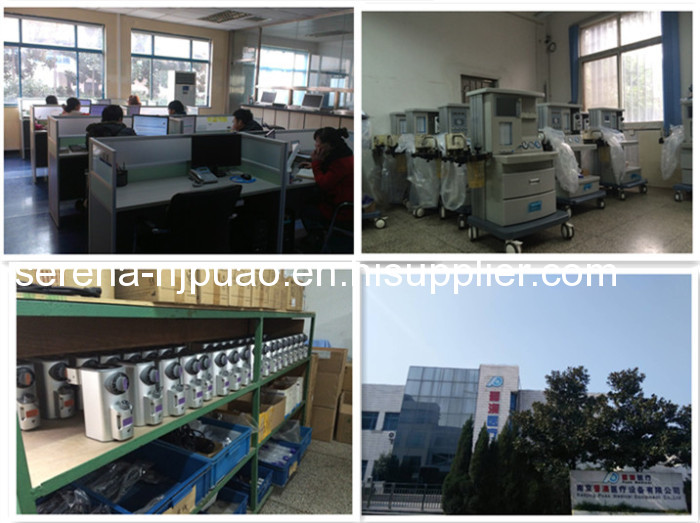 FAQ
1. How to place the order?
Send inquiry-quotation-payment-prodution-delivery
2.What's the MOQ?
1pc is acceptable

3. How long will it take to get my order?
Most jobs will be shipped within 3-5working days after your approval.
4. How can I get my order even faster?
If you want to receive your order faster, select our express service or upgraded shipping options.
5.Why should I choose u?
We are one of the earliest factory which produce Anesthesia Machine invest by govenment. We own experience to give u the best products