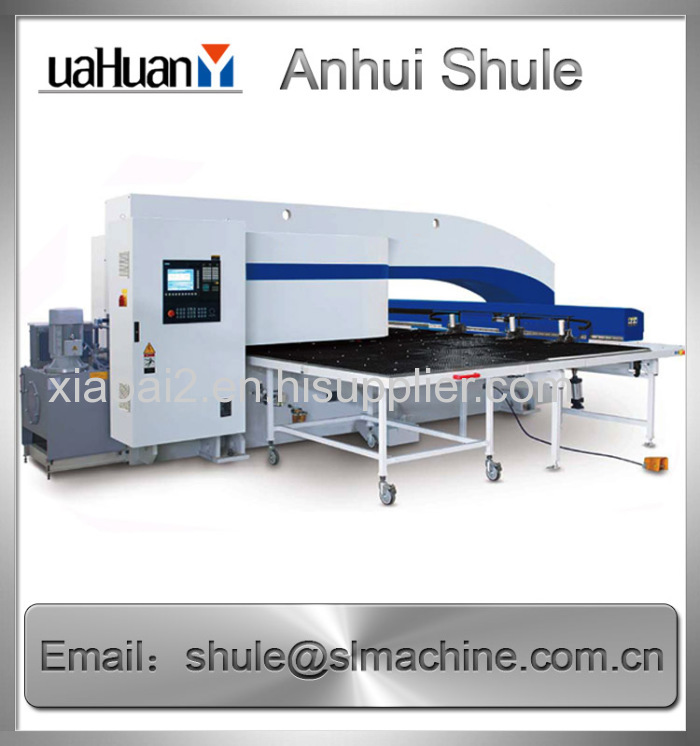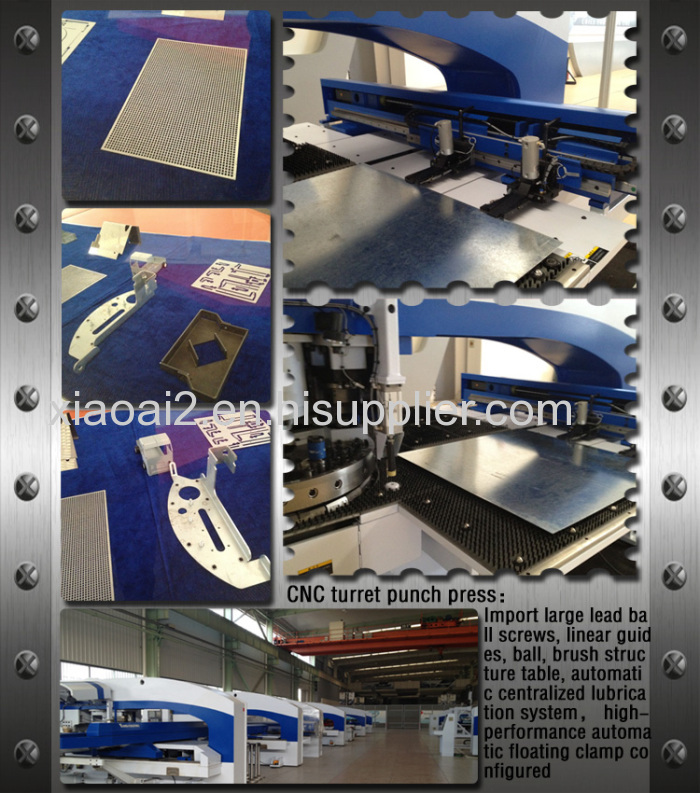 MP30 series CNC turret punch press with closed body, tempering machine fireplace package import Germany Harley (H+L), hydraulic systems, stable and reliable, low power consumption (11KW). CNC system FANUC Oip or SIEMENS 8400, long framed structure turntable (ZL 02 2 18211.X), rotating station part pot pot bar mechanism, supporting international qigong components and electrical components, imported large pitch ball screw, linear guide rail, steel ball, brush structure table, automatic centralized lubrication system, configuring high-performance auto floating clamps.
MP30 series CNC turret punching machine performance and characteristics:
1, CNC punching machine control system: imported CNC, CNC punching, field programming, backend programming, comparable to other computers and local area networks, convenient to connect, a Web communications.
2, CNC punch Transmission: Japan digital AC servo drive motors; imported precision linear guide; Germany couplings; imported precision ball screw large lead.
3, CNC turret punch press tool storage system: equipped with our own development, has applied for patent protection of multi-station conversion die sets, realize quick switching between different molds, mold of neutral good, high precision, red plate molds and long service life.
4, CNC turret punch press clamping system: high-strength pneumatic floating clamps; cable shield to prevent interference.
5, the new high speed CNC turret punch, faster, more efficient and lower noise. Lower die fast loading and unloading, wheel features four-axis function.
Turret: CNC turret punch press finely crafted using high quality wear-resistant materials of high precision thick turret index, together with the long-oriented mold, mould is to ensure neutral, greatly improves the service life of the mould. Standard turret makes molds versatility more and wider scope for client free matching dies, it is more convenient to use.
Motor and drive: the Japan Yaskawa servo drive, the failure rate is small, high speed, torque, closed-loop control mode, makes the motor rotating at high speed to quickly pinpoint, higher responsiveness, ensuring a higher level of precision.
Clamps: floating pneumatic clamp, can be realized in case of varying height adjust floating clamp protection sheet to a greater extent, to avoid broken plates due to varying height.
Central lubrication: equipped with centralized lubrication system, regular oil directly into each lubricating point, reduce the labor intensity of workers at the same time, can effectively reduce the friction of the movements. Increased service life. Avoid artificial amnesia causes equipment damage from long dry grinding equipment.
Electrical components: fully adopt international famous brand, further reducing the fault rate of the equipment, make the device run more stable for long. Reduces the customer's worries. Major components (1) switch and insurance: Germany, Schneider (2) contact: Germany, Schneider (3) switching power supply: MV (4) relay: Japan Omron (5) limit sensor: Japan Omron (6) cylinders symbols: Japan SMC.