4 in 1 removing various odor car air freshener from china
4 IN 1- Purifier / Freshener / Ionizer / Deodorizer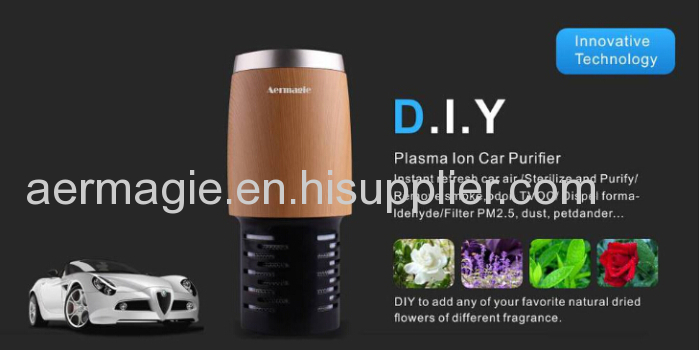 4 in 1 removing various odor car air freshener from china
Application of car air freshener:
This product is applicable to cars eqquipped with DC12V cigarette lighter or USB 5V power supply.
Functions of car air freshener:
1) Remove PM2.5 from car external environment
2) Destroy bacteria growth in steering wheel and air conditioner
3) Remove formaldehyde and benzene released from upholstery
4) Remove harmful gases
5) Remove allergens, pollen, pet dander
6) Remove various odors
Advantages of car air freshener:
1)High airflow and advanced plasma ion purification technology make you feel air fresh in 5 seconds in summer.
2)Fine washing activated carbon remove PM2.5 over 98%.
3)D.I.Y-users can add natural dried flower optionally. Natural dried flower is made of fresh flowers without chemicals.
4)un-balance plasma electronic ions generator releases more negative ions and less positive ions, positive ions kills bacteria and virus, then neutralizing with negative ions, the rest negative ions make air fresh. So plasma ions can more powerfully refresh air.
5)Tio2 filter cold catalyst filter keep cleaning TVOC, formaldehyde, benzene years' effective.
6)The most humanized design lets the driver feel air freshen instantly
Specifications of ozone purifier:
Rater power(w)
5
N.W.
450g
G.W.
550g
Airflow
5CFM
Sterilization rate
>96.5%
PM2.5 removal rate
>98%
Suitable rate
≤30m³
Noise level
33db
Rated voltage(KLS-01)
DC 12V
Rated voltage(KLS-02)
DC 5V
Demenison
Max dia,:88mm,bottom dia,:70mm,height:192mm
Plasma volume
approx.18,0000pcs/cm³(Low speed)
approx.30,0000pcs/cm³(High speed)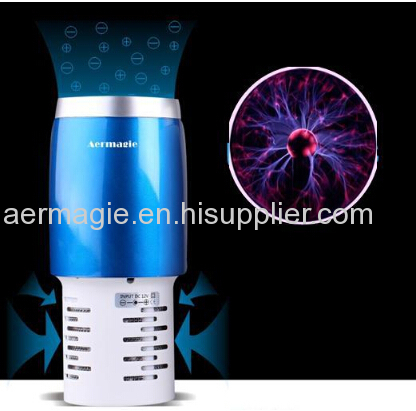 KLS-01P Car air purifier can releases qbout 300000 pcs/cm³ plasma ions of concentration.High concentrations of ionic group can kill bacteria in an all-round way and fresh air quickly.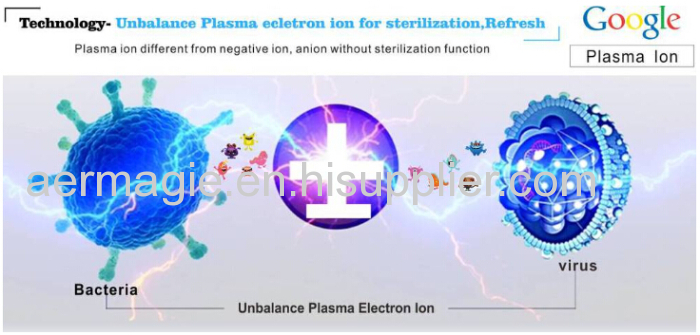 Mechanism of "Unbalance Plasma electron ion" sterilization.
1. Generate ions
un-balance plasma electron ions generator release more negative ions and less positive ions, positive ions kills bacteria and virus, then neutralizing with negative ions, the rest negative ions make air fresh. So plasma ions more powerfully clean air.
2. Deactivates bacteria and virus
When attached to the surface of bacteria and virus, ions become highly active and oxidized hydroxide (OH), extracting hydrogen from the surface of protein, thus deactivating the bacteria and virus.
3. Converted into water
Hydroxide bonds with hydrogen and is converted into water releasing to the air.
D.I.Y supplies-Fragrance And Purification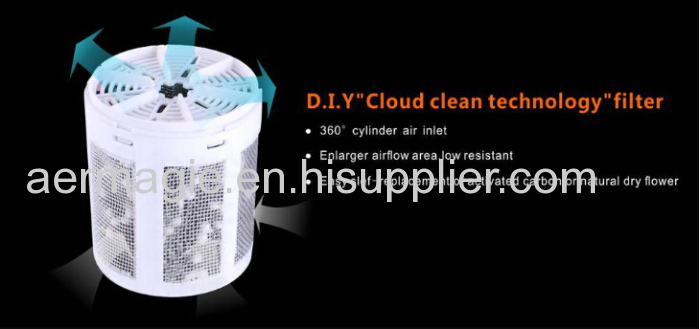 "Cloud clean technology"filter enlarger airflow area and low resistant which can Strengthen purification rate.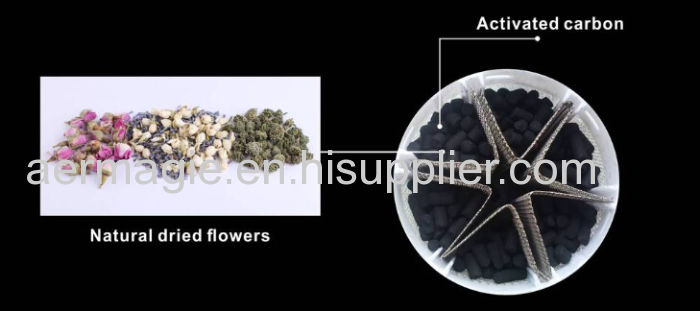 *Natural dried flowers are made of fresh flowers without any chemical raw materials.Dried flowers with faint scent are natural and harmless.It can relieve fatigue and refreshing.The purifier can be fully out of the natural dried flowers fragrance.
*Traditional car perfume is made of chemical raw materials, people use for a long time can cause adverse effects on health.
*High quatily purifying material, available to users
Purification supplies:

* Fine washing activated carbon filter : Effectively absorb formaldehyde, benze, TVOC, passive smoke ,mouldy ,etc odors.
* Diatom pure: Diatom pure with diatomite as the main component is a new generation of air purification products.It has a large specific surface area and high porosity, can effective odor adsorption secondhand smoke, such as stubborn.
* Tio2 filter: Purify and Refresh air, decompose odor such as formaldehyde, benzene, TVOCand turn them into carbon dioxide and water.
KLS-01P Car air purifier is The safest purifier
This Car air purifier Will not produce ozone and User feel no odor,Products complied with international standards which will not produce any air pullutant.
GIft:
KSL-01P Car air cleaner installation drawing: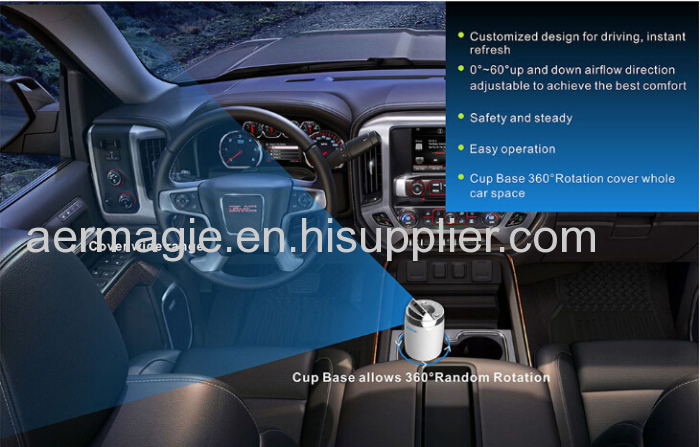 *customized design for driving,instant refresh
*0°~60°up and down airflow direction adjustable to achieve the best comfort
*safety and steady
*easy operation
*cup bese 360° rotation cover whole car space
KSL-01P Car air purifier color: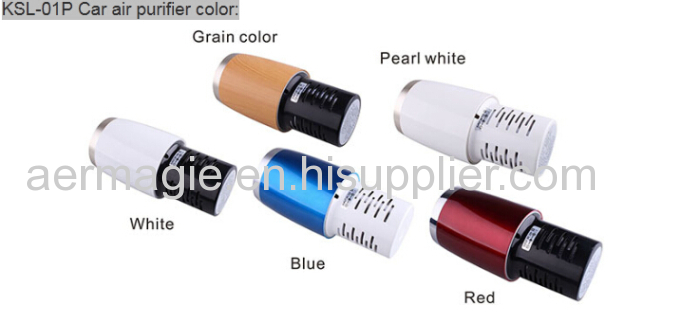 Product Structure: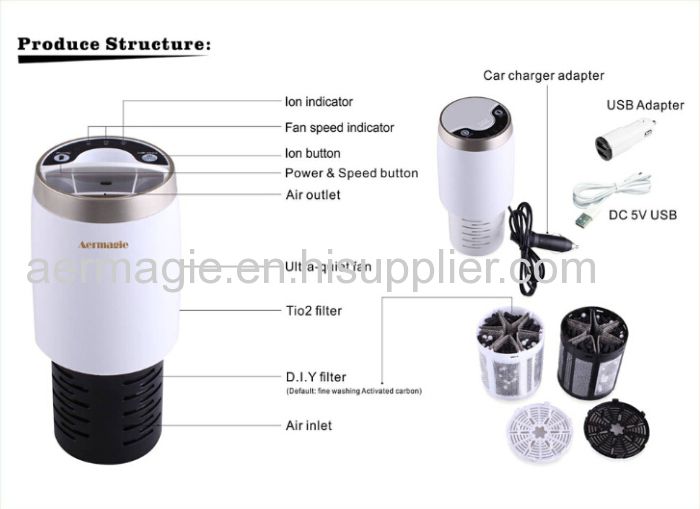 Package:
*Main including:KLS-0P car air purifier,specification,warranty card,carton,usb line,car charger line
wellcome to our factory: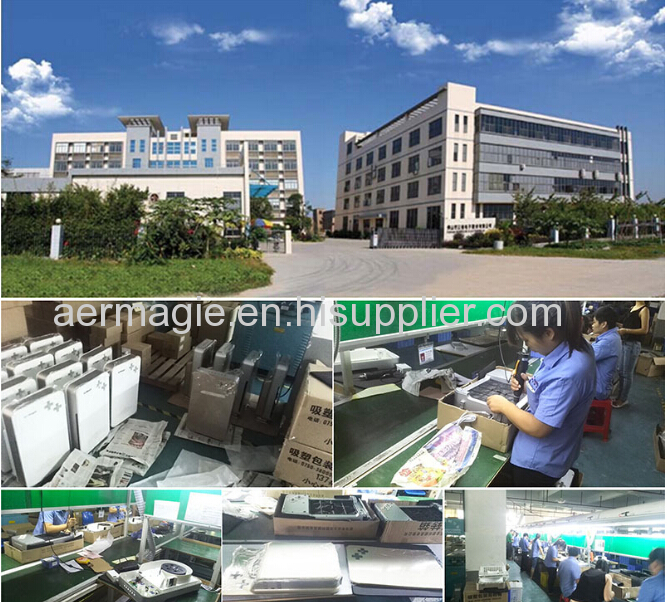 Professional wave refresher manufacturer, car air purifier factory, ionizer negative ion generator with reliable quality, affordable price, prompt delivery
Strict QC, IPQC, OQC complying with ISO system.
Quality guarantee, 100% test before delivery
Our services
*Welcome ODM & OEM
* We would like to provide samples for testing
* Welcome to be our distributor or agent!
Contact
Steve Lin
Tel : +86-757-66856866 Fax : +86-757-89959730 Mobile Phone: 86-13318338881
Email : steve(at) megafond.cc Skype: lsb168899
Web: www.sundream.en.alibaba.com
Add : No. 5 Kehai Road, Luoge Economic Development Zone, Jihua West Rd, Nanzhuang Town, Foshan, China