mobile razor wire security barrier,mobile security deployment razor barrier
Rapid Deployment Security Barrier provides the ideal solution where the rapid deployment of a physical barrier is required; e.g. crowd & riot control, civil and national defence, VIP protection, temporary or permanent protection to sensitive sites, protection for construction sites or scenes of disasters, etc.
When deployed, the system offers a formidable barrier which is both effective and offers substantial deterrence to attempted intrusion. The razor coil fence forms a pyramid with a height of approximately 1.7metres and a width of 1.6metres.
The system is fully automatic in operation utilizing a specially designed delivery vehicle both in deploying and retrieving the barrier fence. Only one to two persons (excluding the driver) are required to complete the task.task can be completed within 4 minutes. Maximum fence length per section is 100 meters; multiple sections can be deployed for longer distances.
Usage Description:
1) Deployment: The trailer is towed to the designated site; opening its tailgate and setting up the barrier with a total length of 60m 100m. After setup, the front car can leave immediately. Multiple sections can be deployed for longer distances.
2) Retrieval: The towing vehicle pushes the trailer backwards, enabling the razor barbed tape/wire to automatically insert back into the tail car without the need for manual intervention until the tailgate has been put back into place. Operation is fast and easy.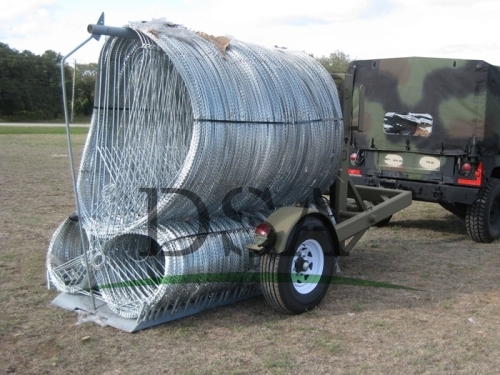 Mobile Razor Wire Security Barrier Specification:
Dimensions folded: 700 × 1112 × 1232mm

The length of the unfolded state: 10m - 80m

Height: 1 m

Weight: 50-200kg

Diameter of the helix: 900mm -1000mm

Deployment time: 1-3 minutes

Clotting time: 5-10 minutes

Mobile razor wire concertina is produced in two versions: 900/10 and 900/20. Distinguished by its length in the unfolded state, which is 10 and 20 meters respectively. The unfolded length of both models is 900 meters.