♥To avode the below accident occurs and make you walk safer, pls choose MEISHUO anti slip aluminum stair nosing , protect your application, protect yourself!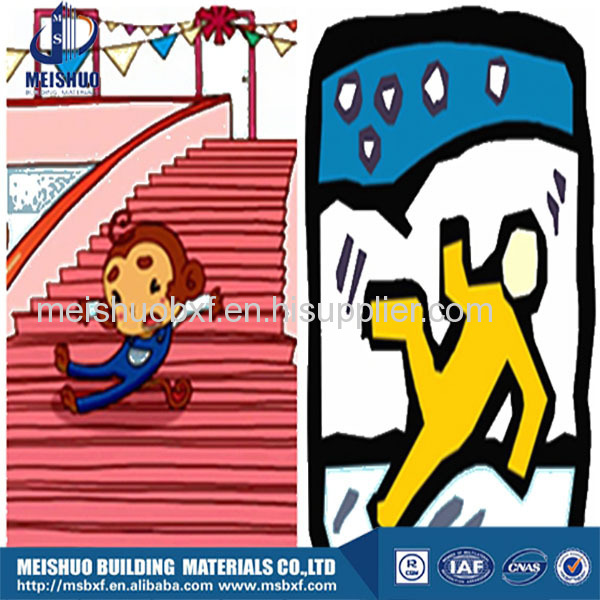 Specification
Industrial area decoration high hard wearing no slip fibreglass stair nosinG
1. excellent anti slip
2. excellent chemical, UV and corrosion resistance
3. various size and colors
4. very suitable for industrial areas
5. free samples(3-5working days to prepare)
6. ISO & SGS certificates

Features
1. Good non-skid property
2. Good aging and corrosion resistance
3. Strong durability
4. Impact Resistant
5. Convenience installation
6. light weight
7. Low conductivity
8. Low in maintenance
9. elegant and Easy to Cut/Install
Picture show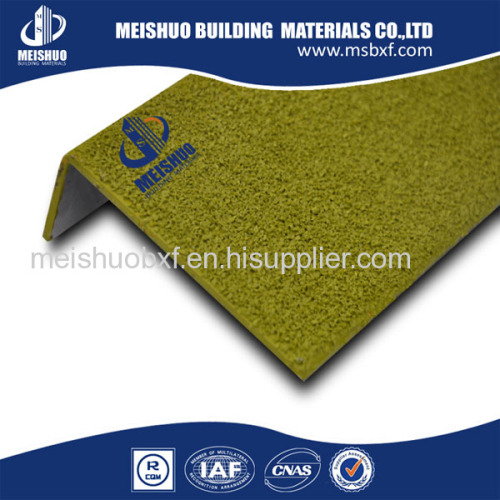 Certificates
Application
Meishuo Concrete anti skid aluminum black stair treads with carborundum inserts are suitable for internal or external applications like the below areas:
* large-scale aquares & shopping center
* stations and air ports
* supermarkets and parks
* Hotels and other commercial complexes
* school and other public areas
* warehouse & park lot
Clean & Maintenance for Stair Treads Nosing
1. All stair nosing or tread should be swept with a broom or vacuumed with a heavy-duty commercial vacuum cleaner, at least once a week.
2. External stair nosing or tread should be scrubbed with a brush using all purpose cleaner and rinsed with clean water after cleaning at last.
3. For Minor traffic marks on aluminum, It can be cleared by using fine steel wool and commercial cleaning agent.
4. For Oil and Grease from the stair treads, It can be removed by using soap and brush and rinsed with clean water after cleaning at last.
5. For removing snow and ice from external treads, use sodium chloride salt.
6. About removing chewing gum from all types of stair treads, use putty knife, wire brush, clean cloth, commercial cleaning liquid, sponge & clean water. Repeat the process several times until desired result is achieved. Scrub with wire brush and clean the tread using soap and water, finally sponge the tread and remove extra water from the tread. and rinsed with clean water after cleaning at last.
Installation
1.Ensure that the stair surface is level and flat.
2.Select the most suitable cartridge adhesive for interior/exterior usage.
3.Ensure stairs are clean enough and free of debris, dust, grease and oil.
4.Check the stair is dry and free from dampness
5.Select the nosing carrier and check for the correct fit on the required stair.
6.Do not apply the insert material at this stage.
7.Carefully mark through the drill holes, ensuring that the nosing is
tight against the riser, carpet or vinyl.
8.Remove nosing from the stair, and drill and plug the tread ready for
installation.
9.Apply the adhesive to the underside of the nosing and replace
on the step.
10.Remove the nosing and allow the adhesive to cure for the
recommended time.
11.Replace and refit the nosing carrier to the stair tread, and screw
down firmly.
12.Ensure that the screws are flush to avoid "show through" on
the insert material.
13.Peel back the double sided tape, ensuring no dust or fibre is allowed onto
the surface.
14.Place insert material (smooth side down) into the channel from both ends
and smooth into the middle of the profile.
Perfect packing & shipping for you
* Inner packing is pearl cotton, outter packing is plywood box.
* 100% test before delivering stair nosings
* Item shipped in 15 working days against payment depends on the quantity
* Tracking number will be sent to you as soon as we ship the products
* our sales team is able to arrange the shipment that you need for you.
* Express delivery,Air transportation or Ocean shipping are acceptable according to the demand
Company information
Nanjing MEISHUO Building Materials Co., Ltd, founded in 2000 in China, has more than 12 years' experience in designing, manufacturing and installation of expansion joint covers systems (floor, wall and ceiling, roof),Movement joint,Aluminum Entrance Mat,Anti Slip Stair Tread Nosing, Aluminum Skirting board and so on.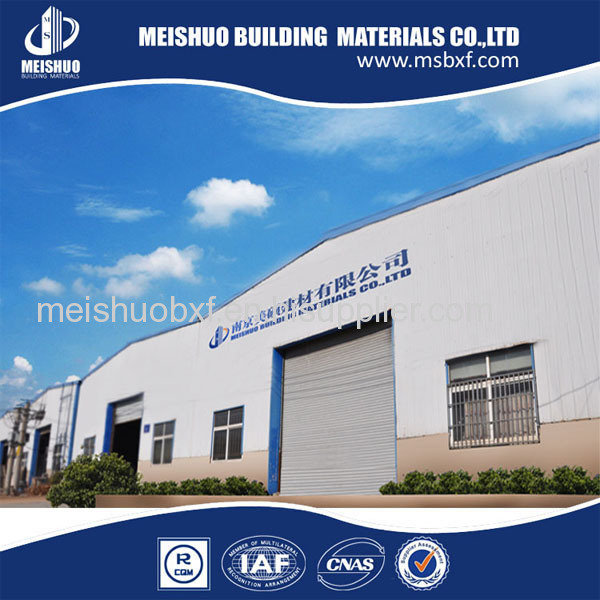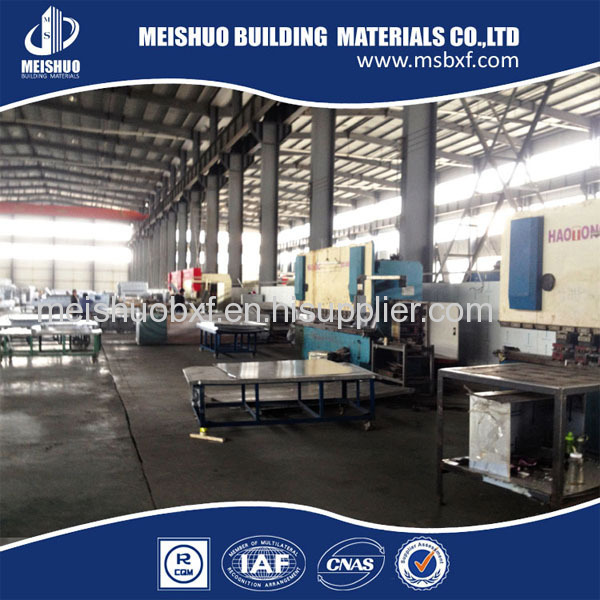 Some pictures about Exhibition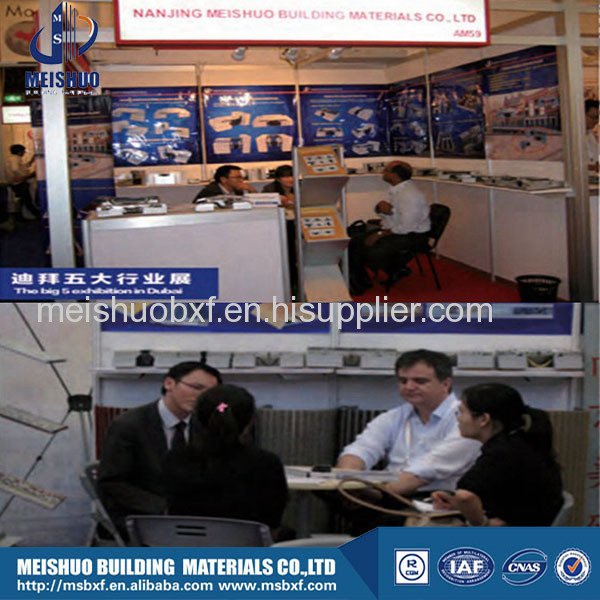 FAQ-Frequently Asked Questions
Q: Do you have your own factory?
--Yes, we are Manufacturer. The address of the factory is No.50, Dingjie,Pancheng, Pukou distric, Nanjing, Jiangsu, China. Welcome to visit us!
Q: What kind of services do you offer?
--Our factory offers OEM with customers' blueprint and the mould fee is negotiable considering the mount demands.
Q: How do I trim my stair treads to fit the stairs ?
-- Stair treads should be individually trimmed to fit each step, both in depth and from side to side. The rear cut should be made with a slight under bevel for a better fit. The stair treads can be marked with an awl and cut with a steel straight edge and a linoleum knife.
Caution: do not apply a lot of force while cutting and be sure to keep all body parts clear of the knife, should it slip.
Q:How do I prepare my steps for stair tread installation?
-- The surfaces of steps must be flat, clean, dry and free from oil, grease, rust, paint, varnish and old coverings, adhesives and any other foreign substance. Wooden steps should be thoroughly nailed or screwed down to avoid movement and defection. Worn or dished-out steps, cracks, holes, depressions or any irregularities on the step should be replaced or repaired by filling, sealing and smoothing with an appropriate leveling compound that will not crack or breakdown under normal use.
Q: Color is very important to me, are stair tread samples available?
--Yes, we undersrtand how important color selection can be. We will provide stair tread samples upon request, free of charge. and pls noted that the buyer need to takes responsibility of the express charge. And it need about 3-4 working days to prepare the samples.
Why choose us
* Has been in terms of size, technology, markets and profitability in a leading position.
* welcome to visit the factory in anytime.we are try to keep our prices competitive as per market trend.(factory price)
* We sell high-quality products. we are confident that you will be satisfied with our various services and wide range of products with good quality.
* Diverse colors available or custom made stair nosing for you
* Great experience in Large Projects-Largest Railway Station in Asia
* Participated in large exhibitions-Big 5 Exhibition
Contact us
Renie Lv
Nanjing MEISHUO Building Materials Co., Ltd
Mob: 0086-15951605247 Tel : 0086-025-58196288
E-mail: sales04(at)msbxf.com
Skype:renie19921
Send your enquiry to know more details about free samples !!!