Heavy oil mazut oil to diesel oil distillation refinery machine
Product Description
China`s engine oil production is approximately 20% of the total amount of the petroleum products, consumption is more than six million tons every year, most used for car engine, transmission, gear and turbine diver. The engine oil used by mechanical equipment,cars or ships, all the oil need to change and the change standard are definitely regulated(such as China: the oil must be changed every month). The oil will become ageing and metamorphism because the oxidation during the process of using, air will bring some water got to the oil, and the metal particles will be produced, the oil become to dirty, color become to black,which will decline the oil function,block the machines and pipes, so must change the oils.In terms of a middle-small cit, the production of waste engine oil of various cars, agricultural vehicle and other machineries is about 1000Ton, add the amount of waste oil from refining company, chemical factory, Fertilizer Plant and Coking factory, the total amount is prodigious.

Used engine oil, heavy fuel, bunker fuel,oil sludge,lubricant oil can be regenerated diesel oil,and the waste animal, vegetable oil, acid oil, drainage oil also can be convert to biodiesel oil. these available by-products can be converted as fuel oil directly,which is from the refinery, chemical plant, chemical fertilizer plant, urea plant, coking plant, such as: alcohols, sulfonated oil, naphtha, paraffin wax, benzene, naphthalene, ketones. If we deal these used oil and by-products by burning or burying, it is not only bring serious environmental pollution, also caused a huge waste of energy. So on the basis of reusing resources or environmental protection, or view the point of being able to bring enormous economic benefits for the producers, the waste oil for recycling has a very good prospects.

The main feature

(1)Equipment composition
1)main components:spray gun,combustor/combustion chamber/burner,reactor,waste oil pump,gas manifold,sludge tank,condenser,oil tank,water seal/water block/hydroseal,induced draft fan/exhaust fan,dust removal chamber,chimney,electric control cabinet etc.
2) Combustor will provide heat energy for the entire process. Under the action of heat energy, the material will be cracked and generated a lot of oil vapor, which will be discharged into gas-oil separator and then passed into oil through condensers.Those incondensable gas will be filtered through water seal and last torched.what's more ,we'll handle the black smoke produced during processing in the dust removal chamber.
company information
(2)Features:
1)The entire process is absolutely environmental protection without any smoke and smell.
2) Decompression device is adopted water-circulation type to guarantee the security of the whole system.
3) The unit-time productive capacity as well as the quality of final oil will be rose drastically after decompression during the whole production process.
4) The heat system is adopted hot air heating technology,not only safety but also efficiency is increased in the production processing.
5)High-efficiency gas heating system.During the oil refining processing, there are some gases(methane--butane)produced when the temperature up to 150℃.Those gases will be burned in the special gas nozzle to produce a lot of energy and to save the resources.
6) The flue dust removal system with bidirectional spiral hydrodynamic impact on dust chamber can ensure that soot emission can be reached national standard for effluent discharge.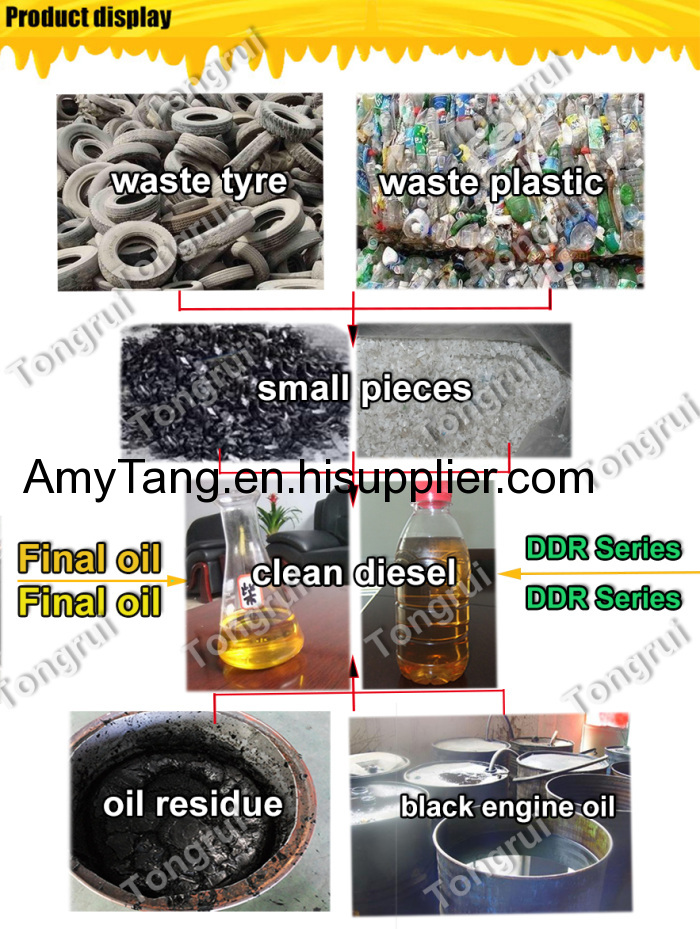 More details, welcome to send email to me.