Fabric Tensile Strength Testing Machine
MODEL NO.:
Fabric Tensile Strength Testing Machine
APPLICATION
YG026M Fabric Tensile Strength Testing Machine is designed for a wide range of applications, such as the tension, elongation, tearing, bending, compressing, tensile, peeling, stress-relaxation, lamination tests of single yarn, fabric, apparel, non-woven, zipper, leather, geo-textile materials, etc.
RELATED STANDARDS
STANDARDS

BS EN ISO 4606,13934-1, 13934-2, 13937-2, 13937-3, 13937-4, 13935-1, 13935-2

ASTM D 434, 558, 2256, 2261, 2731, 3936, 4533, 4964, 5034, 5035, 5735

ISO 2062, 5082, 9073.4, 10321,13919,

BS 3320, 4303





Note: this Fabric Tensile Strength Testing Machine can conform to but not limit to the standards above, for more standards conformance, please contact us.
FEATURES
1, Use 16bit Industry-grade MCU(Mitsubishi, Japan), 16bit A/D converter (Mitsubishi, Japan), more excellent anti-jamming, more excellent stability, more rapid data transference speed;
2, Large blue LCD panel (Jingcai, Chinese Taiwan), real time display testing result, operator simply selects the required test module and test standard;
3, Accurately Positioning system with servo motor (Panasonic, Japan) and ball screw lead support;
4, Operator can use LCD control panel to control the machine and print out testing data by stylus printer without PC;
5, High speed USB port connects machine and computer directly, and control the machine by PC;
6,Real time display of on-going testing with data, curve, graphic, and table by the LCD or personal computer;
7, Able to set pre-tensile force;
8, Protection: overload, over-current, over-voltage protection, and memory function when power interrupt;
9, Accessorial software properties:
(1) Parameter setting: Specimen series number, longitude/latitude direction, color, operator number can be input and display on the testing report.
(2)Accessorial software can zoom in any point in the test curve, and show the strength value and elongation value at any point we clicked.
(3) Testing report can be stored in PC as EXCEL document.
(4)Testing curve can be stored in PC for the convenience to check the data.
(5)Testing software contains all kinds of testing methods, such as elongation at specified speed, load at specified elongation, elongation at specified load, tear, peel, burst, joining-force, elastic recover, creep, etc., let the test more convenience, quickly, and accurately.
KEY SPECIFICATION
Capacity

1kN, 2kN, 3kN, 5kN, 10kN

Load cell accuracy

grade 0.05

Load measurement accuracy

±0.5% for 2%~120% of load cell capacity

1.0% for 0.5%~1% of load cell capacity

Jog speed & return speed

10~1000mm/min

Max crosshead travel(including grips)

800mm

Minimal gauge

25mm

Position measurement accuracy

0.01mm

Effective width

390mm

Power supply

220V, 50Hz, 400W

Instrument dimension

660×520×1600mm (L×W×H)

Instrument weight

200kg
STANDARD CONFIGURATION
No.

Item

Quantity

1

Main machine

1 set

2

Personal computer

1 set

3

printer

1 set

4

Load cells(3kN, 5kN)

1 set

5

Manual clamps

Tension clamp

Grab clamp

Tearing clamp

3 pairs

1 pair

1 pair

1 pair

6

Pneumatic grips

Jaw face 1: 25×160mm, screw thread metal surface

Jaw face 2: 25×160mm, smooth rubber surface

Jaw face 3: 25×60mm, smooth rubber surface

1 set

1 pair

1 pair

1 pair

7

Software

1 CD
OPTIONAL ACCESSORIES
No.

Item

1

Load cells 1kN, 2kN, 3kN, 5kN, 10kN

2

Pneumatic grips Jaw face 1: 50×25mm, smooth rubber surface

Jaw face 2: 75×25mm, smooth rubber surface

Jaw face 3: 100×25mm, smooth rubber surface

Jaw face 3: 100×25mm, smooth rubber surface

Jaw face 4: 125×25mm, smooth rubber surface

3

Bursting clamps

4

Grips specified by customers

5

Air compressor
RELATED PHOTOES :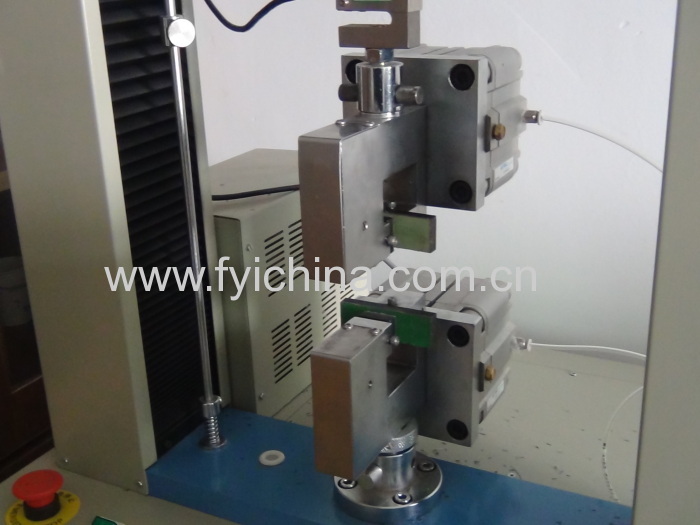 RELATED PHOTES :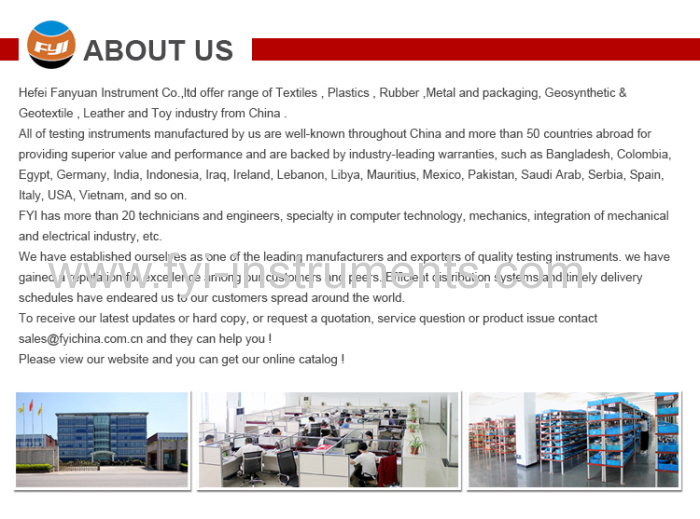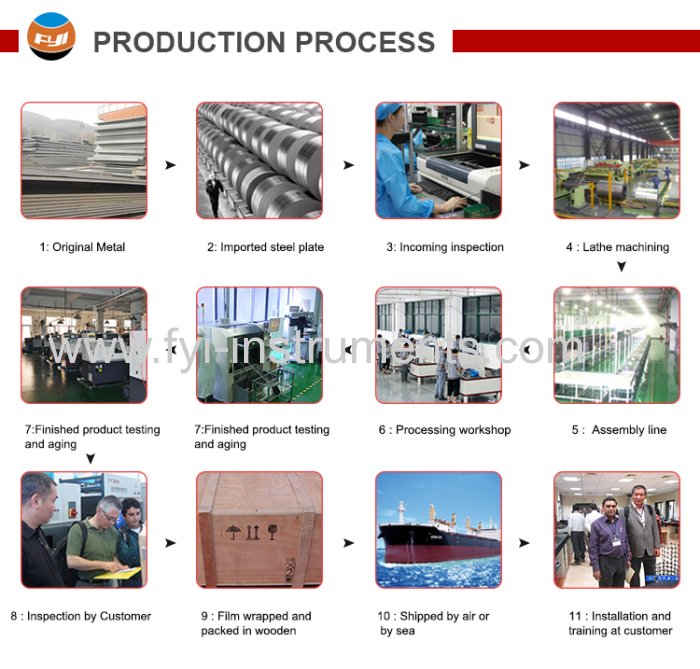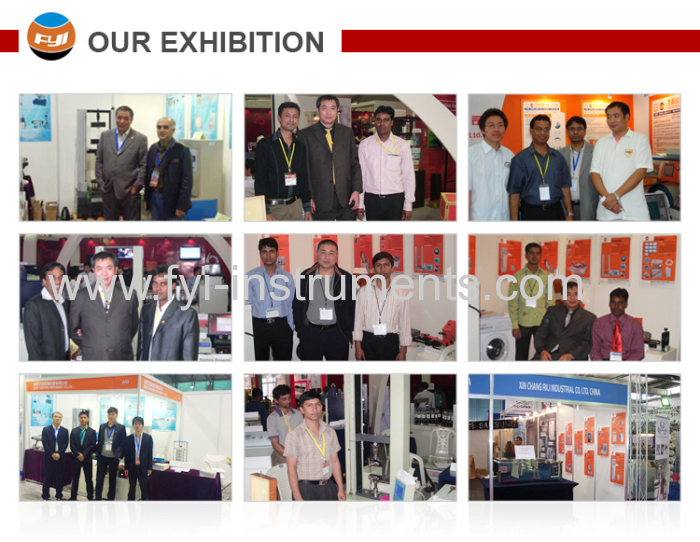 ISO AND CE certificate :