High quality servo motor metal universal instrument
Model No.
DW4310E/4320E/4330E/4340E/4350E
Application:
DW4300E Series Computer Control Hydraulic Universal Tester is used for tensile, compression, bending, shearing test of mental or non-mental material. The machine equipped with powerful software, can be easy to complete the test. It's an ideal machine for industrial enterprises, commodity inspection and arbitration institutions, scientific research institution, colleges and secondary school, as well as engineering quality supervision authorities, etc.
Related Standards:
Note: this tester can conform to but not limit to all the standards above, for more standards conformance, please contact us.
Features:
1.Data acquisition and processing by computer;
2.Computer measurement system adopts plug-in design, high stability;
Automatic zero set;
3. A range of test curves: load-deformation, stress-strain, deformation-time, load-time, displacement-time, etc;
4.With curve data storage and magnifying function, preset data interface, convenient to analyze;
5.Measurement system with online help and self-check function;
6. Hydraulic clamp to solve the problem of skid of clamping specimen;
7.Test result can be printout;
8.With networking interface;
9. DW4340E can be equipped with Φ20~Φ60 clamp according to customer's requirement.
Key Specification:
1. Measurement range of load 2%~100%FS (0.4%~100%FS can be customized)
2.Measurement accuracy of load 1 grade (0.5 grade can be customized)
3. Deformation measurement
Range 1%~100%FS
Grade of accuracy 0.5 grade
4 Displacement resolution 0.01mm
5.Speed range 0.5~50mm/min
6.Deformation measurement
Permissible max. value of accuracy ±0.5%FS
Gauge length of extensometer 25, 50, 100mm
Range 2~25mm
7.Speed control of load (1%~100%)FS/min
Control range (2%~100%) FS
8. Speed control of deformation (1%~100%)FS/min
Control range (2%~100%) FS
9. Accuracy of speed control ±2%set value
Model

DW4310E

DW4320E

DW4330E

DW4340E

DW4350E

Load range (kN)

100

300

600

1000

2000

Relative error of load (mm)

±1.0%

Max. tensile space (mm)

560

620

690

620

700

Max. compression space (mm)

530

550

620

580

600

Clamping thickness of flat specimen (mm)

0~15

0~15

0~30

0~40

0~50

Clamping diameter of cylindrical specimen (mm)

Φ6~Φ22

Φ10~Φ32

Φ13~Φ40

Φ14~Φ45

Φ20~Φ70

Max. gap between bending sticks (mm)

400

400

600

600

600

Diameter of specimen for shearing test (mm)

Φ10

Spacing between columns (mm)

460

495

570

600

580

Motor power (kw)

1.2

2

2.1

2.1

6

Dimensions
(L×W×H)

Main machine (mm)

700×450×1780

800×500×1950

950×630×2265

980×650×2220

1200×850×2900

Control desk (mm)

620×480×1135

1260×560×850

Weight (kg)

1500

2000

2500

3300

5500
Standard configuration:
No.

Item

Quantity

1

Main machine

1set

2

Oil cabinet

1set

3

Software

1 disc

4

Auxiliary appliance for tensile test

Jaw for cylindrical specimen

2set of 8pcs

Jaw for flat specimen

1set of 4pcs

5

Auxiliary appliance for compression test

1set

6

Auxiliary appliance for bending test

1set

7

Extensometer

1set

8

Tools

1set
Optional Accessories:
| | |
| --- | --- |
| No. | Item |
| 1 | Shearing apparatus |
| 2 | Other unconventional clamps |
| 3 | Computer |
| 4 | Printer |
show Room;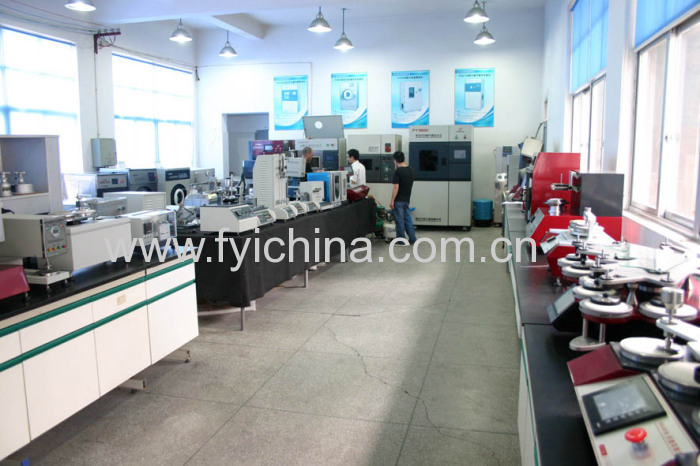 CUSTOMER :
Certificate :